Daria Chuprys is a female entreprenuer, keynote speaker and permanent makeup artist. She is the CEO and Founder of DARCASE, a company that offers premium beauty tools and an all encompassing luxury lifestyle accessory. Daria is passionate about the beauty industry and has dedicated her career to providing high-quality services to her clients.
For those who know Daria, they know DARCASE is not her first or second company. Her business acumen started way back in her early twenties. Other business ventures include eyelash extensions, makeup, and The Microblading Academy, which was later rebranded to Golden Brows, the premier destination for permanent makeup in Beverly Hills.
In this interview, Daria shares her story, insights on the industry, family life, inspiration for starting DARCASE, and future plans.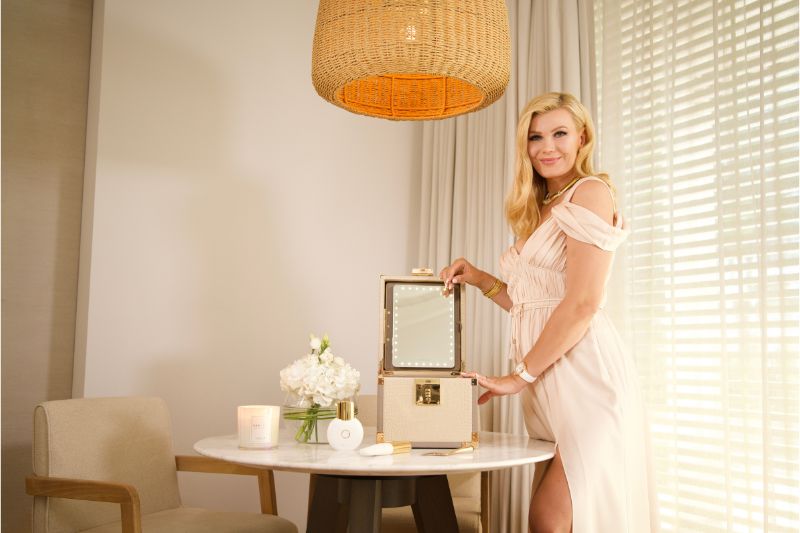 Beverly Hills Magazine: Tell us your full name and your personal history. Where were you born, where you grew up, your family, and where you currently live? A little background about yourself.
DARIA: My name is Daria Chuprys, and I was born in Belarus to a low-income family. I became independent at a very young age. At around eighteen years old, I relocated to Athens, Greece, where I first worked as a flower girl in a Greek bouzouki (it's a Greek thing with a live singer on stage and people throwing the flowers all over the place). That is how I actually met my husband!
I went to a business college, got married, and started my career in the beauty industry. Over the past nine years, I have been residing in Beverly Hills with my husband of 14 years and two children. With a background in business, dreaming big, and my passion for beauty and my aesthetic- I built multiple successful businesses over the past years together with my supportive husband, Konstantinos Angelopoulos.
Beverly Hills Magazine: What does it mean to be an entrepreneur?
DARIA: Being a multitasker is key! Not only being good at offering a product or providing a service, but you also need to be responsible for marketing, be good in photography and videography, good in sales, and excellent in customer service. In addition, you need to be creative and able to learn new things, create new content, and always strive to improve.
Beverly Hills Magazine: When did you start your business?
DARIA: When I was 25 years old, I started doing eyelash extensions and opened my first Lash Studio and Academy in Greece. I continued my beauty journey with makeup and later found my true passion in permanent makeup.
After relocating to America, I started Daria Chuprys, LLC and opened up the first Microblading Academy in the US, which we later rebranded to Golden Brows. In 2019, just before the pandemic, I started my new venture, and my business baby was born the luxury beauty brand DARCASE.
Beverly Hills Magazine: What is the most challenging thing about being an entrepreneur?
DARIA: Personally, for me, it is marketing and sales, and I am definitely not a fan of dealing with accounting and payments (Thank goodness I have my husband to deal with that). I am very creative and enjoy handling that aspect of the business. But I also understand I need to push myself harder to be a better salesperson and have marketing knowledge to grow the business even further.
Beverly Hills Magazine: The most rewarding?
DARIA: I love being my own boss and having a flexible schedule. I love that my career choice allows me to express my creativity in many different ways. I love the process of bringing new products to life. I create the packages and logos and build the presentation of products.
I love making other people happy. One of the greatest joys is receiving client testimonials and positive reviews on how our services and products have changed their lives and hearing how happy they are and that we made them feel more confident and beautiful, inside and out.
Beverly Hills Magazine: What is your business mission?
DARIA: At the end of the day, I would like to open schools for children that offer a new perspective with a focus on learning from a young age. In my opinion, the most important topics covered would be the mindset, universal laws, and the immune system—- how to treat and care for yourself, educating on what is essentially good for your body, your temple. I want to build a strong community to support my dream and help a new generation.
Beverly Hills Magazine: What have been major obstacles/stepping stones you overcame to achieve success?
DARIA: When you have an idea that you want to bring to life, it's important to understand that you are signing up for a long and bumpy journey, and you need to be very patient because you will run into a lot of obstacles and delays on your way to success.
It is important to stay calm in such situations and not stress out. It is crazy the amount of time, energy, and financials you need to invest into it. For example, you take time working on a project, and when you reach the launching point, the real struggle starts on how to sell and market the product successfully. There are so many steps to successfully launching a business of your own that you do not necessarily realize when you are in the conception phase. You can call me crazy, but I enjoy the process and learn so much from each of my business ventures.
Beverly Hills Magazine: Who or what have been your inspirations?
DARIA: I drew inspiration from Oprah and her wisdom. I was also inspired by Anastasia Soare story and how successful she became as a businesswoman. I believe that we are both immigrants and share a similar beauty journey (brows) helped me expand my horizon and break through my limiting beliefs. I want to be recognizable in the beauty field, a place where I can share my tips and journey to inspire others to become successful entrepreneurs.
Beverly Hills Magazine: What makes your business, product, or service different from others of its kind?
DARIA: Besides the fact that I always strive to bring Something unique to the market and the highest quality of everything, I believe what makes my products different is my passion. I spent hours and hours practicing and training, being the best in what I do, but I can say my personality and aesthetic are what bring the business to life. It is what brings the clients back.
It is essential to have the whole package, not only a service or a product but also the quality and personality of the brand owner.
Beverly Hills Magazine: Greatest lesson you've learned on your success journey?
DARIA: "Your dream should become your obsession." In order to succeed, you need to get out of your comfort zone, take risks, jump on opportunities, and have a belief and passion for what you do. I like to say, "Who doesn't risk doesn't drink champagne." Something important I learned to do on my journey and I find very helpful is to trust the universe. I am sure you do have your fears. Everyone does, but having trust in the universe will make things easier. It doesn't mean you give up and do nothing. You keep going and working hard towards your dream, but if you have the mindset that everything is happening for the best, it will lead you to the best and help you to overcome the difficult days.
Beverly Hills Magazine: Three words that best describe you and why?
DARIA: Creative, Patience, Dreamer.
It is important to stay true to what you love to do and where you have the passion- be creative to build Something special and have the patience for going through difficult times. I keep my goals and dreams in my mind, and they always lead to motivating me!
Beverly Hills Magazine: How do you balance your professional and personal life?
DARIA: I have matured enough to realize, yes, there is work time, and there is also my family and ME time. Personally, I spend more time working. I will take a day to spend time with my family- venturing out of the city and traveling. It is also essential to find time for myself. You can make a million excuses, but you need always to find the time for yourself, which is very important for me. Submerge yourself in your own room, spend time, take care of your skin, and enjoy that self-love time. I like to stretch to relax and meditate.
Before COVID, I was always going until the pandemic happened, and it put everything on hold. I realized there is no need to get stressed over certain things. You just need to accept it, and it will be OK.
Beverly Hills Magazine: If you had to give a piece of advice to aspiring entrepreneurs out there, what would it be?
DARIA: I am all about dreams. Dream big, be unrealistic. You are the painter of your own life. Wherever you paint, you can achieve it. For me, it's about dreaming big and traveling far with no limitations. We are the only ones who can create a limit to our dreams. Some people are even afraid to dream of certain things; for others, your dreams are a nightmare. When you break through the mindset and eliminate the fears, you can go so much further in your life. Limiting beliefs affect our lives and take us on a different path.
Beverly Hills Magazine: What is "success" to you? DEFINE success
DARIA: Success is to feel happy where you are. To feel accomplished inside of you. Whenever you are feeling accomplished and fulfilled, that is the most tremendous success.
Beverly Hills Magazine: Have you discovered a personal purpose in what you do?
DARIA: I definitely like to inspire others. I have been on stage as a keynote speaker and guest on various podcasts, which makes me feel alive. When I can share my personal story, motivate with my journey and help others dream without limitations, I feel happy and find my personal purpose.
Beverly Hills Magazine: Where can readers go to find more information about you and/or your company?
DARIA: For more information, please visit www.darcase.com and www.goldenbrows.com. Follow us on social media at @darcaseofficial and @goldenbrows.
Beverly Hills Magazine: If you had one wish that would be granted, what would you wish for?
DARIA: It may sound too basic, but my ultimate goal is health for my family and myself. I am a cancer survivor, and I am very thankful for this experience in my life. I understood life's priorities and became much stronger and wiser after all. I would also love to grow my businesses even further to accomplish my mission to build schools.
Daria is extremely passionate about her work and takes great pride in providing high-quality services to her clients. She is always looking for new ways to improve her business and provide the best possible experience for her customers.
It is clear that Daria has a great deal of knowledge and experience in the beauty industry, and she is an expert in her field. If you are looking for someone to help you with your beauty needs, Daria is one the person to look up to! Thank you, Daria, for taking the time to speak with us today.