True style must have a combination of uniqueness, boldness, and brightness. For this sophisticated casual look, we created a combo of bold colors with elegant shoes and accessories, which give this style the fashion model vibe that every lovely lady looks for. In the fashion world, being casual means looking fabulous no matter where you go. You can achieve this with some of our fashion and style tips. Famed designer created this winning number, a pineapple yellow knitted Calvin Klein sweater that goes great with any pant color, particularly with blue jeans.
For a more casual style, we love these FRAME skinny jeans that will hug your hips perfectly and drape on your heels very nicely. You'll notice this fashion magazine favorite style has a gold undertone which shines in every item of this ensemble from top to heels.
As your trusted style and fashion magazine, you can be assured that when you wear jeans with bright bold colors and elegant accessories, you will look absolutely stunning.
See More From Tory Burch now:
It's a fashion secret of the fashion world that takes any casual look from cute to cool in seconds. These black suede Saint Laurent pump heels  will take any outfit from ordinary to extraordinary!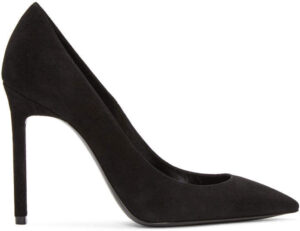 To complete this casual ensemble with sophistication add the Michael Kors clutch. It is an absolute fashion magazine must have, wear this for casual occasions or more formal evening events too.
SHOP MORE CASUAL STYLE NOW!!!