Summer is fast approaching and what are YOU going to do about your fitness?  Do you plan to go to the beach, have an outdoor adventure, travel around the nation or overseas?  Do you have a plan?  If not, then read on…For the last 19 years, I have been involved with teaching outdoor fitness boot camps.  Why?  Because the boot camps are one of the most effective ways to get in shape!
Both boot camps and cross fit models use a variety of exercises to stimulate strength conditioning as well as the cardiovascular system within the body.  Incorporating weight training, calisthenics, plyometric training, explosive agility drills, and High Intensity Interval Training (H.I.I.T.) shred the pounds and improve the wellness of the body.  The combination of exercises that attack the major muscle groups as well as proper rest for recovery help to be the ultimate combination for results!
But, what about cutting down to the BEST EXERCISES to reach your optimum fitness goals? Glad you asked!  There are many different options for everyone to find the perfect exercises to enhance overall wellness and not sacrifice too much time.  If you are looking for exercises within the gym format, then use the programs already available for your group classes, nautilus machines, free weights, plyometric bands, jump boxes, and free weights.  For those using non-traditional forms of fitness, you can use sand bags to weighted bats to kettlebells.
To save on time and money if you don't have fitness equipment, I recommend calisthenics.  Simple body movements that can create a hard workout that don't require equipment or certain locations.  And the following exercises, are my personal favorites that get the job done without the hassle of equipment!
Burpee Pushup Challenge– Crouching down on your feet, place hands on the ground in a pushup position.  Kick your legs straight out in the position of a pushup.  Come down in a wide arm pushup stance, then push back up.  Bring feet into a crouching position before jumping up with hands reaching toward the sky.  This is one repetition.  The challenge is doing 50 in a row.  Benefits include increased O2 intake, short amount of time to accomplish exercise, blood flow throughout the body, strength and conditioning.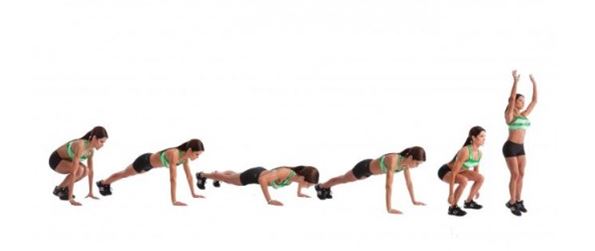 Slow Burn Pushups Challenge–If there was ever a torturous way to get in shape, this would have to be one of the toughest. It's not for the faint of heart, but it is one of THE most effective exercises!  Get into a pushup position with legs and arms straight in a plank.  Take 30 seconds to come down while keeping body straight.  Then take 30 seconds pushing up until you are back into pushup position.  This is one repetition.  The goal is to reach 10 before falling on the ground exhausted.  This is a high-level of workout due to the rate at which the exercise is accomplished.  Holding it for literally 10 minutes is an exhaustive yet very effective workout!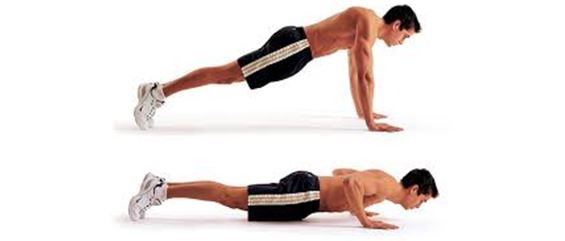 Kettlebell Swing–If you have equipment and like the intensity of using weights, then I recommend the kettlebell swing where you take a heavy kettlebell between your legs while squatting and allow your arms to move forward and back through standing and squatting motions with the kettlebell.
These exercises are great to incorporate into your fitness program; especially, on days where you might not have a lot of time.  The compound movements help with hitting major muscle groups in a short amount of time.  The weight of the kettlebells is dependent on your leg, core, shoulder, and arm strength.  Start off with a manageable weight before moving up in size.  Also make sure to have proper form to keep from being injured.  Full body workouts are an extremely effective means of support towards fitness and wellness goals!  Consult a physician BEFORE attempting exercises that challenge your form and abilities.  Have a Super Strong Summer!
About the Author: Kalvin J. Evans is an Air Force veteran who lives near Grand Junction, Colorado. He and his family run Xodus Adventures as well as Handonbodyworks locally as well as nationally. Kalvin travels with his lovely bride, Liz, to speak at marriage retreats and relationship education workshops!