Get chic and sexy vampy city style with this collection of neutral earth tones and hues that bring your darker side to life. This style screams sophistication and strength, with a feminine flair that matches any fashion on the runway around the world. Creams and beige tones are an elegant fashion style that will make you look like a fashion model, no matter where you are.
First, you'll want to get yourself a classic YSL Handbag with gold and black accents, and logo front and center. To complement this stylish ensemble, we suggest you wear your makeup a littler darker than usual. Always vamp it up with darker lip and nail colors to create a dramatic contrast in the beholders of your beauty. In the fashion world, it always about being bold and unique with your personal style.
Next, you'll want to get this amazing long Alexander McQueen coat that is perfect for cooler climates and evening wear.
Don't be afraid to take a classy look, and add a little fashion edge to it. We recommend an up do with hair pulled from face to expose your best features, and classy shades to create the perfect Jackie-O classy style. Mix and match dark and light tones, like the black with nude heels. You love these Yves Saint Laurent nude pumps. They are comfortable and classy.
Equally important, you must get a pair of classy cream trousers for complete the color scheme of this fashionable ensemble. These White Satin trousers by Galvan offer a sleek and modern alternative for special occasions. They're made in the UK to a high-rise silhouette that cinches the smallest part of your waist then fall into long flared legs that are bound to flounce with every step.  These classic pants offer a modern contrast, that will give you that added fashion model appeal.  Get this fashion blog favorite look now and start strutting the world like it's your very own runway.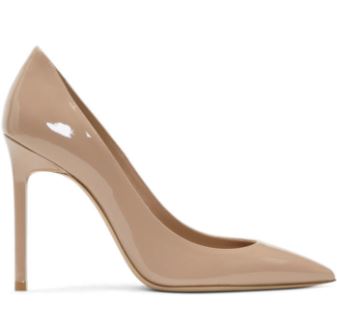 SHOP MORE STYLE NOW!!!