Would you like to visit one of the best beaches in the world? Grace Bay Beach is the perfect place to unwind. It provides you with the perfect view of sunrise and sunset that you can't get anywhere else. And If you ever decide to visit Grace Bay, The Regent Grand is an excellent place for you to stay during your vacation in Turks & Caicos. Basic and luxurious amenities are made readily available for your use.
Suite Location
The exquisite Regent Grand is a 3-bedroom ground-floor suite located in the heart of Providenciales, Grace Bay Beach, The Turks & Caicos Island. You get access to restaurants, fitness, and entertainment centers. Also, the Provo Golf Club is one mile away from the suite.

Amenities
Regent Grand Suite was specifically built with you in mind! Available for lets of 3 months or more, the hotel features a Mosaic heated pool with two Jacuzzis, free complimentary Wi-Fi throughout the property, a fully equipped Nautilus Gym, discounted golf at Provo Golf Club. 
The Provo Golf Club is described as the "Jewel in the Turks and Caicos' crown". Open to both nonmembers and members of the club, residents of the suite are given a discounted rate at the golf club.
Also, the 1000-square-foot AC'd Nautilus Gym has numerous pieces of equipment for cardio and strength training such as an elliptical, running machine, bike, sets of vertical dumbbells, six TVs, water fountain, and towels for your use. You can get fit while enjoying life.
What's fun living without food? You get access to several intercontinental cuisines, a different range of bars, casual and fine dining restaurants. All these at the Regent Village.
Additionally, housekeeping and other amenities are available if requested. The property also boasts 24-hour security and CCTV cameras.
Take a Peek Into The Interior
The Suite has a master bedroom, a kitchen, a living area, a dining area, bathrooms, and two guest rooms. 
The Master Bedroom
Contains a master-sized bed with a spacious closet and luxury furnishings. Also, with an ensuite bathroom and a large walk-in shower. 

The Dining Area
Made to accommodate six persons, the suite comes with pots, cutlery, dishes, plates, and glassware to prepare meals so you won't have to leave the comfort of the property to enjoy good dining.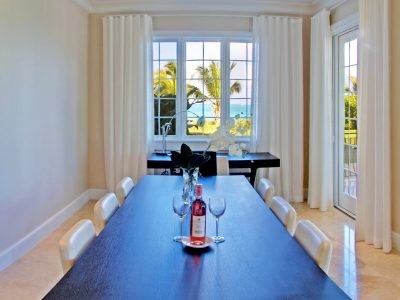 Bathrooms
The bathrooms are equipped with Kohler fittings that give the exquisite feel of luxury.
Guest Rooms
Two guest rooms are available with queen-sized beds and adjoining bathrooms. 
Living Area
Has plenty of seating area with HD TV  and a patio area with seating that overlooks Grace Bay Beach. You will have a magnificent view of the beach, sunrise, and sunset right from the comfort of the suite.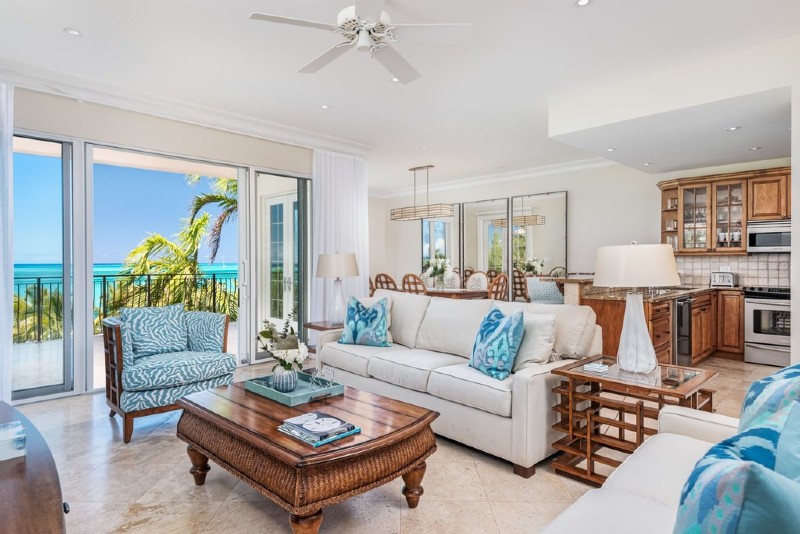 Kitchen
The Kitchen is fully equipped with fridgidaire appliances like a refrigerator, oven, microwave, and dishwasher. All for your use and convenience.

You can visit the website theregentgrand.com for your enquires and bookings.