ABOUT THE POWER OF WORDS BRAND
The Power of Words Brand is a fashion brand whose purpose is to break down the stigma of mental health. In addition to this, it is also an art collection that breaks down barriers and bring more awareness of mental health. 20% of The Power of Words' proceeds go to to Ohio Guidestone which is Cleveland's leading health organization. Its founder is Deborah Sawaf along with other genius names in the fashion industry who she has collaborated with. Among them are John Galliano, Valentino, and Roberto Cavalli. Furthermore, the creative director and founder, Thale Blanc helps seal the foundation and vision of this brand.
His quote which says: "The words you wear influence what people see on the outside, but also impact how you feel on the inside. Fashion leads culture. Culture creates change. Though fashion, let's create change." can be seen at the back of every piece. How amazing and altruistic this brand is in creating altruistic change in society! Let us now take a look at 5 beautiful pieces from them.
KIND LONG SLEEVE SHIRT (Pictured Above)
The first impactful shirt sweater we have here is this black unisex Kind long-sleeve shirt. This shirt has handwritten white lettering surrounded by colorful annotations, proclaiming "It's time for the power of positivity." Meanwhile, block letters spell out "Power of Words," and "Care Deeply, Speak Kindly" written in graffiti appear below. If you want to share the ultimate positive message with the world, look no further than this shirt! Pair it with a short mini skirt (denim or leather) and high boots and you're good to go to that music festival or casual lunch.
EMPATHY CREWNECK SWEATSHIRT
The second inspiring design we have here is the black Empathy crewneck sweatshirt. This long sleeve shirt has the bold words "Empathy", "Hope" and "Warrior" embellished on it. Of course, these are such powerful words that impact the way we live and think of ourselves. These words are virtues that are important for each individual to have if they want to remain strong in trying times. To wear this for a charity drive will be so meaningful. It can be paired with shorts or jeans. Whatever you do, wearing this piece cannot go wrong with anything you pair it with.
SEQUIN JOGGER
The third piece we have here is this gorgeous women's sequin jogging pants in fuschia. Furthermore, these pants feature 2 side pockets at the side. It is made of 100% polyester and lined in spandex charmeuse and more polyester so it allows you that thorough stretch. I can imagine wearing this jogging pants at the roller derby paired with another Power of Words top, and your colorful roller skates and you surely will be the show stopper. Another occasion these jogging pants go well with is a disco night, paired with pointed pumps, a neon crop top and hoop earrings. Take the walk to 80s memory lane with this bold, neon and unique pants.
MARBLE VISION CARDIGAN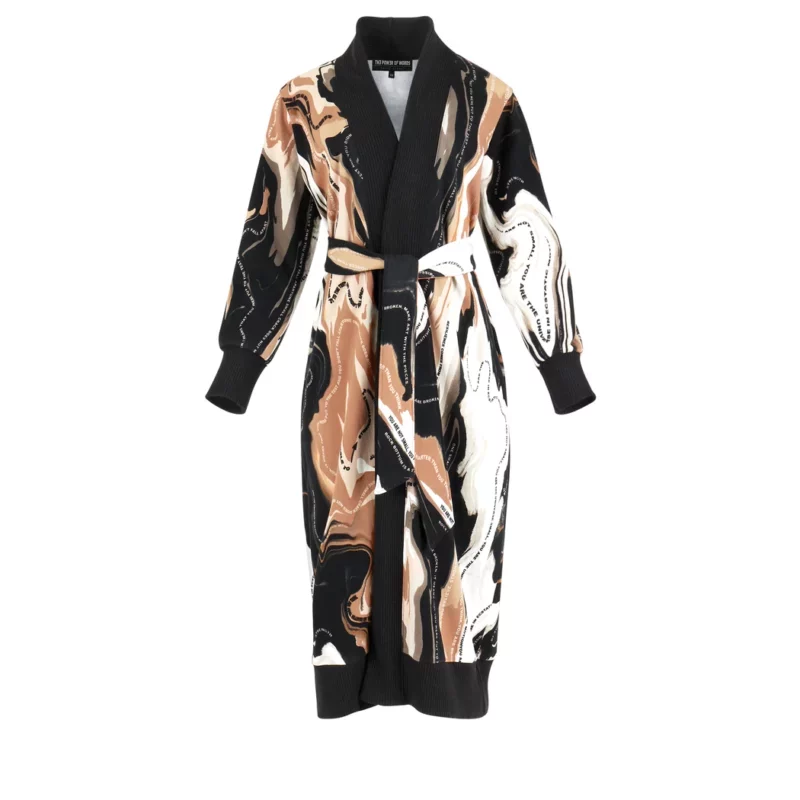 The fourth Power of Words item we feature here is this women's Vision cardigan in marble. Cotton makes up 100% of this long sleeve cardigan, that's why you can be sure that it will be comfortable to wear, and you will not feel too hot or stifled. The phrase "You are the universe" is on the cardigan, in swirls. Evidently, that phrase makes this piece so important and powerful. It is also the same as saying we are all connected in God and we are one. Another inspiring sentence seen here is "Make art with the pieces", which is like saying do good with what you have or make a masterpiece out of scraps, truly a motivating thing to say with some looking to be encouraged. I can imagine wearing this piece on top of a white tank, skinny jeans and heels for a semi formal.
COURAGE CREWNECK SWEATSHIRT
The fifth and final clothing piece we feature here is this unisex Courage crewneck sweatshirt in black. This long sleeve shirt has the words "Courage", "Brave" and "Warrior" embellished on the front and back of it. Similarly, these are such powerful words that impact anything you pair it with. I can imagine giving this sweater as a gift to a loved one battling a mental health or grave disease such as AIDS or cancer. Additionally, this is a good sports wear for athletes such as boxers, weight lifters, gymnasts, and basket ball players. Anyone in life can wear this and feel suddenly driven and strong.
Finally, a brand that isn't just about pure fashion, but is also about helping society. If you want to see more designs visit the Power of Words Brand website and to check out ways we can improve our mental health, check out one of our articles written about it here.