As you're going through your mail, you come across the dreaded vehicle registration renewal notice. For most people, this is an annual event that is worse then going to the dentist.
Not only do you have to gather all of the proper documentation, you then have to visit your local DMV. And, according a study conducted by DMV.com, that means spending at least a half an hour there.
With so much technology now at our fingertips, isn't there a faster and more convenient way of renewing your vehicle registration? In some states, there may actually be an app for renewing your registration.
Using a Mobile App to Renew Your Vehicle Registration
Using a mobile app to improve your experience with the DMV isn't exactly all that new. Back in 2013, Kansas started using the QLess app. This app allowed residents to hold their place in line and notified them when to leave for the DMV.
One resident, Christa Allen, said at the time, "I absolutely hate coming here because you wait forever." She added, "If there is a better way, and I didn't have to deal with all this, I would do it in a heartbeat because I hate dealing with the wait."
The QLess app is currently used by cities like Austin, Chicago, Philadelphia, and Spokane for a variety of government services.
The Department of Motor Vehicles in Connecticut has a similar mobile app that's available for Android and iOS users to download. The app allows you to practice your driver's test, identify wait time, and access online services.
However, some states have introduced apps that allow you to renew your vehicle's registrations directly from your phone.
In late 2017, the Florida Department of Highway Safety and Motor Vehicles (DHSMV) announced that it was partnering with PayIt and would be launching a mobile app called MyFlorida that would give residents a new way of renewing that registration.
"Customers continually request more convenient options for receiving required driver license or motor vehicle services, and it is critical that the department remain agile to meet their needs," said DHSMV Executive Director Terry L. Rhodes in a press release. "DHSMV is committed to identifying efficiencies for our customers, and this new app provides an additional option for customers to complete their registration renewals anywhere, anytime."
The MyFlorida app is available on all mobile devices and allows people to renew up to five vehicles at once. There is a $4.00 convenience fee on top of the cost of renewing the vehicle's registration.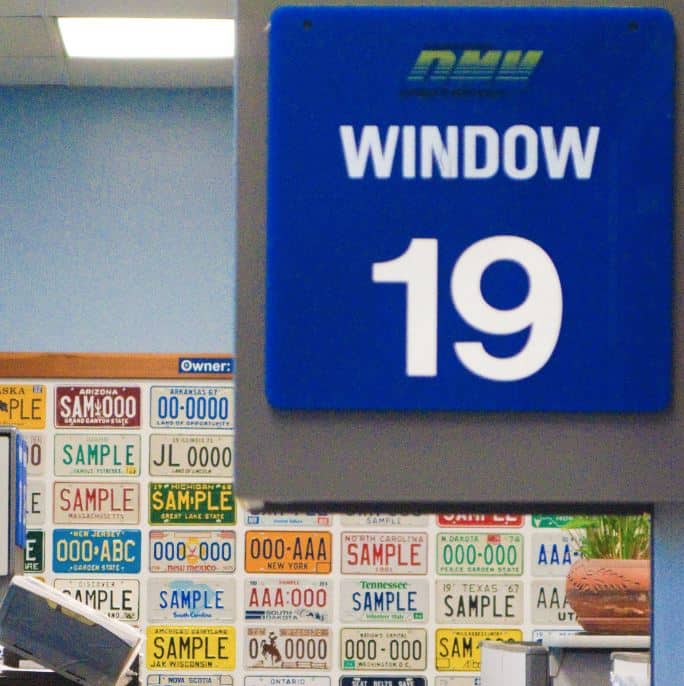 More recently, in March of 2018, Kansas again embraced mobile app technology with the "iKan" app.
Like Florida, Kansas teamed up with PayIt to allow residents to securely renew their registrations from their phones. There's also a $2 convenience fee and there are plans for users to eventually be able to access other records, such as birth certificates and death certificates and voter registration.
Depending on how the response is in Florida and Kansas, don't be surprised if more states begin teaming up with companies like PayIt to create mobile apps for registration renewal and other services.
If you're concerned about security, rest assured that it's taken seriously.
"Modern platform, modern technology. Everything is encrypted. We take full advantage of all the latest and greatest technology and best practice in order to ensure the security of all the information," said John Thomson, CEO of PayIt.
No App, No Problem
What if you live in a state where your DMV doesn't have a mobile app? The good news is that you can still use online vehicle registration from your computer, tablet, or phone. This way you can skip those lengthy lines at your local DMV branch and renew your vehicle's registration wherever and whenever you please — as long as you have Internet connection.
To renew your vehicle's registration online, you first need to visit your state's Department of Motor Vehicles (DMV), Secretary of State (SOS), Department of Revenue (DOR), or Motor Vehicle Division (MVD). If you don't immediately see a link for vehicle registration, then conduct a simple search inquiry.
Once you're on the right page, you'll need your driver's license number, the vehicle's license plate number, and proof of insurance. Some states, such as New Jersey, will also ask for a PIN. This is located on the lower right corner of the renewal notice you received in the mail.
Once you've completed the online renewal application, you'll have to pay the appropriate vehicle registration renewal fee — this varies from state to state. Make sure that you have your credit card or debit nearby because that's the preferred payment method for most states.