In today's world, modern empowered women are inspiring us to be bold and pursue our dreams. This beautiful woman has proven that with hard work, determination, and the right teammate, you can achieve anything you put your mind to, but the key is to always keep your heart in it. In other words, you've gotta love what you do!
Lori Zuker Briller co-founded the Grapevine Agency with Rachel Zaslansky Sheer in June 2005. She started her career in the entertainment industry after she graduated from the University of Wisconsin-Madison with a major in Radio, TV, and film. 
Lori's impressive career journey started at CNN where she worked on their entertainment show and her film career at Turner Pictures under the Amy Pascal regime. 
From there, she moved on as a Development Executive in the motion picture community, working for companies such as El Dorado Pictures with Alec Baldwin and then segueing to Overbrook Entertainment, as a VP of Development, for Will Smith's Universal based production company.
With this impressive career record, it's no wonder how she and Rachel were able to pivot The Grapevine Agency to the top among job-matching firms. 
However, after a three-year stint with Overbrook, Lori transitioned to become a full-time Recruiter in the entertainment sector. For four years, she was an associate with The Robinson Company, a leading entertainment executive search firm working with clients like MGM, Paramount Studios, Creative Artists Agency (CAA), FOX Broadcasting Company, Brand Sense Marketing, to name a few. 
Also, Lori Zuker Briller applies her leadership skills to nonprofits as she is a founding member of Step Up, an organization that propels girls from under-resourced communities to fulfill their potential by empowering them to become confident, college-bound, career-focused, and ready to join the next generation of professional women. And she sits on the board of Adopt Together, a non-profit, crowdfunding platform that bridges the gap between families who want to adopt and the children who need loving homes. 
We get up close and personal with this dynamic woman who is changing lives, by bringing others the helping hand they so very need.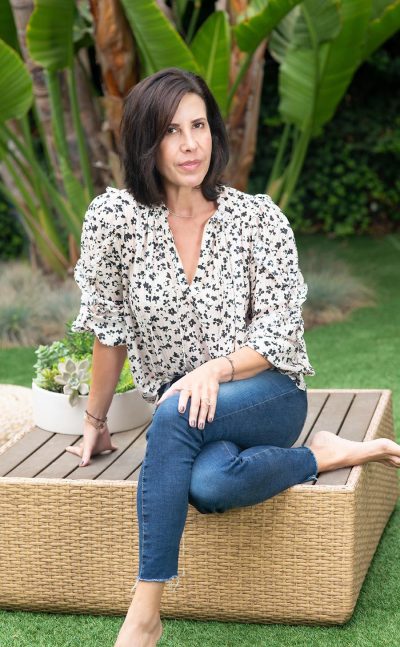 Beverly Hills Magazine:  Hey Lori! It's such an honor to connect with you 😊 Tell us a little background about yourself…
Lori Zuker Briller: My name is Lori Zuker Briller and I was raised on the Upper East Side of NYC until I was 18 (although I can't ever shake saying I am a New Yorker). I went to college at the University of Wisconsin – Madison, and once I graduated I made my way to LA to be with my family who had moved there when I was a freshman.  Lucky me— I met 6 best friends in Madison who were all from LA! 
I currently live nearby many of those college friends — lucky me again – here in Sherman Oaks.  No shame in my 818 games!  I love where I live because I can walk out my door every day and go do something fun or active, just like I'd be doing in NYC.  
Beverly Hills Magazine:  What does it mean to be an entrepreneur?
Lori Zuker Briller: Being an entrepreneur means being able to pivot. It also honestly means there's very little time off. But at the same time, it means choosing when and what you want to work on and who you want to work with, which is incredibly valuable to me as a working mother. 
Ultimately, at the end of the day, the word entrepreneur means work ethic. You have to understand that your work is never done and that you're always going to be striving to get it done and getting it done right, all while trying to make everyone happy of course. 
But sometimes that just means you can also fall flat on your face, which is all part of the deal. 
Beverly Hills Magazine:  When did you start your business and why?
Lori Zuker Briller: I had an "aha" moment when my baby was just a few months old when I realized I really didn't want to work for anybody else anymore.  (That baby is now 16!) 
 Then, as luck would have it, the universe brought me a sign. A college randomly told me that Rachel, my now-partner, was starting The Grapevine Agency and that she just left her job a couple of weeks prior. It was one of those out-of-body experiences where I felt compelled to just cold call her and introduce myself. She thought I was completely nuts. 
But it all worked out because we each had really interesting skill sets that totally complemented each other. We sat down for coffee and never looked back. 
Beverly Hills Magazine:  What is the most challenging thing about being an entrepreneur?
Lori Zuker Briller: The most challenging thing about being an entrepreneur is how hard you are on yourself. That the hours never end. That the time is never off. 
But at the same time, another challenge is forcing yourself to take a break and to make time for yourself, which for me personally is one of the hardest things.
"We Provide A Customized Experience For All Our Clients"
Beverly Hills Magazine:  The most rewarding?
Lori Zuker Briller: The most rewarding part about my job is when we've made a match that results in sheer satisfaction from both the hiring party and the person being hired.  Finding the perfect balance between candidate & client.   And there is no greater reward than someone else's happiness. 
Beverly Hills Magazine: What is your business mission?
Lori Zuker Briller: To be the best that we can be. To do it with honesty, integrity — and to listen to both sides of the equation. We REALLY want to ensure that we are making the best match possible.  Unfortunately, it is sometimes met with frustrated clients or candidates, and as a people-pleaser, that hurts to the core as our mission is truly just to please and make everyone's lives easier. 
Beverly Hills Magazine:  What have been major obstacles/stepping stones that you overcame to achieve your success?
Lori Zuker Briller: A major obstacle for me has been putting my feelings aside. I've really had to learn how to be thick-skinned, and as an innately sensitive person, this has been a huge challenge. It's tough managing everyone's needs but also sticking to what I know is the right decision for the client, even when it means disappointing a potential employee. 
Alas, you can't let it get to you and in order to be successful you have to come to terms that everyone you meet won't love you, and that's okay! 
Beverly Hills Magazine:  Who or what have been your inspirations?
Lori Zuker Briller: Every woman I have worked for in the past has inspired me in some way, but two women, in particular, have impacted me significantly. They were super tough bosses but in all the good ways. Their toughness molded me into a better businesswoman, and without me knowing it at the time they truly taught me so much.  I am still close to both of them today!
Beverly Hills Magazine:  What makes your business different from others of its kind?
Lori Zuker Briller: The emotion that we put into our business, the time, and the discretion. Our ability to TRULY listen to everyone's needs and understand the big picture, and understand what's best for our clients. 
Doing this line of staffing is quite harder than people realize – you are dealing with people's privacy, their homes, their jobs, their lives, their family…  Another thing that sets us apart is our tenure – we've been in business for almost 16 years! 
Beverly Hills Magazine:  Greatest lesson you've learned on your success journey?
Lori Zuker Briller: This too shall pass— and doing the best that you can is enough. 
Beverly Hills Magazine:  Three words that best describe you and why?
Lori Zuker Briller: Intense, silly, and giving.  The work world perceives me as this "tougher" person because I'm honest with people and sometimes that doesn't go over well, but at the same time, I am fun and lighthearted.
 I work crazy hard and I have higher expectations for all around me— but I never expect something from someone else that I would not always do.  
My friends and family know that I am the first one laughing and that I love to play and have fun.  Work hard, play hard is the best motto ever!  Lastly, more than anything — I am a giver. I love to give to people and do my best to always be there for my friends and family. 
I read a quote about another businesswoman that I printed and stuck to my computer – "She is intense, driven and doesn't suffer fools.  She talks very fast and expects people to get it but she is incredibly generous and loyal".  That is me to a T!
Beverly Hills Magazine:  How do you balance your professional and personal life?
Lori Zuker Briller: It is so hard!  I work from home so the lines are blurred.  And being in the service business with an iPhone means you are never off!  Which at the same time is amazing because I am thrilled to have a business and I want to work but I am also able to work while I am at a soccer field for my daughter.  
But it is all-consuming sometimes so it's important to exercise and take time for yourself and your friends and family.
Beverly Hills Magazine: How do you take care of your spiritual self?
Lori Zuker Briller: Whenever I see 11:11 I tell the universe how grateful I am about my blessings!
Beverly Hills Magazine: How has God played a hand in your life, or let you know that He is always with you?
Lori Zuker Briller: I believe there is power out there.  That things happen for a reason.  That sometimes rejection is protection. I trust that even when I can't see the answers I know things are as they're supposed to be.
Beverly Hills Magazine: If you had to give a piece of advice to aspiring entrepreneurs out there,  what would it be?
Lori Zuker Briller: Hustle, stand out, and think outside the box. And don't quit! 
Beverly Hills Magazine:  What is "success" to you? DEFINE success.
Lori Zuker Briller: Success is loving what you do and making a living out of it. 
Beverly Hills Magazine:  Have you discovered a personal purpose in what you do?
Lori Zuker Briller: My hope is that I help guide people to find what they are meant to do.  Sometimes someone calls because they need a new job and have an idea in their head of their direction.  But once I speak to them I know it is not authentic to who/what they are.  So many people are so talented but scared to make a change or be entrepreneurial, which I understand because it can be scary to forge a new path especially when you have bills to pay, but I am hopeful I can encourage people to think bigger and stay true to themself. 
Beverly Hills Magazine: If you had one wish that would be granted, what would you wish for?
Lori Zuker Briller: Health and happiness for everyone around me … and maybe one GREAT trip somewhere with my friends and family.  Ok, so more than 1 wish.. 🙂 
Lori Zuker Briller: TheGrapevineAgency.com or find us on Instagram, @grapevineagency!