Miss Utah, Rachel Slawson is a Miss USA delegate. She created 'Feelings are Human'. An initiative that is a two-month Group Coaching program and 4-day retreat for individuals struggling with confidence, sexuality, and mental illness. These individuals come together to nurture their mental health, awaken their self-healing power, and live better.
Rachel Slawson is the first contestant to win the coveted title for Miss Utah USA in 2020 and come out bisexual as a beauty contestant. In this interview with Miss Utah, we can expect to learn more about her background, her motivation for entering the Miss USA competition, her feelings about coming out as bipolar and her thoughts on various issues facing our country today.
By getting to know Miss Utah on a personal level in this article, we can gain insight into what makes her unique, and understand why she is a strong representative of her state.
Beverly Hills Magazine: Give us a little background about yourself. Where you grow up, schooled, trained etc?
Rachel Slawson: I was born in Mission Viejo, California. As a child I lived in Seattle, Washington, and Beijing, China with my family, before moving to Provo, Utah to finish out high school. Growing up Mormon, I loved the move to Utah as I finally felt like I fit in. I attended BYU, and then left the school, and the church, to pursue acting in Los Angeles. I came back to Utah to win Miss Utah USA, and now I split my time between Utah, LA, and Miami, as a professional actress, writer, and creator for brands.
Beverly Hills Magazine: When did you discover your interest in pageantry?
Rachel Slawson: I stumbled into pageantry by accident. I never saw myself as a girly-girl, if anything I felt awkward and ugly growing up. When I was 18, I met Miss Utah USA Marissa Powell, and the way she carried herself really stood out to me. I wanted to be able to find that beauty and confidence within myself, so I signed up for a pageant on a whim. I was instantly addicted to the personal transformation process that goes into pageantry.
Beverly Hills Magazine:  How did you prepare for the competition?
Rachel Slawson: I competed for 7 years before I finally won, which means that my training evolved over time. My first pageant I had no idea what I was doing. By the time I was training for Miss USA, I had multiple interview coaches, a walking coach, a hair and makeup team, experience finding sponsors, and a whole team of them behind me.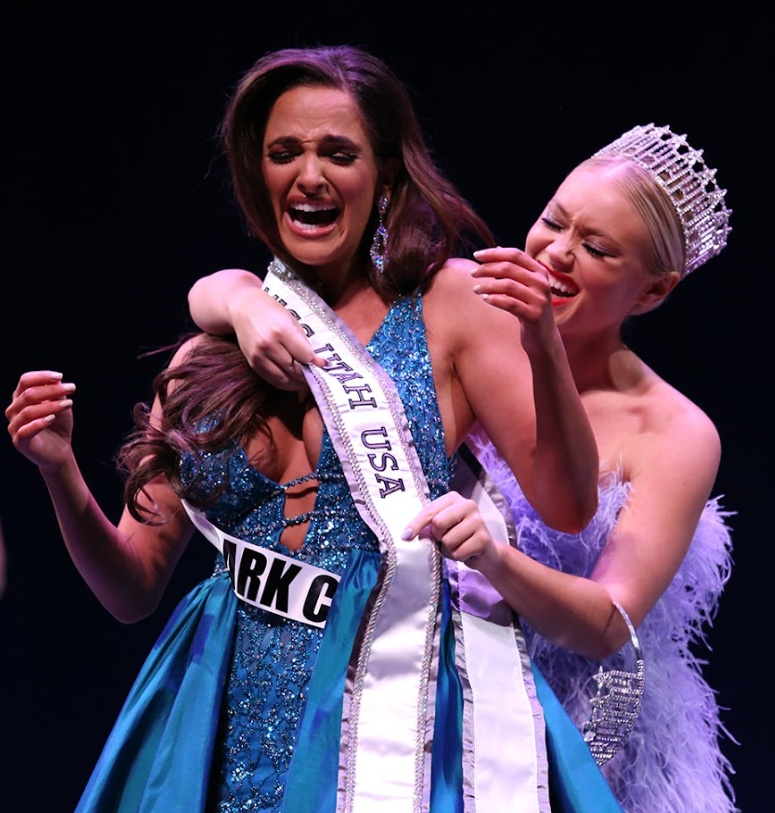 Beverly Hills Magazine: What did it feel like to be on stage in front of so many people?
Rachel Slawson: I absolutely love being on stage. I know it isn't for everyone, which is why I believe if you do enjoy performing, it's meant for you.
Beverly Hills Magazine: Who or what have been your beauty inspirations?
Rachel Slawson: Truthfully, all of the Miss Utah USA's who came before me really inspired me to find my own aesthetic. When you are a pageant girl, your state title holder is more of a celebrity to you than actual A-List celebrities. They all inspired me so much, and now many of those titleholders are my close friends.
Beverly Hills Magazine: You admit you suffer from bipolar symptoms; how do you find peace?
Rachel Slawson: I think peace is hard to find these days, with or without mental health challenges. I rely deeply on my personal relationship with God to make it through the challenging days, as well as my meditation and self-care practice. There are some days with my own unique health issues that peace isn't in reach, and that is when I practice acceptance. Accepting the chaos and the bad days is a form of peace to me.
Beverly Hills Magazine: Why do you think mental health disorders affect so many people in today's generation?
Rachel Slawson: I think social media has deeply wounded our generation. It has exasperated comparison and bullying. I also think that there is a deeper sense of fear about the state of the world. We have less trust in what is true, even when watching the news, and it leads to a perpetual state of anxiety. Many of us don't feel safe even at home. I also think that in some ways, humans have always struggled with their mental health, but we are more aware of it because of the transparency in social media. It's a double-edged sword.
Beverly Hills Magazine: What are some tips you would give to others suffering with bipolar tendencies?
Rachel Slawson: Accept the diagnosis, not the identity. Understanding what my body was going through allowed me to treat it and take care of it, without allowing myself to become it. The truth is that mental health issues can be overcome. When you overly identify as a mental illness, and not a human, it is easier to stay sick longer. Healing is possible when you accept that your unhealthy tendencies need care, attention, and healing. But they are not who you are as a person. In fact, they are everything you are not, and will evolve out of you as you heal.
Beverly Hills Magazine: You started Feelings Are Human, an initiative that is a 2 Month Group Coaching program + 4 day retreat for individuals struggling with confidence, sexuality, chronic mental wellness challenges, who are ready to nurture their mental health, awaken their self-healing power, and reclaim inspired living. Where do these retreats take place?
Rachel Slawson: These retreats take place all over the world! I usually switch between one local retreat where I am from in Utah, and one international retreat each year.
Beverly Hills Magazine: Do you have a Life Motto, Quote, or Bible Scripture that you live by?
Rachel Slawson: My family motto growing up was "Go Forward in Faith." I live my life by this still, knowing that faith in what we cannot see, but hope for, can create miracles.
Beverly Hills Magazine: How do you nurture your spiritual self?
Rachel Slawson: A big part of my spiritual practice comes down to self-care. It is incredibly hard to have a relationship with God when your physical and mental body are unwell. I do also like to read spiritual books and scripture, and go to church. But I view myself as spiritual not religious. Church is a place for community, a place to practice our spirituality with others. But first and foremost, I prioritize my relationship with myself and my body, so that I can be well enough to hear God in my life, and my personal relationship with God, which to me is a Higher Power of unconditional love.
Beverly Hills Magazine: If you could have one superpower what would it be?
Rachel Slawson: I would want the ability to see all possible timelines of my life play out and be able to know the one that would create the highest good for myself and all other beings, so I could always know I was on the right path.
Beverly Hills Magazine: What advice would you give to other woman who are considering entering beauty pageants?
Rachel Slawson: Never listen to anyone but yourself. Take notes from true experts, but always trust your gut. And never let someone else tell you that you can't have your dream come true. If I can, anyone can.
Beverly Hills Magazine: What do you believe makes a woman beautiful?
Rachel Slawson: There is nothing more beautiful than a woman who loves herself. Everything else, adornment and physical manifestations of beauty, are always in reality meant to be a reflection of self-love. When you try to look the way someone else wants you to, it never works. But when you let what is inside reflect on the outside, you will radiate beauty.
Miss Utah has shown us that she is more than just a pretty face, but a strong and confident woman with a heart of gold. We have learned about her background, her interests, and her views on important issues facing our country. She is a true representation of the values and ideals of the Miss USA competition and of the state of Utah. We can keep up with her through her Instagram page as she sure has a lot for us in the future.