Rafka is a New York based Designer Jewelry brand which features necklaces, pendants, rings, earrings, brooches, cufflinks and bracelets. Rafka Koblence is the founder of this haute jewelry brand. He moved to United States from Russia 50 years ago with only one passionate goal: to make unique and timeless luxury jewelry. Furthermore, his attention to detail, and excellent artistic intuition makes the pieces truly one of a kind.
Up to this day, Rafka creates custom jewelry not intended for the masses. He uses only the highest quality precious metals and stones for his sophisticated clientele. As a result, his works are masterpieces that become heirlooms. It also is authentic and something that will always be valuable and worth investing in. Let us now take a look at five gorgeous rings handpicked just for you.
IMPERIAL JASMINE (Pictured Above)
The first ring we feature here is the Imperial Jasmine ring. This platinum ring is topped with a removable fine Colombian Emerald weighing 11.03 carats. Moreover, its 262 finely cut diamonds that surround the ring weigh .31 carats. Only the finest woman akin to royalty will be able to make this exclusive ring stand out at any event. This ring has an ability to add glamour to any outfit. Furthermore, this exotic, exquisite piece of Rafka design jewelry is sure to become your favorite one.
PLATINUM RING
The second ring we present to you is the Platinum ring. With a first glance, it is such a simple ring but the longer you look, the more enthralling and captivating it is. Moreover, its signature style will do the sparkling or accent for any outfit or occasion. It is decorated by 6 certified round cut diamonds, weighing 6.12 carats. The central round cut diamond composes the middle which weighs 1.50 carats. Lastly, a total of 42 diamonds weighing .21 carats line the ring. Who can say no to such a simple yet luxurious piece of jewelry. I can imagine this as the perfect engagement ring!
RAYS OF KASHMIR
The third designer ring we have here is this exotic Sapphire ring, Rays of Kashmir. From its name, the Sapphire originated in Kashmir, India where most Sapphires are rare. Furthermore, the are valued as significantly as they are because they contain only the best specimens, having a blue velvet quality and a superior cornflower blue tint to it. The Sapphire weighs 8.42 carats. Embellished with 35 tapered baguette-cut diamonds with a total weight of 5.35 carats and 380 round-cut diamonds weighing 4.18 carats, it is an embodiment of elegance and glamour. Moreover, it is one of the unique designer rings that you will never find anywhere else, only at the official Rafka design jewelry store.
SONATA
The forth ring we have here is the Sonata. Similarly, it's diamond, like the first ring presented here, is Colombian Emerald. It also is removable as well. This design is exclusive as it features a unique cut. The Emerald is an amazing 14.53 carat. Moreover, The ring also features 154 full-cut diamonds with a total weight of 0.30 carats, which magnify the sparkle of the jewelry piece, making an unforgettable impression. This ring is a perfect gift for someone you love or simply an addition to your collection of rings. You can never have too many!
SUNBUST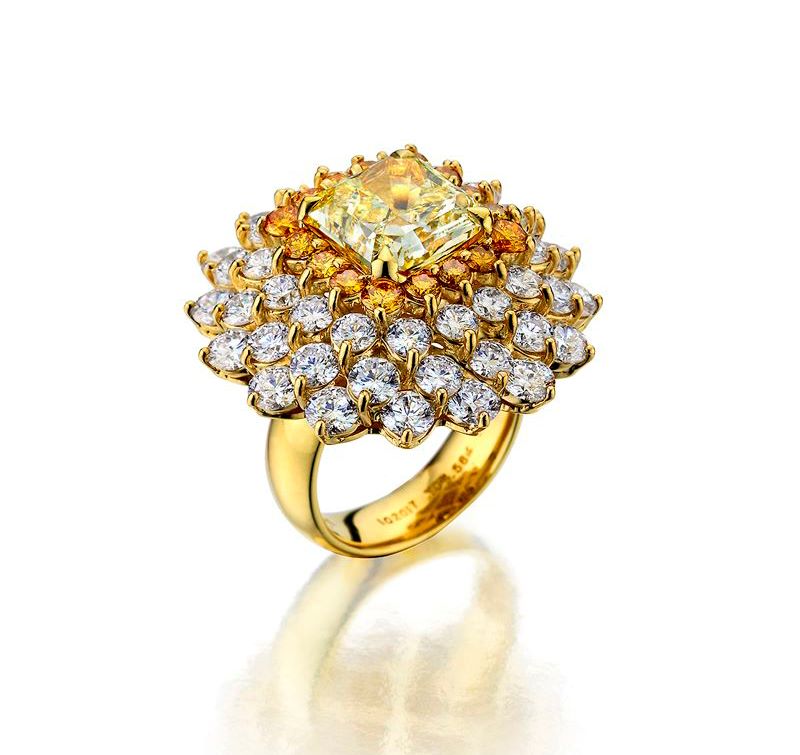 Last but not least in the handpicked Rafka luxury designer rings is the Sunburst. It is obvious why the name is Sunburst just by looking at the yellow cut diamond and the others that surround it; it looks just like a sunflower. Other than that, this ring features a certified natural fancy yellow square-cut diamond weighing 4.54 carats. Surrounding it are 16 vivid yellow diamonds with a total weight of 1.20 carats and three lines of 48 round-cut diamonds weighing 5.00 carats. Additionally, its band is made of 18k yellow gold. What an exquisite and feminine ring to have. Truly, all heads will turn to the finger that wears this one of a kind piece.
In conclusion, we presented five of the most exclusive and top of the line rings from Rafka. Own a piece of art reminiscent of timeless Faberge masterpieces in Russia inspired by Rafka. Jewelry can never be as good as this.