APPLE & BLACKBERRY CRUMBLE
Blackberry and apple crumble is a classic English dessert, and it represents the finest in comfort food. The tart blackberries marry perfectly with the warm, comforting apple and the crispy, cinnamon scented crumble topping.
Over the years I have made crumble in many corners of the world. The most exotic location was the Kingdom of Bhutan, which I visited on an official royal tour with HRH The Prince of Wales. His Majesty King Jigme Singye Wangchuck came for dinner and I made a crumble using apples that I had transported from Highgrove and I served it with cream that had also travelled with me, all the way from the Royal Dairy at Windsor.
Serves 4
You will need either four individual portion oven-proof dishes
or one 900ml (1 ½ pint) oven-proof dish
Ingredients:
For the Filling:
900g /2lbs Bramleys or other cooking apples
40g /1 ½ oz butter (3 Tbsp)
120g /4oz light muscovado sugar (1/2 cup)
7,5ml /1 ½ tsp cinnamon
300g blackberries
For the Crumble Topping:
120g /4oz butter (1 stick)
60g /2oz light muscovado sugar (1/4 cup)
120g /4oz all purpose flour (1 cup)
45g /1 ½ oz rolled oats (1/2 cup)
30g /1oz desiccated coconut (1/4 cup) – optional
5ml /1 tsp pure vanilla extract
2,5ml / ½ tsp cinnamon
30g /1oz chopped pecans ( 1/4 heaping cup)
Method:
Pre-heat the oven to 190ºC /375º.
Prepare the apple filling. Peel, core and dice the apples. In a heavy based saucepan or non stick frying pan melt the butter with the sugar and cinnamon add the apple and cook it over quite a high heat for about 5 minutes so that it 'caramelises'. Remove from the heat and stir in the blackberries.
Divide the fruit between the four oven proof dishes, or fill one big dish.
Make the crumble topping. Place all the ingredients into a food processor and process until the mixture resembles chunky breadcrumbs..
Sprinkle the crumble over the apple & blackberries.
Place the dishes on a baking tray and bake for 20 – 30 minutes depending on the size. The topping should be golden and crunchy.
Serve with cream, custard or creme fraiche.
This is also lovely served with some blackberry puree folded into some whipped cream.
This brings back fond memories of picking apples and blackberries at Highgrove in the autumn. Crumble was a regular on the menu throughout the chilly autumn and winter months. This classic apple marionberry crumble brings a delicious taste of England to your own kitchen. A base of fresh granny smith apples and marionberries are baked to perfection with an aromatic topping featuring pecans, rolled oats, cinnamon, vanilla, and butter. Ready to heat and serve with ice cream for a scrumptious dessert, or with a cup of tea for an afternoon treat.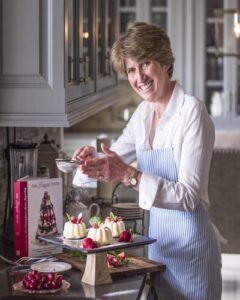 About The Royal Chef: Carolyn Robb
Carolyn's story is very much a fairytale; from cooking by her Mum's side in South Africa, to standing in front of Buckingham Palace at the age of nine and whispering to her father that one day she would cook for British Royalty, to becoming the youngest and first female Personal Chef to Prince Charles and his family, all while living at Kensington Palace in London. Carolyn absolutely loves to inspire all to treat family and friends to a Royal Touch!  Happily, Harry & David has partnered with Royal Chef Carolyn Robb in which all desserts are immediately available online. Carolyn's journey continues as a single mom of two little girls; Lucy and Mandy, and being a true entrepreneur.