ABOUT OUMERE:
Oumere is a luxury, skin care beauty brand with extensive research on cellular science. Founded by Wendy Ouriel, who holds a Master's degree of Science in cellular biology. More importantly, she focuses on beating aging, acne and skin damage. Her whole 25 years, Ouriel has never experienced acne or any skin damage, however, once she started the use of anti-aging serums (even high end ones), problems started to arise in her skin. This is what led her to explore her options in the skincare market. Unfortunately, this left her disappointed since they increased her acne and damaged her skin further.
Now, this is how Oumere was inspired. Wendy, with her backgound studies, did some research to prevent acne, skin aging and damage. Furthermore, she discovered that essential oils, alcohol and inflammatory substances were the culprit. In effect, she made a new formulation with her extensive research, powerful and effective ingredients.
THE COLLECTION SET (Pictured Above)
The Collection Set comes with 5 bottles namely number 9 Liquid Daily Exfoliant which exfoliates and brightens your skin. 1 bottle of UV-R, which is an age reverser and protects and repairs your skin's damage from the sun as well as from environmental stressors. The third bottle is the Serum Bioluminelle which is an advanced, potent and all natural plant based moisturizer that regenerates your skin. The forth bottle from the set is the Oil Dissolution Theory, which is an oil cleanser, excellent at dissolving oils. Additionally, it is a makeup remover and eliminates contaminants left in your skin. This leaves your skin dewy, youthful and balanced. Finally the fifth bottle is the Eye Serum which solves under eye dark circles, puffiness and pigmentation. It brightens your eyes and illuminates the spots. All you need for your skin care regimen are in this package!
SUN LUXE DAILY MINERAL SUNSCREEN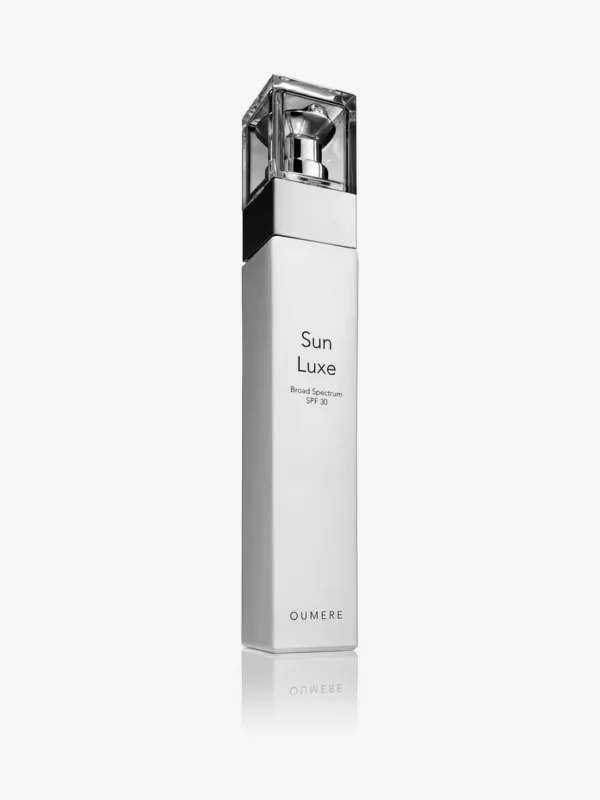 The next skin care product we feature to you is the Sun Luxe Daily Mineral Sunscreen. It features anti aging UVA and UVB rays which is not just a sunscreen but both an anti aging cream as well! How convenient is this. Furthermore it also has Not ideal for the water as this sunscreen is only SPF 30, it is more for minimal to mild sun exposure. Furthermore it contains broccoli seed oil, green tea extract for a powerful anti-aging effect and leaves no white residue. It hydrates the skin, leaving your complexion dewy,  glowing, and beautiful. Additionally, it contains non-nano zinc oxide and titanium dioxide. Sun Luxe is fragrance-free and contains no drying alcohols, parabens or essential oils that actually do more damage to the skin. This is a sunblock that you cannot leave home without. We all need sunscreen and what more than an anti-aging sunscreen at that?
BECOME AN OUMERE VIP
The last amazing benefit we present to you if you purchase Oumere Skincare products is that you can become a VIP member. What does this mean? First, when you shop you earn points, secondly, you earn 1 VIP point for every $1 spent on a product. Third, you can achieve VIP status with your VIP points and earn Oumere skincare, giftcards and VIP only benefits! Moreover, here are the current VIP tiers: Gold is obtained upon first purchase, Platinum is when you get 2,500 points and finally Red is10,000 points. To learn more about this and for the Frequently Asked Questions visit this page of their website.
There you have it! If skincare had a Renaissance Era it would start with Oumere Skincare. For more beauty products we have featured before click here.