Eurocopter AS365 N3 is a twin-engine helicopter and a member of the Dauphin family. It's a medium-size multipurpose helicopter. As a result, this model fits well with civil and military operations. That's why, after so many years since its inception, the helicopter is still a darling for special functions. 
The initial model was Aerospatiale SA 365 Dauphin 2 developed in France by Aerospatiale firm. However, the name changed after the firm merged with Eurocopter in the 1990s. Later on, Eurocopter changed its name to Airbus Helicopters.
The Design Aspect of this Multipurpose Helicopter
The AS365 N3 features one of the most successful designs. It's majorly used for corporate transport, airborne law enforcement, emergency medical services (EMS), electronic news gathering, and search & rescue. It also comes with a distinctive fenestron rotor tail synonymous with all Dauphin. Besides that, the fuselage features anti-corrosion protection.
The fuselage of AS365 N3 comes with a lavish cabin, a luggage compartment, and a removable tricycle landing gear. It has four doors, two on the cockpit and two sliding doors on both sides of the cabin. Plus, the manufacturer added boarding steps to ease in and out movement.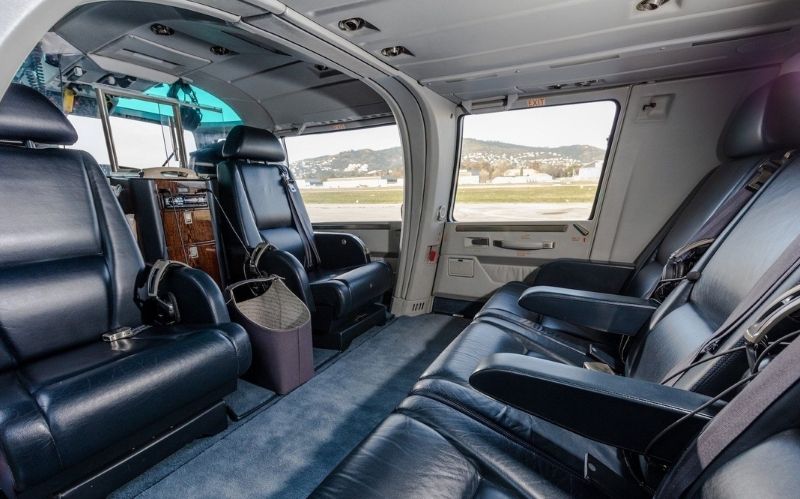 In total, the multipurpose helicopter accommodates 12 passengers and two pilots. However, this number reduces to seven passengers if you opt for a luxury layout. 
The composite material of this rotorcraft comes from different sources. Take the rotor blades as an example; they're built using carbon fiber. Apart from that, the structural design includes a reinforced system with hoists and cargo slings. Also, on the fuselage surface, they have mooring lines and gripping points installed. 
The cockpit highlights sophisticated designs and advanced avionics. Once inside, you can't afford to overlook the latest generation of mechanical assemblies and electrical systems. Other notable instruments include the 10.4 touch screen display, automatic voice alarm device, and flight data management system. These also include the health and usage monitoring system and digital audio communication system.
Performance of this Multipurpose Helicopter
On top of being multipurpose, this cool helicopter flies in regions with significant altitude. It can also fly in areas with hot temperatures with ease. Interestingly, one pilot can fly AS365 N3 with the help of instrument flight rules. It contains a 4-axis dual digital automatic flight control and auto-pilot system.
The helicopter comes with 635kW Arriel 2C turboshafts and a single channel digital engine with manual reversion. Likewise, the redesigned composite rotor tail fenestron consists of ten blades. But since they wanted to reduce noise output, they arranged the blades asymmetrically. 
The AS365 N3 twin-engine can go for a range of 793km at a cruise speed of 269km/h. Its climb rate stands at 408m/m, while its gross weight is 4,300 kg (9,500lb), and its certified ceiling height is 19,500ft. Plus, the helicopter's takeoff and landing distance are 50ft. 
The Market Price of Eurocopter AS365 N3
If you are looking to buy a helicopter with luxury touches and versatile capability, one of the AS365 N3 models is available for sale. For more information and price details, contact Nigel Watson Limited.
Final Take
Currently, there are so many developed variations and specialized versions of this Dauphine. However, most of those designs are for military and rescue operations. For example, the Eurocopter panther and HH/MH-65 Dolphin. Also, China produced a few variations of this Dauphin: the Harbin Z-9 and the Eurocopter EC155.
Despite that, the multipurpose helicopter is suitable for private use. Indeed, this model is available for those who want to buy a helicopter.