Recognized as one of the best vegetable-forward chefs in the world, Michelin-starred chef and restaurateur, John Fraser, re-opens Ardor at The West Hollywood EDITION.
A California native who refined his expertise under the mentorship of Thomas Keller at The French Laundry, Fraser perfected his technique at lauded Paris establishments including Taillevent and Maison Blanche, before becoming executive chef at Compass where he was awarded two stars by The New York Times. Focusing on the essence of food, Fraser approaches each dish at Ardor simply, using produce sourced hyper-locally through partnerships with farmers.
As with all John Fraser Restaurants, including Michelin-starred NIX and The Terrace & Outdoor Gardens at The Times Square EDITION, Fraser and his team craft their offering with a distinct focus on the vegetable components. Redefining the way that plant-based ingredients are used in American cuisine, Ardor presents a menu where dishes are created at the source of their inspiration in California. Using techniques from around the world, Ardor, which means passion and exuberance, reflects Fraser's heritage and culinary journey and is brought to life by an all-female team of line cooks.
Chef John Fraser shares, "After our doors were closed for over a year following an initial whirlwind opening in 2019, Ardor re-emerges with our most popular dishes alongside new creations, developed in recent months. We are so thrilled to share Ardor's locally-inspired menu with our neighbors, hotel guests, and visitors alike."
Tandoor Carrots, for example, sees Californian table carrots cured for 24 hours, in a mix of sugar and salt, before they are steamed and finally roasted. Served on a bed of NIX hummus with a smoked paprika vinaigrette, the dish includes fried eggplant and is finished with parsley, mint, and dill.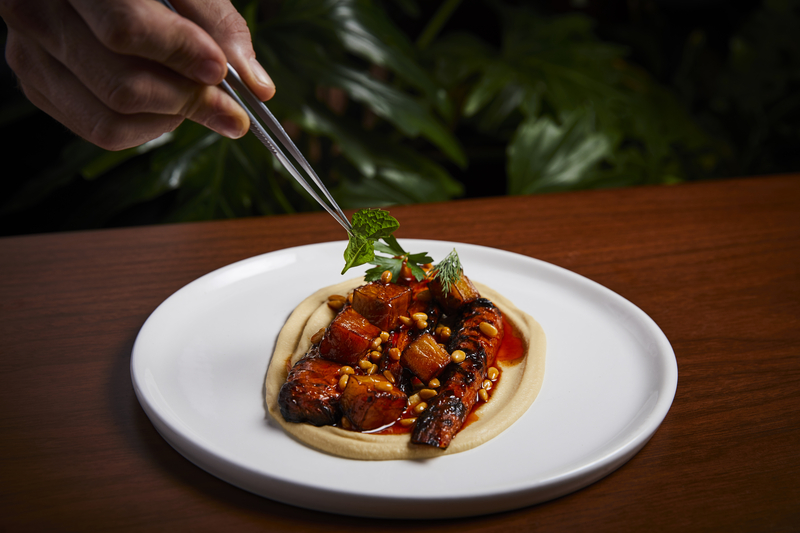 The Arugula Farro Risotto begins with farrow cooked in vegetable stock which is finished with a kombu parmesan broth. The dish features onion, leek, garlic, shallots, spinach, and arugula which are pureed, giving a vibrant green appearance. Served with an arugula, radicchio and frisee salad with white balsamic vinaigrette and lemon zest, Ardor's risotto is completed with a parmesan and calabrian chili vinaigrette.
Divided into five sections – crudo, appetizers, entrees, charcoal grill, and more vegetables – Ardor's menu sees the following cult favorites return:
Milk Bread – beefsteak tomatoes, olive oil, red wine vinegar, Maldon salt
Raw Cauliflower Cacio e Pepe – ancient grains, fava beans, haricot verts
Sweet Potato Curry – puffed rice, lily bulb, jackfruit
Highlights from the dessert menu include Terrarium, which is created with sugar blown like glass into a sphere. The globe is shattered to reveal edible flowers, dill, vanilla-honey gelatin, and bergamot, served over orange gelato which is surrounded by a cloud of spun sugar. Inspired by Pride, Rainbow Sherbet presents a colorful creation where a raspberry, orange and tarragon sherbet is served on an olive oil cake and completed with a towering raspberry sugar tuile.
Developed by Beverage Director Amy Racine, Ardor's cocktail offering mirrors the kitchen's focus on fresh ingredients. For example, Clear sees a lightly pickled Piopinno mushroom presented in a clean, fresh martini which is sprinkled with koji to bring out the umami and purity of the ingredient, without over-layering. Emphasizing mezcals and tequilas the cocktails at Ardor are seemingly simple and rely on the spectrum of colors as inspiration, defying the pompous noise of current cocktail culture:
Yellow – reposado Tequila, pineapple, chili, egg white, turmeric
Pink – blanco Tequila, Campari, tarragon, pamplemousse
Umber – rye, Bacardi 8, amaro vermouth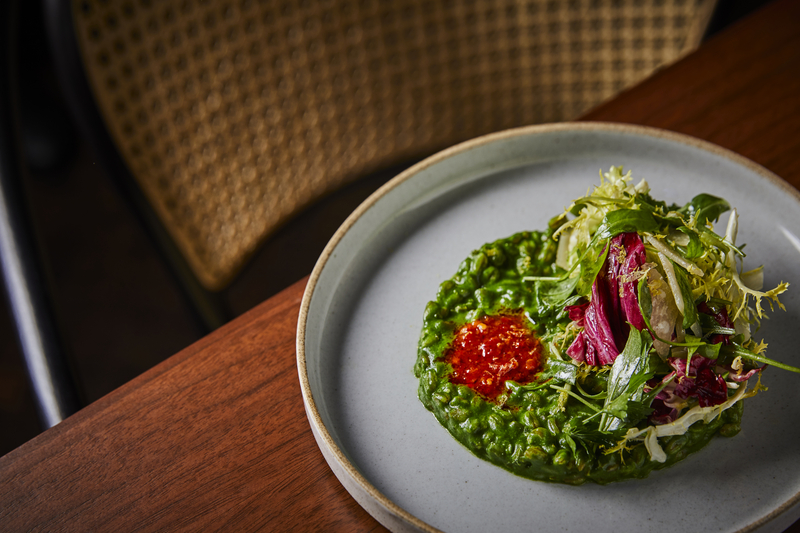 Ardor's re-opening sees a new wine list, geared towards large format, healthy farming practice wineries. Emphasizing that safe farming techniques are both healthier to drink and better for their surrounding communities, the list includes a selection of natural and biodynamic wines. With several by-the-glass wines poured from magnums, the curated bottles pair well with the light, vegetable-centric dishes on the menu.
Nestled in a green oasis, Ardor's setting reflects a connection with the outdoors. The restaurant's interior features timber screens, ceiling beams, and electric chartreuse accents seating up to 92 table-style and 15 at the bar. With seating for up to 46, Ardor's terrace is a greenery-filled garden built for al fresco dining in the finest traditions of Napa, transporting guests from the hustle and bustle of Sunset Boulevard to an idyllic respite.
Located on the corner of Sunset Boulevard and North Doheny Drive, where West Hollywood meets Beverly Hills, Fraser offers three distinct dining experiences at The West Hollywood EDITION, with indoor and outdoor spaces all under one roof. The signature restaurant, Ardor, boasts vegetable-forward, modern Californian cuisine, whilst The Roof offers Southern California Mexican dishes against a panoramic backdrop of Los Angeles. Finally, the dramatic three-story Lobby Bar, which will re-open this summer, offers an all-day menu with bespoke cocktails.