Finding the perfect yacht takes time. But that doesn't mean it's impossible. Take the Azimut 105 for instance. Blending muscle with beauty, this luxury yacht is sure to offer something for everyone. And that's not even getting started with all it's fun amenities inside! So with that said, let's take a full look at everything this Megayacht will offer you in living the ultimate yacht life!
Horsepower for Days
It turns out this yacht's beefy appearance isn't all show. Just check out the engines, and you'll find that this vessel packs all the power you'll ever need! To be exact, you'll get 2 MTU engines here. And with 2,216 horsepower, you'll get all the strength you'll ever need to haul around such a large yacht. Plus, with a max speed fo 32 mph and a cruising speed of 29 mph, the Azimut 105 happens to be one of the faster yachts you'll find as well. Either way, these engines offer all you'll need to get your party at sea started!
Hop On Board One of the Coolest Yachts Ever
As already mentioned, the Azimut 105 Grande carries a unique design like none other. Flashy, sporty, and a touch beefy—it's an all-around aesthetic pleaser! And with 2.5 decks, there's sure to be fun for days! But let's head inside and see what's waiting for you aboard this luxury yacht!
First things first, you'll come across a massive and comforting saloon that's just begging you to take a seat! The modern carpets, sofa, and tables make this a perfect and inviting area to converse with any guests on board. And things only get better with the included minibar! After all, the ultimate yachting experience starts with a tasty drink in hand!
Next, you'll get a kitchen that's packed with all your galley essentials. Plus, there's enough room inside to fit four of your guests at once. So it's definitely ideal for more intimate meals!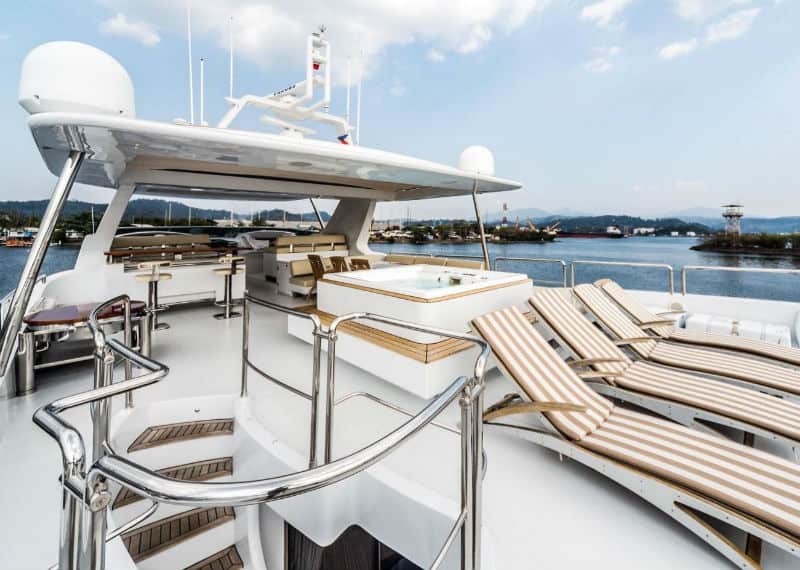 Naturally, you can't have a good yacht without some good accommodations on board! And for you, this vessel offers the ultimate luxury master suite. Inside, you'll get a private cabin with your personal king sized bed. Also included are some epic panoramic views of the water! There's no better morning view than waking up to the beautiful scenery of the ocean! Plus, you'll even get your own personal tub and separate shower! This is where you'll get some quality pampering.
For your other guests, you'll get double VIP cabins and one twin cabin. And don't worry, your friends will also get some incredible views of the water from their rooms as well! Plus, with 10 berths on board, there's plenty of room for your close friends and family!
And of course, what's the point in owning a yacht if you're not going to spend some quality time soaking up the rays. In this case, the Azimut offers two decks with a jacuzzi, plenty of open space, and even a wet bar. So there's no denying that you and your guests will experience countless hours of fun aboard this fine yacht!
What's the Price of This Luxury Yacht?
Thankfully, this incredible yacht isn't incredibly hard to find. As such, you'll often find the Azimut 105 Grande with a price tag just south of $4 million. But if you know where to look, finding this fine yacht for $3.6 million isn't impossible either. So if you're ready to ignite your yacht life, the Azimut 105 Grande is the Perfect Place for that!
Final Thoughts About This Beautiful Yacht
All in all, the Azimut 105 is a unique vessel like none other! Aboard, you'll get enough relaxation and fun to last you months at a time! And let's not forget about that unique design that separates this fine yacht from the thousands of other luxury yachts out there!