Leave it to Aston Martin to design one of the world's most beautiful and expensive cars! And not only does this cool car pack the looks but it also happens to be what Aston Martin dubs as a "super grand touring" car! So you know to expect plenty of comfort and luxury during your drives. So let's hop in the 2018 Aston Martin Vanquish S and see what this dream car is all about!
Blending Super Grand Touring with Power
When you think of luxury cars, speed isn't always the first thing that comes to mind. But Aston Martin is here to change that with the Vanquish's engine. To be exact, you'll get a 5.9-liter V12 motor. And as far as performance goes, expect 580 hp and 465 lb-ft torque. Putting this into practical terms, this little grand tourer will race from 0-60 in 3.5 seconds. So it's certainly faster than your run of the mill luxury car. And that's not even touching on this fast car's 200 mph top speed!
Typical Sleek and Suave Aston Martin Look
Take one quick look at this fine automobile and you'll see it lives up to Aston Martin's reputation for designing the market's suavest cars! In fact, its looks are enough to steal the cover of any car magazine!
Starting off, you'll find the front packs that signature Aston Martin all-metal Grille. There's no denying that this piece alone sets the tone for a beautiful car with its simple yet cool s-curve design! So it'll definitely ensure everyone knows you're driving an Aston Martin.
And while we're on the topic of Aston Martin Signatures, you'll find another one upon opening the doors. As expected, they open at an upward angle to avoid scraping upon any curve. But they also happen to add a cool look to this already-sexy car in the process!
Step inside those doors, and you'll be treated to the ultimate grand touring experience. From a visual standpoint, everything in this car offers a sleek design. Even the buttons on the center console are made from glass to offer a refined look. And if that's not enough, the $700 key is also made entirely from glass. And unlike most vehicles, you'll plug the key into the center console to get this beautiful car up and running.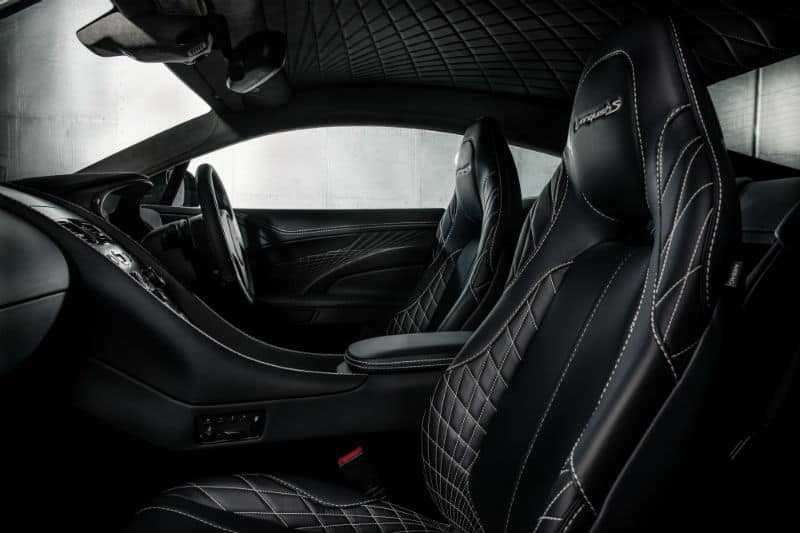 Beautiful Inside And Out
As is typical of Aston Martin, you'll get your say in the interior colors of your cars. And to add an ultra-cool touch, you can opt for a "filograph quilt" design. This adds a unique spider web-like stitching to your seating. If nothing else, it gives your interior a trendy and one-of-a-kind style!
Speaking of cool and unique designs, the sound system deserves special mention. Once you start up the Vanquish, the speakers on the sides will rise up from the console to give you the ultimate sound experience. And once you're done, the speakers will automatically return to their hidden spot inside your dash. It's definitely a cool touch that you won't find in other cars!
What's the Price of this Dream Car?
As already mentioned, the Aston Martin Vanquish S is far from cheap. As such, the coupe costs $297,775. Meanwhile, the convertible Volante runs for $315,775. So there's no denying it's an expensive car. But when you take a look at this cool car's sleek design and luxury features inside, you'll find it's well worth that price!
Final Thoughts
It's definitely a rare sight to see a grand touring car packing the power of the Aston Martin Vanquish S. What's even rarer is to see a dream car driving down the road looking as beautiful as the Vanquish. So it goes without saying that this is a fine automobile you'll undoubtedly want to drive at some point! Plus, it does a great job of hyping us up for imagining where Aston Martin can go from here!