The first introduction of Plan A superyacht was in 2007. Then, it underwent a refit in 2014. This three-deck yacht provides dependable yachting services and unsurpassed experience. It has the latest technology that guarantees luxury when anchored or cruising.
The Westport 130' offers you tasteful comfort, timeless design, and exceptional features. That includes the rest stabilization and Naiad 525 stabilizers. Also, the yacht gives you reliable performance as expected of Westport standards.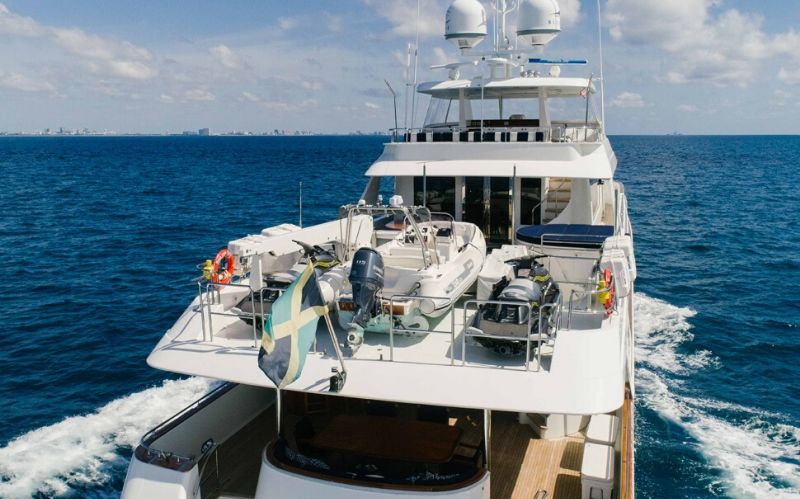 Remarkable Interior and Exceptional Luxury
Following in the tradition and standard of Westport, the designs of Plan A offer you a voluminous interior. Once inside, you will enjoy an unrivaled yacht life full of luxury and comfort. Also, you will cruise in style with plenty of functionality and elegance. Plus, you can have privacy at your convenience and unending relaxation.
The layout design of Plan A measure 39.62 meters long, and the draft is 2.01 meters, and the beam measures 7.92 meters. This gives the yacht enough recreation spaces for luxuriating and entertainment.
Besides, the yacht has a five-stateroom arrangement, which comprises a master cabin, three double cabins, and one twin cabin. It's able to accommodate up to ten guests and eight crew members.
On the inside, the superyacht features thorough woodworking details highlighting its unique characteristics. These features include an all-round side walking path, glossed teak cap rails, and swimming platform.
The large deck area has luxury spaces such as the alfresco dining area, a large salon, and a dining room. Plus, many more amenities that guarantee you a gratifying cruise.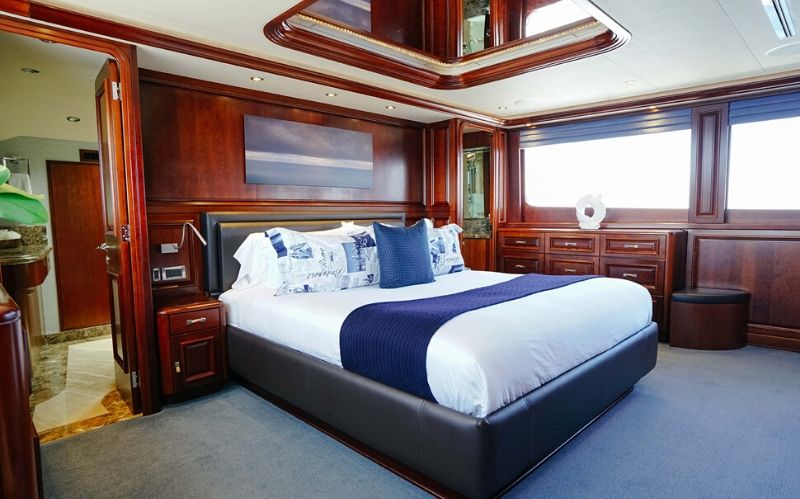 The Three Decks and Entertainment
The sundeck has a Jacuzzi for relaxation and unwinding. You can also enjoy your yachting life on the sumptuous lounge chairs as you read a book or when enjoying a glass of wine. Moreover, the bow deck has another set of lounge chairs where can chill and enjoy a glimpse of dolphins leaping.
The expansive swimming platform has tenders and water toys for everyone. These include the giant water slide, 2×3-person GTX Sea-Doo Jet skis, 81' Novurania tender, and fishing equipment.
Other are snorkel gears for children and adults, beach toys, kneeboard and wakeboard, and scuba gear for divers.
Engine Performance and Capabilities
Plan A run on a diesel engine capable of 2,600 horsepower and uses a twin-screw propelling system. The cruising speed is 24 knots while the top speed goes up to 28 knots. Still, the luxury yacht has a fuel carrying capacity of 37, 476 liters, plus a water capacity of 6,132 liters. The range of the yacht stands at 2,300 nautical miles.
The Sale Price
The Plan A 130' superyacht is listed on several online brokerage sites like the Denison Yacht Sales. For hardcore yachting lovers, you can visit the firm and make an inquiry on its availability. The price tag in most dealers selling yachts may be close to $9,950,00.
Conclusion
The American manufacturer preferred to focus on the future. They have invested more in design, naval architecture, and proven engineering technologies. This has transformed Westport into an industry leader. Thus, expect nothing less from Plan A. They have integrated the best amenities and toys for your luxury yachting experience.
(Images Courtesy of Denison Yachts)