Ready for a new owner seeking adventure and discovery in complete luxury, ENDEAVOUR 2 mega yacht is available for sale with Ocean Independence.
From the renowned Rossinavi yard, ENDEAVOUR 2 is a sleek 50m, long-range explorer yacht with outstanding transoceanic qualities. Launched in 2017, her top-level specification exhibits capability without compromise.
The vision, and subsequent design, for this remarkable yacht was created through the desire to visit far-away shores and lesser known coasts of the world by her experienced owner.
Providing an exceptional range of 5,000nm at 12 knots and a top speed of 16 knots, she is reliably fuel efficient, whilst also benefiting from exceptionally low noise and vibration, thanks to a sophisticated electric propulsion system.
Ideal for exploring reefs and isolated coastlines with her dynamic positioning system affords a high level of maneuverability. Long range expeditions and worldwide cruising are most definitely on the agenda with this tri-deck beauty.
To complement the solid Rossinavi build quality and stylish exterior lines, her contemporary and light interior design by Achille Salvagni, perfectly captures the essence of ENDEAVOUR 2. Minimalist sophistication with oriental flavor meets European flair in this yacht: this fusion creates a perfect home from home on the water. Clever use of light further enhances the Japanese style spaces and highlights the concept of seclusion and peace at sea. An original Tatami flooring from Japan has been used, the surface specifically absorbs any noise, adding to the relaxed tranquility.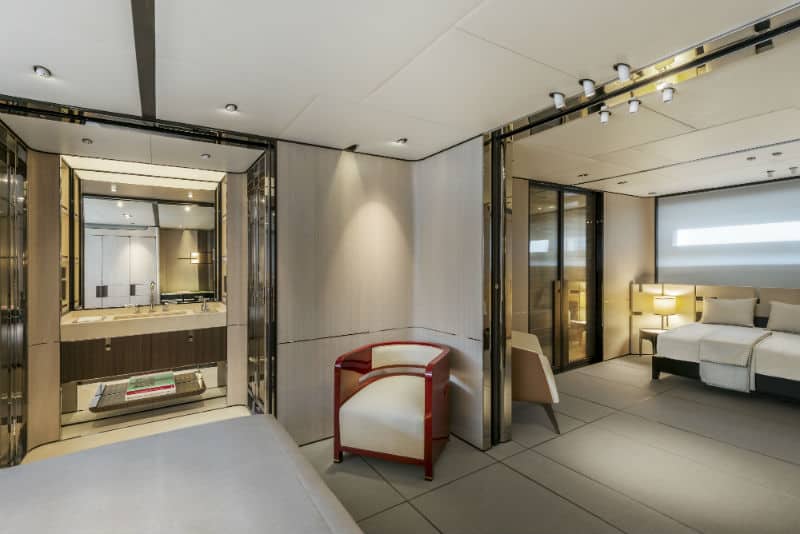 A unique choice of materials carefully used through living areas evoke a truly earthy elegance, so befitting of the yacht's atmosphere. Cremo Bello marble brings a striking, yet delicate, accent and pristine synthetic teak offers thoughtful durability with beauty. Punchy pops of color and contemporary silhouettes add a contemporary twist with the placement of bespoke Salvagni pieces. Views through the expansive windows are breath-taking, bringing the outside in and utilizing natural light to capture these standout cadences.
ENDEAVOUR 2's accommodation for ten is equally inviting. Enter the master suite, situated forward on the main deck, where serenity oozes from the simple and clean palette of harmonious creams, grey accents and hints of gold. The private, seamless-flow balcony is a huge coup – providing an unrivaled connection to the azure ocean below. Luxurious guest suites, (two doubles, two twins) provide zen-laden comfort: just what is needed to relax and restore, after a day of adventure.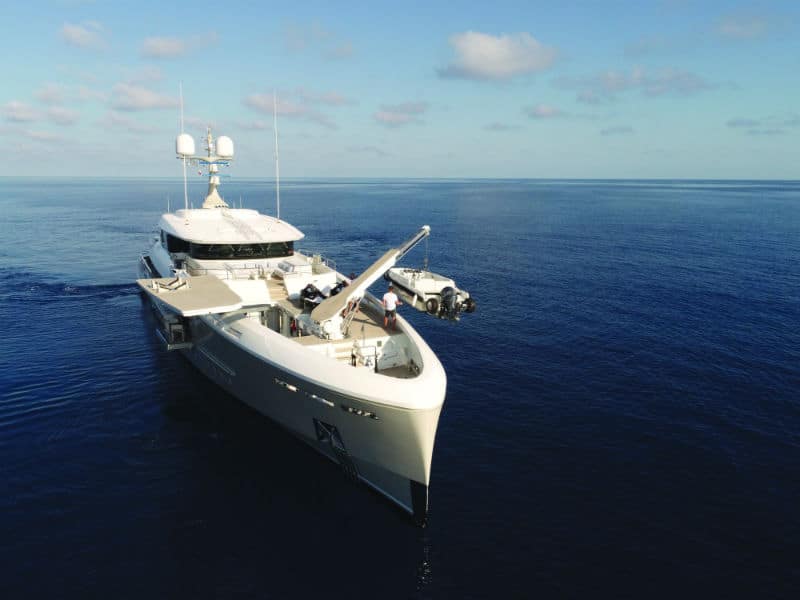 Endless options for entertainment extend far beyond the array of indoor facilities. A veritable armada of water toys and deck delights await – indeed fitness enthusiasts can frequent the stern gym area whilst admiring the sea view. Take the amphibious tender and reach remote shores in style or choose your space on deck in the multitude of ingenious configurations. A successful charter yacht in her own right, offering every comfort to those on board, unforgettable memories will definitely be made here.
Whether discovering French Riviera hot spots or exploring lagoons in the South Pacific, the chance to own ENDEAVOUR 2 gives enormous possibility to travel through a world of new opportunities. Innovative, striking and practical, your incredible ocean journey awaits.