Considered the Venice of the north, the Russian port city of St. Petersburg is nestled in the eastern-most tip of the Baltic Sea. This luxury destination, so steeped in history and culture, beckons to travelers worldwide. One landmark that is sure to grace the bucket list of any luxury St. Petersburg vacation is the impressive St. Isaac's Square, home to the world-renowned St. Isaac's Cathedral. Completed in 1858 in the neo-classic style, St. Isaac's Cathedral is the largest Russian Orthodox cathedral in the world. With its gold-plated dome and 12 angel statues soaring above the square, this iconic structure is not to be missed.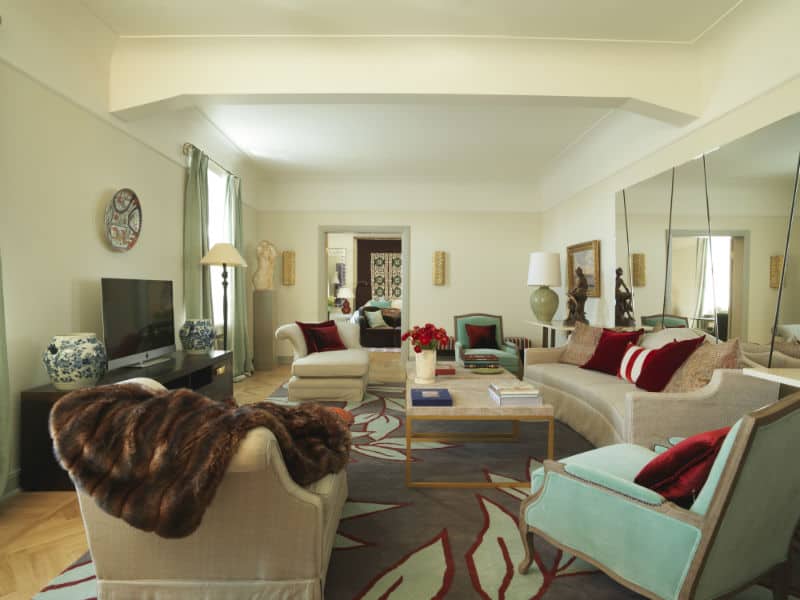 Directly across Voznesensky Avenue and boasting an impressive view of the square and cathedral sits Hotel Astoria. Built in 1912, the hotel is considered a city landmark and one of the most exclusive getaways that St. Petersburg has to offer. Easily the most famous hotel in the city, Hotel Astoria holds some fascinating history within its walls. Vladimir Lenin once addressed his Russian comrades from the balcony. In more recent years, the hotel has hosted numerous dignitaries and heads-of-state.
This five star hotel is the winner of multiple travel awards. With 83 room and 86 suites, Hotel Astoria is ready to make every guest feel like royalty. In tribute to famed Russian composer Pyotr Ilyich Tchaikovsky, the two bedroom Tchaikovsky Royal Suite features a generous outdoor terrace with magnificent views of St. Isaac's Square, the Nicolas I statue, and Mariinsky Palace. But for travelers looking to experience the best of this luxury destination, a stay in the Tsar Suite will be the highlight of any exclusive getaway.
Sign Up For The Free GOD Foundation Travel Portal for 60% Off Travel Deals Today & A Portion Goes To Charity!!!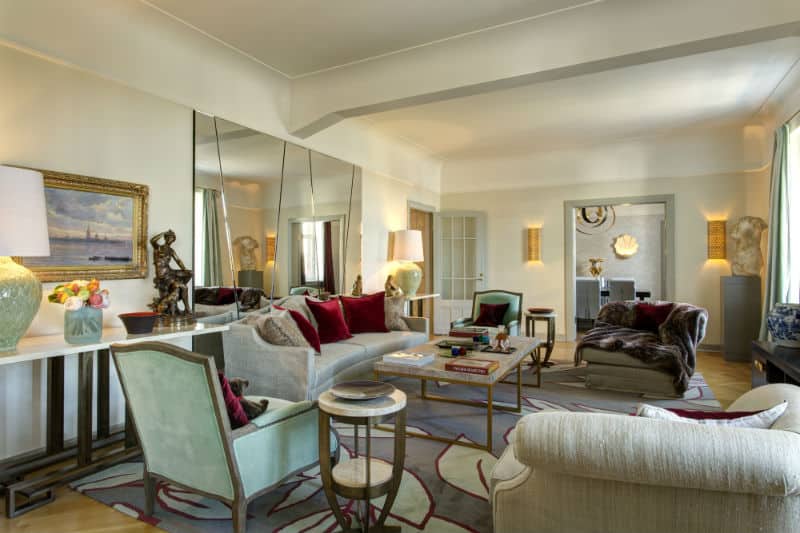 One of the largest suites in St. Petersburg, this opulent three bedroom suite overlooks St. Isaac's Square and has a dining room, kitchen, private gym, bar, study, and a library filled with the works of Russian authors. Guests staying in the Tsar Suite are also offered the opportunity to experience a private tour of St. Isaac's Cathedral, the Hermitage Museum, the Mariinsky Theatre, or the Faberge Museum. 
Amenities abound at all Rocco Forte Hotels. Guests can expect personalized concierge services, unpacking and packing services, garment pressing, and complimentary breakfasts. As a way to make young guests feel special, children are gifted with a stuffed Boris the Bear as a souvenir of their St. Petersburg vacation.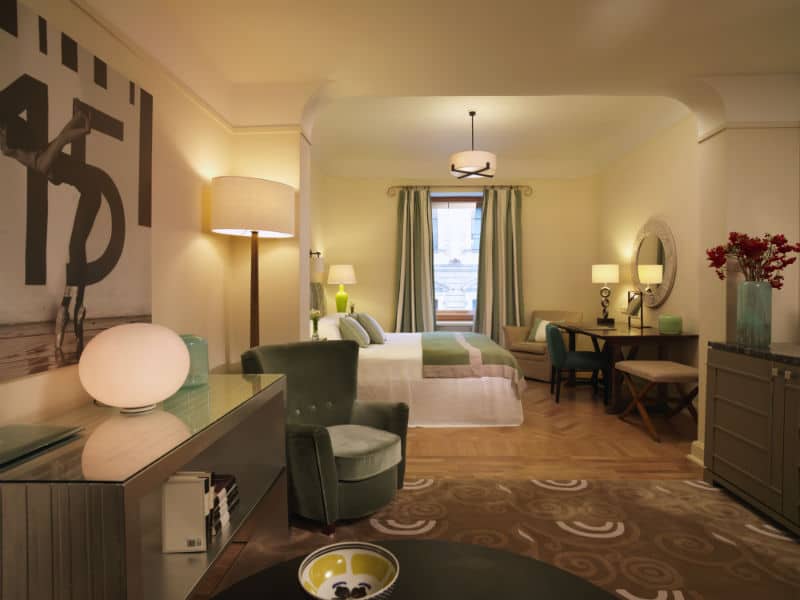 The premises of Hotel Astoria offer three establishments to enjoy the gastronomy of Russia. Lichfield Bar is all about the atmosphere. Decidedly the best place to enjoy a cocktail, the bar is an homage to the photography of Lord Lichfield. Decorated with his nudes and a color palette of deep, rich tones, Lichfield Bar is an unforgettable place to sip a glass of vodka while listening to live jazz. Connected to Lichfield Bar but with a brighter yet luxurious ambiance, Rotunda Lounge offers both an afternoon English tea and a Russian tea. With entirely different menus, guests can experience the nuances of tea between the cultures. For diners looking to enjoy a full meal, the hotel is home to Astoria Restaurant, featuring a diverse menu of delicacies, each with a Russian slant. To further cater to the needs and desires of guests, this five star hotel partners with its sister hotel, Hotel Angleterre. Located right next door, the Angleterre's restaurant, Borsalino, is also a favorite of Hotel Astoria's guests with its menu of regional favorites from throughout Italy.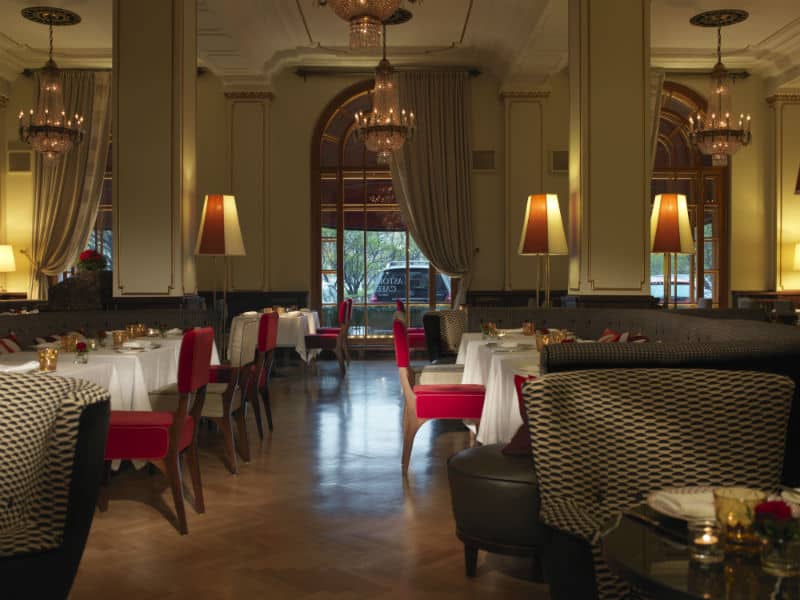 The unique partnership between Hotel Astoria and Hotel Angleterre also gives guests more opportunities for relaxation and fitness. Hotel Astoria has a full spa with five treatment rooms, a hair salon, sauna, steam room, and a 24 hour gym. Yoga aficionados can also enjoy personal sessions with the hotel's yoga expert. Next door, at Hotel Angleterre, guests can enjoy full access to the hotel's swimming pool. For those looking for a sun-kissed look, guests can also partake of the hotel's turbo-solarium.
Hotel Astoria's Baltic location makes it an excellent selection for meeting, conferences, celebrations, and weddings. Located in the center of St. Petersburg, it is just a short trip to rail stations and airports. The hotel ballroom is capable of hosting up to 200 people. But for a truly luxurious experience, an event in the Winter Garden would be unforgettable. Considered the most prestigious event location in all of St. Petersburg, the Winter Garden is home to a beautiful glass ceiling and filled with 19th century accents and exotic greenery. Hotel Astoria staff can also work in conjunction with Hotel Angleterre for events in need of more space and amenities. 
For travelers looking to enjoy the most modern of conveniences seamlessly blended with the luxury reminiscent of the Russian royal family, a stay at the world famous five star Hotel Astoria would be an exceptional choice on a St. Petersburg vacation.