Whether it's one of the big or in-between anniversaries, it's time to celebrate. Need some ideas? We've got you covered. On the "what to give" front, you can't go wrong with a unique twist on a traditional present. Get some ideas with this list of anniversary gifts by year.  As for "where to go," fortunately we So-Cal residents have a lot of awesome options for romantic day trips or weekend getaways. Here are five ideas to get you started.
The Queen Mary in Long Beach
For a nostalgic, romantic and utterly charming getaway, nothing beats a stay at the Queen Mary in Long Beach.
The luxury liner was originally built in the 1930s and hosted celebrities, royalty and dignitaries alike. When WWII began, the ship was turned into a troopship. The liner was called the "Grey Ghost" because of its camouflaged gray color and was the fastest as well as largest troopship to sail. After the war ended, the Queen Mary was returned to her original purpose and resumed passenger service until her final voyage in 1967.
Now a floating hotel, the ship offers all of the luxuries of the finest accommodations in vintage 1930s decor. The ship is said to be haunted, so be sure to include the Ghosts & Legends Show in your itinerary.
Avalon on Catalina Island
Seemingly worlds away from other hectic SoCal destinations, Avalon on Catalina Island is a couple's paradise. Stay in the oh-so-romantic Avalon Hotel with its ocean views,  free breakfasts, spa service and private balconies.
If you're looking for a more intimate atmosphere, stay at the Snug Harbor Inn, a bed-and-breakfast perfect for couples with its romantic fireplace as well as in-room hot tubs.
No matter where you stay, make sure you try the bicycle built for two tours to see the scenery and don't forget about the sea and land tours offered by local businesses. It's no wonder Catalina is called the "Island of Romance."
Pirate's Dinner and Adventure
If you're looking for rollicking adventure on your anniversary, try the Pirates Dinner Adventure. Located in Buena Park not far from Disneyland, the Pirates Dinner offers a unique experience where you not only get your own pirate cheerleader, you do your best to create more noise than the rest of the diners.
There's a lot of food and, of course, there's the show. Themes change by season, but theatrics always include stunts, pirates swinging from ropes and of course sword fights. It won't be a quiet dinner, but it will certainly be fun.
The Hobbit in Orange County   
If a quieter adventure in dining is more your style, try the Hobbit in Orange County. First opened in 1972, the Hobbit offers a seven-course reservation-only menu. Dinner is divided into three acts.
In Act I, you select your wine with the help of executive chef and owner Mike Philippi and his wife, Debra, as you munch on hors d'oeuvres and peruse the dinner menu. You arrive at your table in Act II for a salad, shellfish and light meat course. After a short break, when you can take a walk, sit on the patio or speak with the chefs in the kitchen, you arrive at Act III, where dinner is served. Eating at the Hobbit is an experience – one you won't find anywhere else.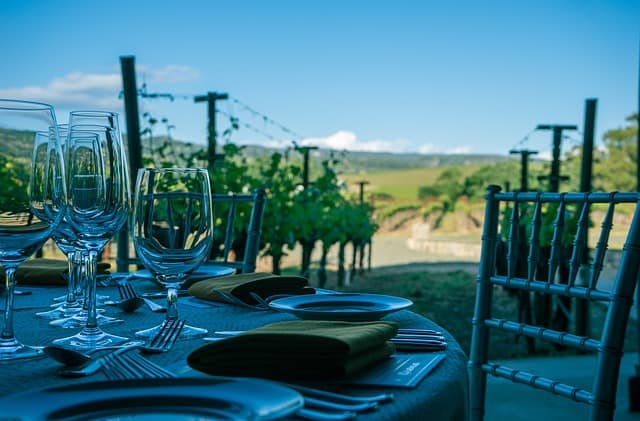 Temecula Wine Country
Temecula is in the heart of wine country. Take walks around Old Town, sample wines, shop the farmers market and end your day with a romantic dinner at Cafe Champagne.
Got an idea for a great anniversary gift or romantic getaway? Please share in the comments box below.