ABOUT GIANT VINTAGE
Giant Vintage is a Californian fashion brand for men, women and kids that specialize in vintage clothing collection and sunglasses. Founded in 2004 by by Rachel Rattner and her husband, Ben Morris, they started small. Literally in their 1 bedroom apartment in West Hollywood of Rachel's vintage likes. The brand has now grown into a giant vintage collection. Today, its CEO and CFO are mother and daughter Annabelle Gonzales (daughter) and Alisa Gonzales. The 2 have been curating sunglasses and apparel collections from different eras. Furthermore, a community of kindness and inclusivity make up the brand. Let us now take a look at 4 different designs from them.
ANGELES SUPER DARK (Pictured Above)
The first featured sunglasses we have here is this glamorous cat's eye Angeles Super dark sunglasses. It is 143mm wide and 52 mm tall. It features full Ultra violet ray protection, and embellished crystals surrounding the frame. What's better is it has never been actually used before so you can say it is as good as new and original. You can wear these glasses at a pool party paired with a bikini and white robe. To add to that, you can wear it with a nice floral dress in that al fresco restaurant. Grab this pair for only $32!
CHIC-TIQUE BLACK CAT-EYE SUNGLASSES
The second pair of sunglasses we feature here is the Chic-Tique cat-eye sunglasses in black. It is 150mm wide and 55mm tall. Similar to the Angeles Super Dark, this is also UV protected and never before worn or sold. I can imagine wearing this for fall paired with a furry coat, a mini skirt and high heels. You can also wear this for the summer when you're on a road trip to go to Las Vegas with your friends! Truly a pair so stylish as it is versatile. Grab this pair for only $22!
PISCES CRYSTAL BLACK & WHITE CAT-EYE SUNGLASSES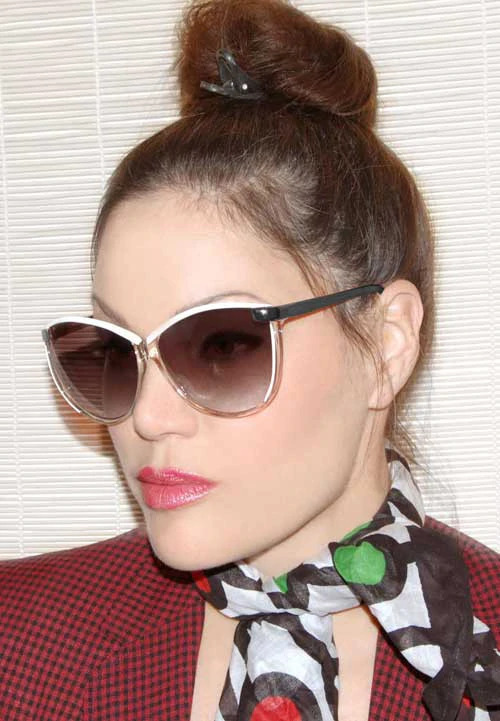 The third pair we have here is this very dreamy vintage Pisces crystal black and white cat-eye sunglasses. It's size is 144mm wide and 58mm tall. It features black lenses and white frames. Additionally, like the first 2 pairs it also has Ultra violet protection so you can be rest assured you don't just look cool in these sunglasses but your eyes are also protected from the sun. I can imagine pairing this with bell bottom jeans and a crop top while shopping in the streets of Beverly Hills. You can also wear this with a short vintage dress and boots for a 70s or 90s themed party and put Daphne from Scooby Doo to shame with your style. Just like the dreamiest zodiac, Pisces, this pair truly deserves its name. Grab this one for only $22!
JEWEL SMOKE AND BLACK
The fourth and final pair we have here is the funky yet sophisticated Jewel sunglasses in Smoke and black. This pair is 129mm wide and 53mm tall. Similar to the first, second and third sunglasses it features UV rays. In addition to this, it has a very cool ombre effect of black at the top and smoke or gray going downwards. There is also a  gold circle screw on the sides. I can imagine wearing this at a tropical beach wearing your fedora hat sipping on that pina colada. Another way to wear this is with a black crop top, leather skirt and high studded boots at a rock music festival. Whatever you wear this with you can be sure to look so cool wearing it. Grab this for $34!
In summary, all Giant Vintage designs are easy on the pocket, good as new and protect our eyes. Do not miss out on good deals from them. To check out more vintage sunglasses Elvis Presley style, visit this page.