If you're looking for chic jewelry that stays true to classic stylings, then take a dive into NAiiA's Deep Sea Lover and Honey collections. The NAiiA jewelry brand is fairly new (founded in 2019) but the style of the jewelry is timeless. Keep reading to learn more about the designer behind the NAiiA brand and its collections. (Images Credit: Bahador Benyamin)
About the Designer
The genius behind NAiiA Jewelry is Nicky Shemian. She was born and raised in Beverly Hills. Even though Shemian is well-known for her jewelry today, she wasn't always interested in fashion. In fact, as a child, she claims she was more of a tomboy than anything else. Later on, her older sister introduced her to the fashion world. However, instead of being interested in fine dresses or skirts, her eyes were drawn to glittering jewelry and accessories.
As a young adult, she graduated from the Marshall School of Business. Soon after, she joined the Female Founders Collective. For a while, she worked in careers that had nothing to do with fashion. It wasn't until one of her friends suggested that she start her own jewelry line in the last couple of years that she pursued jewelry design full-time.
NAiiA Jewelry
Shemian says that the vision for her NAiiA is for it "to be a jewelry brand that empowers all women to walk to the beat of their own drum!" All of the jewelry pieces are unique, with many of them mixing vintage and modern stylings. The jewelry is anything but gaudy. With the simple yet classic arrangement and coloring of the gems, these are jewelry pieces that can be worn with many different outfits.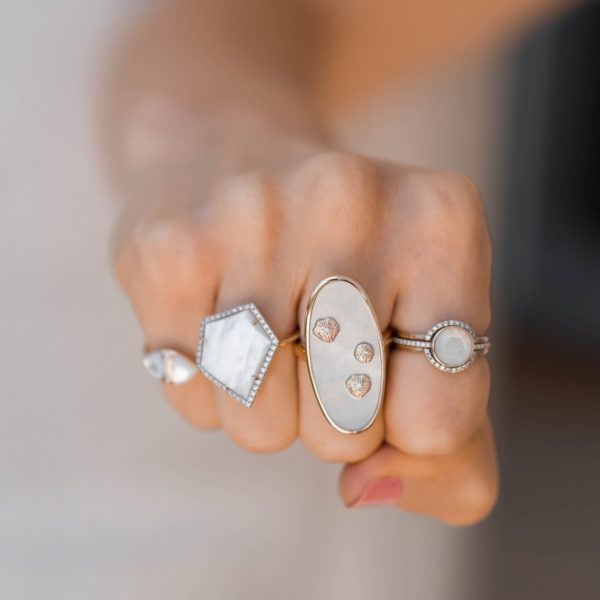 Deep Sea Lover Collection
One of Shemian's favorite things to design are earrings. The Deep Sea Lover collection does a great job of showing off some of her best earring designs. One thing that stands out in both the earrings and other pieces in this collection is the elegant use of pearls. According to Shemian, the pearls are the signature component to this collection. It's no surprise why! The small pearls give each piece a touch of nautical style. The pearl coloring in the other pieces are reminiscent of white sea foam.
Honey Collection
NAiiA's newest collection is Honey. It was just launched in July 2020. This collection has more simplistic stylings than the other. This collection contains several varieties of gold chain jewelry. These pieces aren't adorned with gems or anything crazy. Instead, the difference in their design comes how coiled the links are. There is a loose Aaliyah necklace, a tighter Harper anklet, and a coiled Sloane bracelet.
Stay Connected
As of Summer 2020, Shemian is working on a third jewelry collection, so make sure to keep your eyes open for her newest designs—hopefully coming soon! If you want to buy any of the designs shown in the article (and more), check out NAiiA's Website. A percentage of every sale also goes to the Ladies Who Launch non-profit organization. Also, if you want to stay up to date with NAiiA, follow the brand on Instagram @shopnaiia.