ABOUT AUSTRALIA LUXE COLLECTIVE
Australia Luxe Collective is a fashion luxury footwear, loungewear and accessory brand for women, men and children alike. Founded in 2006 in Melbourne, the brand has now expanded its headquarters in Los Angeles and London. What sets Australia Luxe Collective from other shoe, slipper and sleepwear brand is their attention to detail. Furthermore, it's team only uses top of the line fabric and materials to come up with authentic and innovative design. The theme of the brand is everyday casual meets European street. Since then, the brand's meticulousness to details and perfection has garnered them a following and admired by many celebs. Let's go and explore what this high fashion footwear and loungewear brand has to offer.
ANGEL SHORT BLACK (Pictured Above)
The first super edgy, dreamy and one of a kind flat short boots we have here is this best seller Angel short black. It is made of  light wave satin finish sheepskin, making it so comfortable and warm on your feet plus it makes walking feel like a breeze. Furthermore, it features iconic silver studded stars and different uniquely designed circles surrounding the boots. It is below the calf  and has that rock-chick cool with a feminine twist vibe. I can imagine wearing this with a short skirt or shorts with a light sweater for a good color contrast at casual day out at the mall with your friends. It can also be paired with jeans and a black leather jacket for a music festival.
KIDS/YOUTH TSAR SHORT BABY PINK
The second footwear for kids we present to you is this super cute, girly and fashionable Tsar short in baby pink. It comes in another color, chestnut. Made with luxe super soft faux fur, your little girl will sure love the luxury and comfort of these boots. Additionally, the fur extends to the side panel detailing of the shoes. The exterior of the boots are made of suede and double face grade A sheepskin. Lastly, the adjustable metal buckle side fastening detail makes it extra fabulous and interesting, helping your little one's feet adjust perfectly to the boots as well. Make her wear this with a cute pastel dress or jeans and any basic outfit will look extra with these.
MENS EMPEROR SHORT SATIN SMILES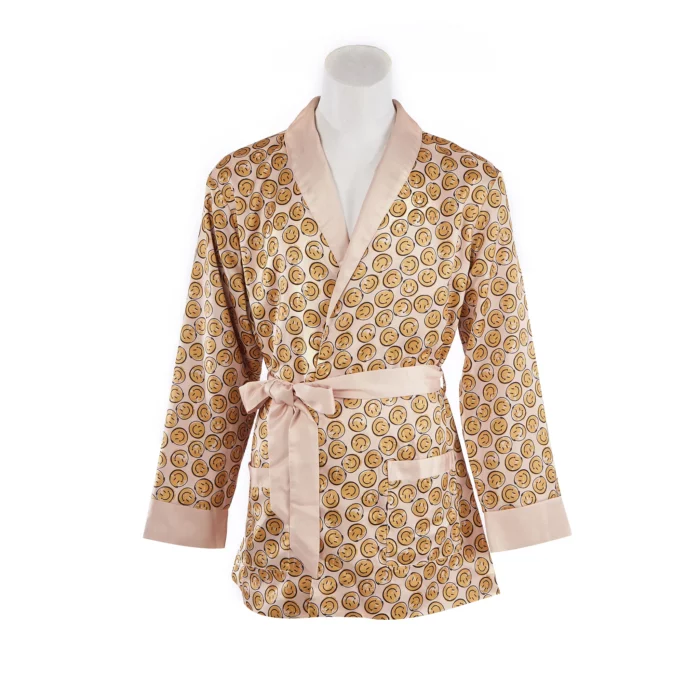 The third piece of men's lounge wear/ robe or sleepwear that will definitely make you smile is this Men's emperor short satin smiles. Made from extravagant silky soft satin, your man will definitely feel like royalty. It it is not for sleeping it can also be used for chilling and partying at a summer event. Paired with the Men's closed mule satin smiles slippers, you are ready to become the life of the party, or the bedroom. Take it a step further and gift or pair your wife or girlfriend the Exemplary satin smiles robe.
AHEARTY CHESTNUT WAVE
The forth women's leisure wear shoes or sandals we feature here is this intricately woven and stunning Ahearty chestnut weave platforms. It comes in another color, natural, which is a lot lighter. Made with vegetarian dyed leather. Moreover, can be sure to feel no guilt in a pair that was made ethically. I can imagine wearing this pair with bell bottom jeans and a crop top for that 70s vibe. Another way to wear it is with shorts and a graphic tee and you sure will look cool and vintage. This pair is a must have for every girl's shoe collection.
EXCEPTIONAL WATERCOLOR
The last women's sleep wear or lounge wear is this super eye catching rainbow colored Exceptional watercolor. Made of silky smooth satin, luxury and extravagance is also its forte. Additionally, it features tye dye like hues that are sure to catch anyone's attention, be it at a sleepover party, lounge and pool summer gathering or just at home. Complete the feminine and chic look by pairing it with the Prost watercolor splat flats or the closed mule watercolor splat.
Lounge wear, robes, sleepwear, slippers and boots have never looked so stylish and luxurious with Australia Luxe Collective. Do not miss out on comfort and quality with their pieces, check out their website now! For more Australian quality sleepwear brands we've featured, click here.