ABOUT IVAN YOUNG
Ivan Young is a brand of high end couture custom dresses, gowns, shoes and jewelry. Founded in 2017 by two sisters whose aspirations are nothing but perfection, Ivan Young came about. Ivan Young's masterpieces are sort of nothing but precision to detail, quality fabrics of silk, satin and luxurious embellishments. Furthermore, you will see such exquisite intricacy in each piece, whether it be the details of a dress, the artwork or style of the jewelry and the premium materials used for the shoes. His collections as we shall explore, are one of a kind, timeless and has a goddess like quality. Let's now look at 3 dresses, a pair of earrings and a lovely pair of shoes from his collection.
OSTRICH FEATHER BOA IN LILAC (Pictured Above)
The first luxurious, elegant and evening look we have here is this Ostrich feather boa in lilac set. Made of 100% silk lining and real Ostrich feathers, nothing says class, grace and sexy more than this piece. Furthermore it features lightweight cloth, a bralette which has drapes of lilac silk under. The skirt has a V shaped slit in front and similarly has silk lilac strings which drapes at the edges. The best part of this ensemble is the lilac ostrich feather bolero that gives you a captivating, demure and feminine entrance. Pair this with lilac, transparent or white stilettos or pumps and watch jaws drop as you walk by.
PRINTED SILK GAZAR STRAPLESS PEPLUM TOP IN WHITE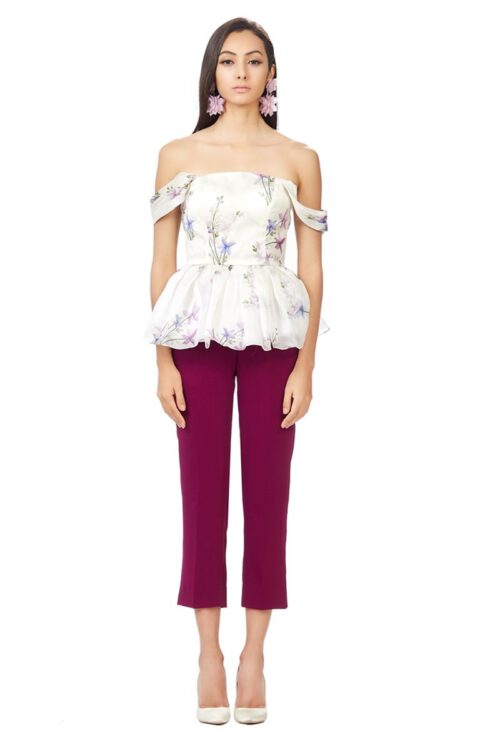 The second top that we feature to you here is this chic, floral and flirty printed silk gazar strapless peplum top in white. Also made of 100% silk, it feels smooth and lightweight to the body. It features a strapless neckline, a close fit bodice, and a peplum hem with soft pleats that accentuates your shoulders and gives a dramatic effect. Moreover, the top's print is of a soft floral purple and pink prints which is very dreamlike. To make this top extra charming, pair it with the pleated button embellished full length skirt in white. This pair can be a bridal attire. For a more casual look, pair this peplum top with trousers and heels. Truly this is a versatile and must have top for every fabulous woman!
120 RHINESTONES T-STRAP HEELS WHITE
The third high end, extremely gorgeous and eye catching pair of heels we present to you is this 150 rhinestones T-strap heels in white. It comes in another color, black. Leather makes up its inner and outer sole, plus the shell is made of silk satin, making it not just comfortable and sturdy but also upping its aesthetic. More importantly, it is composed of 120 rhinestones all over! Can yo imagine what  show stopper this pair is as it reflects light and makes the path where you walk shine bright! Additionally, it has an elevating heel of 120mm and a petal-themed cut-out at the front, a functional strap design and signature pink soles to represent the belief that "Every woman has a little princess in their heart." These are shoes that every queen and princesses, literally and at heart, must have.
SATIN OFF SHOULDER DRESS IN GOLD
The fourth glamorous and goddess-like dress we bring to you is this Satin off shoulder dress in gold. Made of 100% polyester and designed for a slim and body hugging fit, you can be sure this enhances your hourglass shape. It features a sculpted fit, a corseted bodice that elegantly drops beautiful drapes across the hips to those lengthy legs. In addition to that the off-shoulder neckline highlights hints of femininity and daintiness as the sleeves hang loosely over your arms. The back zipper makes it easy to wear and remove. Pair this royal dress with diamond drop earrings and embellished pumps from the shoe collection and you'll be Aphrodite for that special night you wear this dress to.
AZURE BOUQUET
The last masterpiece from Ivan Young we feature here is from his earring jewelry collection, the whimsical and intricately crafted Azure bouquet pair of earrings. Made of colorful glass stones, beads and sequins this pair is sure a perfect accessory. It will make any basic outfit have an extra oomph and flavor. Furthermore its floral accents, hoops, leaves and diamond details are just something every woman must have in her earring collection! I can imagine this being paired with the first two ensembles featured here and it just spells perfection! Included in the Bold Floral Set is also this wonderful pair.
What a luxury and honor to own any piece of artwork from Ivan Young, so go ahead and check more from their website now. To look at more high end couture pieces from Beverly Hills Magazine click here.