Calling all Chicas Bonitas! Spring is just around the corner! Now's the time to show the world your individuality with a gorgeous style that oozes classy European chic style. We have put together a vibrant and vivacious ensemble that will bring color and elegance to your look, whether you are attending an event, out on the town or even on vacation in Barcelona!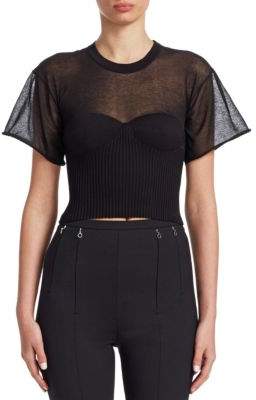 First, you'll want to start with this gorgeous cropped T-Shirt by Alexander Wang. Famed for his sharp and elegant designs, the slim fit of this top creates a truly feminine shape, while the padded bustier style gives an edgy touch to your look.
The statement piece of this outfit has to be these wide-leg drap karate pants by Fame & Partners With their unique design and stylish self-tie belt, the woman that wears these pants is sure to be confident with a strong sense of fashion identity. Even better, you can wear the Tome label knowing that you have made a truly responsible choice.The Tome fashion label is focused on sustainable and environmentally friendly fashion.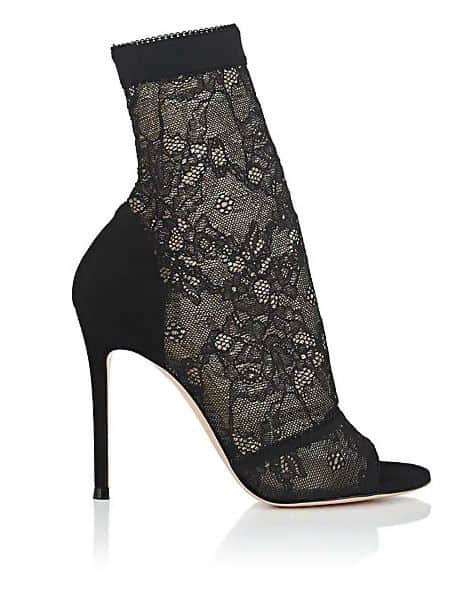 Moreover, every outfit needs the perfect pair of shoes, and these gorgeously ladylike Gianvito Rossi Giada lace ankle boots deliver a beautifully whimsical injection of floral style. The stiletto heel beautifully lengthens your legs, while the stunning lace embellishments are sure to turn heads.
Additionally, for a touch of girly opulence, add this stunningly understated orange Balenciaga Wallet.  Crafted in Italy, this orange leather Papier mini wallet from Balenciaga features a foldover top with snap closure, accordion details at sides and a gold-tone logo print. This fashion accessory makes it a truly versatile piece.
In addition, this flash of red from this beautiful Balenciaga handbag adds a splash of fiery Spanish flair, invoking passion and fire. This is a quality statement piece that will add that extra touch to many outfits.  This cross-body style and this red velvet iteration feels particularly chic. It's crafted with the classic antiqued gold-tone metal chain and leather strap – double it up over the shoulder for a shorter drop
Of course, no outfit is complete without some truly gorgeous jewelry. These Irene Neuwirth Carved Pink Opal Diamond Earrings finish the entire look to perfection. These exquisite earrings add a final dash of fairytale charm.  Plus the full-cut diamonds add some alluring sparkle, just like the star that you are!
Finally, now you can step into Spring with your new Spanish allure! Wearing this exciting and edgy ensemble, you're ready to let your individuality shine!
Written by Hannah Stephens

SHOP MORE SPANISH STYLE NOW!!!