The romantic city of Prague, Czech Republic is a vacation on the bucket list of nearly every seasoned world traveler. A visit to a city steeped in such a rich history would be incomplete without a stay at the opulent Art Nouveau Palace Hotel, a premier five star hotel in the heart of Prague. Nestled between Old Town and New Town, the Art Nouveau Palace Hotel was completed in April 1909. After decades of serving countless dignitaries and celebrities, it was restored in 1989 with strict adherence to its original Viennese Art Nouveau design.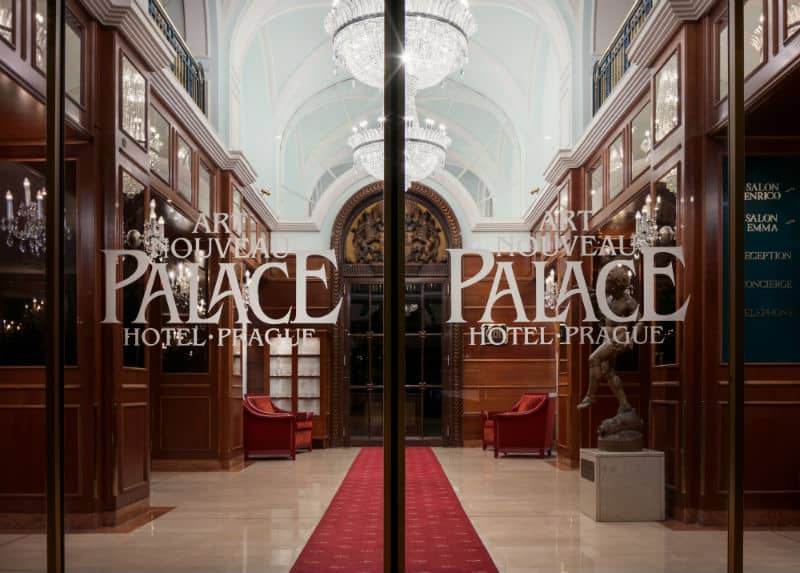 The Art Nouveau Palace Hotel has 127 rooms and suites, each decorated in the style unique to Old Town yet equipped with the most modern of conveniences. Guests staying in a Junior Suite or Art Nouveau Suite will experience the utmost classic luxury of the Art Nouveau period from the use of rich colors to the Italian Carrara marble. Located on the upper floors of the hotel with beautiful views of the city or Prague Castle, these suites are appointed with carefully curated amenities. For guests in need of more space, the hotel does have suites that connect to a deluxe room. A stay in a suite also entitles guests to a 20% discount on in-room massages and dining at Café Palace.

There are two restaurants within the hotel to accommodate guests. Every morning, L'Epoque Restaurant features a full American breakfast buffet. With vaulted ceilings and crystal chandeliers, this second floor restaurant can be transformed into a banquet venue capable of hosting up to 200 guests. Open from 8:00am through midnight, the menu at Café Palace features a diverse selection of light fare and entrées capable of tempting any palate.

While waiting for your meal to be prepared, enjoy the walls filled with autographed photographs of some familiar faces who have also dined at Café Palace, such as Jacqueline Kennedy Onassis, Louis Armstrong and, Bob Dylan. Both restaurants in the Art Nouveau Palace Hotel are overseen by executive chef, Radomír Benetka. Chef Benetka, well-known in the Czech culinary world, gained his expertise under the mentorship of Chef Zdenêk Pohlreich and in the kitchens of five star hotels throughout Europe.

For guests looking to cross Prague off of their bucket list, the Art Nouveau Palace Hotel's central location is within walking distance of Old Town and New Town attractions and museums. Discovering the wonders of Prague is made easier with the hotel's concierge team, who is always available to make recommendations and arrange travel and tours. Considered a gem within Prague and a favorite among consummate travelers, the attentive staff and old-school luxury of the Art Nouveau Palace Hotel is sure to be the highlight of your next vacation to the Czech Republic.
Written by Kristina Kyrland
(Images Courtesy of Art Nouveau Hotel)