Do not be afraid to express yourself! Makeup is all about individual expression and showing the outside world what you can do with some beautiful colors in your hands. Shimmers are in and it is the perfect time to show off your style while also making your natural beauty glow. This set is all about being bold, being beautiful and being absolutely you!
This Fenty Beauty By Rihanna Galaxy Eyeshadow Palette is the perfect pan of glitters to make your look wow anyone. The palette has fourteen shades that are an intensely sparkly, rainbow of 14 celestial-inspired colors that range from sheer, glittering topcoats to smoky, shimmer-drenched hues. Like jewelry for your eyes, these glimmering eyeshadows and topcoats are the ultimate accessory to every look. This is the perfect transition palette from winter to spring, featuring cute pinks, enchanting violets, shimmering gold and an aquatic green. Take yourself from frosty to floral. Featured in a sleek, oversized, jewel-inspired case, this transformative palette gives you infinite ways to get mega-lit.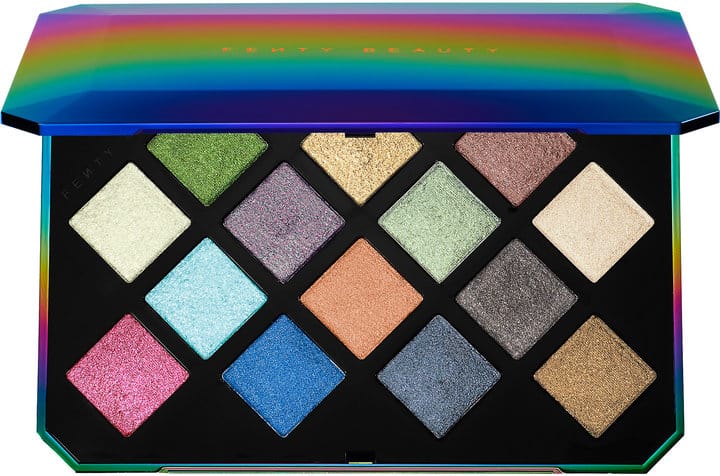 The Galaxy glitter eyeshadow palette can shift from the perfect soft look, with just a touch of pearlescent glitter, to the most intense smoky and sexy cat-eye look. Just a touch of glitter goes a long way with these intensely pigmented pans.
Next up on the list is the Extra Lip Tint from Bobbi Brown. It's lightweight, it's sheer, and it's sparkly. This lip tint is intensely moisturizing. Not only is it the perfect balm to help protect your lips from being dry and chapped but it brings a beautiful highlighted stain to them. Step outside and shine.
The blendable pigment of this tint blends with the colour of anyone's lips. That makes this tiny inclusive to all shades, a must in this day and age. The formula is paraben, sulfate, and phthalate free and moisturizes your lips for a luscious and full look.
Likewise, nothing says bold and beautiful like an intense cat-eye. This Marc Jacobs eyeliner pen comes in two colors: "Blacquer" for the perfectly intense cat-eye look and "Cocoa Lacquer 20" for a day-time alternative. The mega-thin brush gives fine and precise lines for whatever look you need, office to a date night.
It is waterproof, fast drying, smudge proof, and transfer proof. This eyeliner will keep you looking beautiful and intense all day long. This baby isn't going anywhere until you want to take it off!
Equally important in your makeup bag, nothing quite says bold and nothing says intense like a powerful red lipstick by L'Oreal. Red lipsticks are the most versatile and classic look out there, but it oozes beauty and boldness. You won't see a Plain Jane in this lip color. The formula is creamy, velvety and moisturizing. Get your bold game on and don't worry about the matte color drying down to show the lines of your lips.
Don't like red? Not a problem. This line comes in a variety of intensely pigmented colours. Ranging from a close-to-nude pink to a vibrant coral. Have no fear, L'Oreal Paris is here.
Furthermore, you will adore this high shine metallic gold lip gloss. This will complete any night time look. It is high glitter and liquid foil bottled into one gloss and perfect for anyone who wants to be a Queen. Not only does this product have a high shine finish, but it is thin enough to wear multiple coats. Build up the opacity and blind when the light hits this gloss directly. It is the perfect way to be bold, eye-catching and unique.
With this in mind, makeup is not the only way to be bold and beautiful. Wearing the right scent can go a mile in the right direction. The headnote is blackcurrant, hitting you with a refreshing burst of brightness at first, followed by the heart note, Lily of the Valley. The base note of this toilette is musk, giving you a deep and dimensional scent. It's floral, it's dewy and it is unforgettably fresh. Become the usher of spring with this floral scent by Miu Miu.
Finally, the last step to a bold and beautiful look is a soft pink nail polish from Essie. that will not steal the show. "Limo-Scene" is from the winter collection and is classic nail polish color to tidy up any winter look. Just another hint of spring, this nail polish is an ultra pale pink color, verging on pastel. Complement any look with this creme color and draw attention to the subtle elegance of your nails.
With these select beauty products, you can have the best makeup collection to bring out your individuality and creativity. Be bold, be beautiful and live life successfully!
Written by Lexie Sheridon
SHOP MORE BEAUTY PRODUCTS NOW!!!