For a night on the town, you need something from the fashion world that is beyond your normal wardrobe. You need celebrity style that is, in fact, dazzling. That's why this intricate outfit is the type of style you should have in your closet. Your clothes say a lot about you, and you want them to help you shine.

First, look at the Balmain Paillette Short Dress. This high fashion dress is designed by Olivier Rousteing. It is lined in silk, so that you feel comfortable. The long sleeves add celebrity style elegance while the slim fit shows off your figure.

Next, add the Philipp Plein Crystal Embellished Sandals. The lining and sole are sheepskin, while the outer fabric is actually goat skin. These beautiful heels are made in Italy is expertly crafted and shines just like the dress. However, you can be sure that you've stumbled across quality footwear with this brand.

Then, don the Cara Mila Sabina Sable Fur Coat. It is made from 100% sable. Made in the United Kingdom, this jacket style will keep you warm on a chilly night. It as has front pockets to keep your hands from the frosty night air. Put this jacket on as you are coming and going to an event and you will look extra polished.

Additionally, you must have the Hermès Exceptional Porosus Crocodile Kelly Cut Clutch. Designed by Rose Tyrien Porosus, this pink clutch threatens to steal the show. The detailing is exceptional with a 18K white gold fastening clasp. If that's not enough, it has a 6.45 carat total diamond feature containing 129 small stones. The purse is lined with tonal Chevre leather. If you are lucky enough to find this bag in the fashion world, hold onto it for dear life.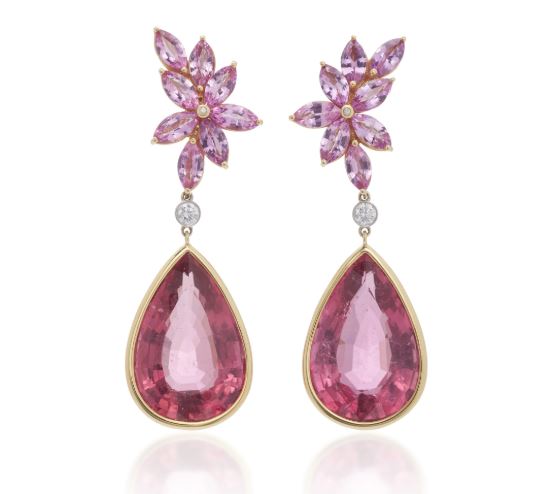 Finally, add in the Goshwara's 18-karat gold earrings which are adorned with pear-shaped rubellite drops that are suspended below blooming floral-shaped pink sapphire posts. Highlight this jaw-grazing design with swept-back hair. The whimsical patterning of the diamonds with the added rubellite drop on the end complete the look with a stunning twist.
SHOP MORE FASHION AND STYLE NOW!!!