Are you looking to spend your free time in a place where it is summer all year round? If so, take the time to check out Parrot Cay in Turks & Caicos. This resort, run by COMO, lies in the Caribbean Sea. It is the ideal place to go if you are looking for a luxurious tropical vacation, complete with beach houses, a tiki bar, and more. (Image Credits: COMO Hotels and Resorts)
Beautiful Weather All Year Long
One of the best selling points of the Turks & Caicos islands is that it is like summer here all year round. On average, Parrot Cay will have 350 sunny days a year. So, no matter when you book your stay, you are sure to have a vacation filled with sun. This is great to note, as many of the resort's amenities are outdoors. After all, when you're on a beautiful island, why wouldn't you want to spend all of your time outdoors? As a bonus, there miles of white sand beachfront that all visitors are welcome to enjoy.

Private Rooms and Estates
For the little bit of time you will likely be spending indoors, you can be sure that you will be surrounded by a mix of luxury, comfort, and genuine Caribbean décor. There a large variety of rooms, suites, beach houses, and beach villas. Even the smallest rooms are 618sq ft and contain a bedroom, bathroom, living room, and deck. The largest rentals, the beach villas, are full-sized houses that have their own pools; they also open up to the seashore. No matter what option you choose, you are sure to have a beautiful view and a luxurious room(s) to stay in.

Authentic Caribbean Cuisine
Believe it or not, this small island resort plays host to three unique restaurants! One of the most popular restaurants at Parrot Cay is Lotus. This restaurant focuses on Caribbean and Asian-inspired recipes. So, if you are looking for an authentic Caribbean dining experience, then this is the best place to go. Here, you can enjoy a large variety of meals based on seafoods and tropical fruits. If you are more into Western cuisine, then check out Terrace. This restaurant specialized in Italian fare. Lastly, if you're just looking for drinks or appetizers, check out the COMO Beach Club. This outside bar has everything you might need in way of drinks and snacks.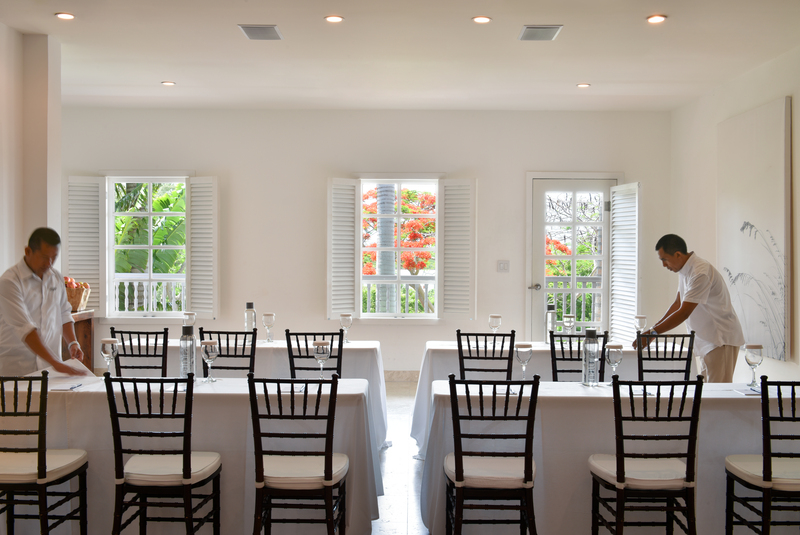 On the off-chance that you do not like any of the restaurants, or simply want to eat in your room or outdoors, that is also an option. In-room dining is available from 7:30 am to 10:30 pm each day. Like the restaurants, dine-in options include Shambhala, Caribbean, Asian, and Western cuisines. So, you are sure to be able to find something you like.
Exciting Sports and Relaxing Spas
If you like to get out and get active, there is plenty of opportunity for that at Parrot Cay. Watersports are the most popular are the Cay, as the area is surrounded by over a mile of beautiful beachfront. The water is crystal clear and lovely to swim in. If water sports aren't your thing, then you can instead enjoy an afternoon out on the tennis courts, challenging your friends or other visitors to a game.

If you are looking for something a little more relaxing, then take some time to visit the COMO Shambhala Retreat. This spa and wellness center focuses on using Caribbean and Asian-inspired techniques to make you feel as calm as possible. Ayurveda treatments are some of the most popular here. There are also massage treatments, yoga and Pilates classes, and Japanese baths that all guests ages 16+ can enjoy.
Dreamy Wedding Venue
Weddings are the most popular event that take place at Parrot Cay. Here, you can do everything from your rehearsal dinner, wedding ceremony, and even the reception. Contact the island's chefs to have them cater the entire affair!  If you like, you can reserve the whole island for your wedding. COMO even offers a Kurina wedding special, in which you can have up to ten guests at a romantic beachside wedding ceremony. The arch, chairs, and other decorations are all based on designs that are popular in Thailand and Malaysia. If that style isn't for you, then talk to the staff to see if they have other designs available or if you can set up everything yourself.

If you are looking to spend some time on a beautiful tropical island, then consider visiting the COMO Parrot Cay on Turks & Caicos. Check out their website to make a reservation. You can also stay up to date with everything COMO has to offer (both at Turks & Caicos and in their other locations) by following them on Instagram @comohotels.