Glamor meets classy style in this timeless ensemble featuring a bold jumpsuit and sparkly accessories. Whether you are going to a girlfriend's dinner party or a Christmas party at The Ritz, this outfit will compliment you all night long.
The Canna Bow-Embellished Silk Crepe De Chine Jumpsuit is a fiery red color, gorgeous for any fashion season. Designer, Johanna Ortiz, has carefully created this article of clothing to look beautiful on any woman. The plunging neckline is classy and sophisticated, and the keyhole feature which sits above the waist is a gorgeous addition.  At the back, Ortiz has added an oversized bow that can be tied, which complements the v-cut open back. This fabulous Jumpsuit is the perfect style item to wear when you want to feel sexy and timeless all at once.
The DSQUARED2 tailored fitted blazer is electrifying with its black and silver metallic fabric and shine. This blazer pairs well over Ortiz's red jumpsuit, as it allows the lava color to pop nicely. DSQUARED2's blazer is designed out of a beautiful silk blend, which means it is comfortable to wear all day long. In the center of the blazer is a large black button for fastening, but we have to say that this blazer looks gorgeous left unbuttoned over the jumpsuit. The last feature on this blazer to mention is the sophisticated rich black lapels that are a true statement piece.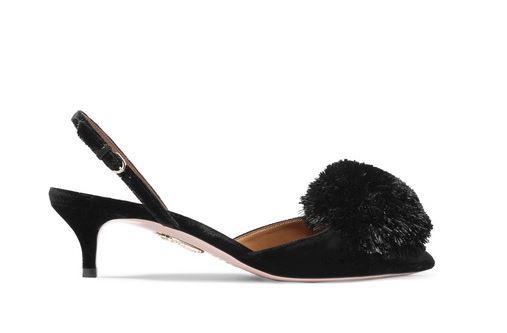 Step into a pair of these Aquazurra Pom-Pom Pumps for ultimate style. These heels are short enough to allow comfort and just enough lift, but stylish enough to allow you to wear these with any outfit. The oversized pom-pom is posh and cute. These pumps also have a sturdy, adjustable strap. Crafted in Italy by Aquazzura, these beautiful pointy toe pumps will make your feet feel glamorous from the moment you put them on until you take them off.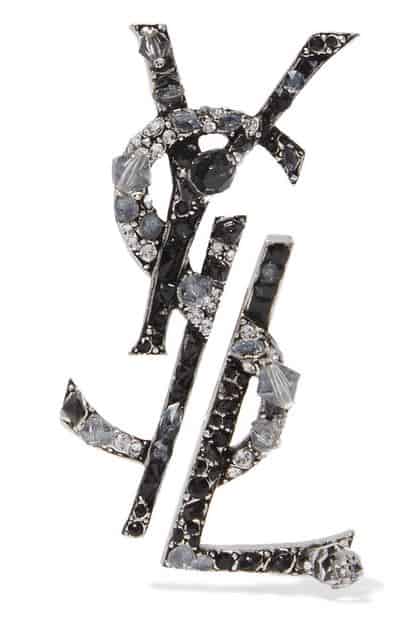 Who can say no to anything Yves Saint Laurent, especially their Ruthenium-Plated, crystal enamel clip earrings? Designed with a blend of iridescent and black crystals, these stunning earrings perfectly compliment the DSQUARED metallic blazer. The fastening clip on the back of the earrings makes for easy wearing. The split design of the YS and L makes it great for those who enjoy cartilage and lobe piercings. We think these stylish earrings would really shine with an updo or a high ponytail.
To finish off this style, the Jimmy Choo Clutch is a real eye catcher. The lustrous shimmer on the exterior of the clutch compliments the metallic blazer and crystal earrings to be worn alongside this clutch. Complete with 6 card slots, a zipper part for additional storage, and an easy-snap closing flap. This means, you have lots of places for storage when going out with this clutch. You will be pleased to know there is a sleek strap that can be attached on. The Jimmy Choo Milla Textured-Lame Clutch is a piece you will definitely want to add to your collection.
Fashion meets timeless class in this outfit, with a gorgeous, bold jumpsuit and sparkling blazer and accessories. You will be the center of attention wherever you rock this fashion ensemble!
SHOP MORE FASHION AND STYLE NOW!!!