Winter is almost here. Bring out all those legwarmers, jackets and mufflers in readiness to get protected and covered. But wait, in the face of the eagerness, are you sure you are not neglecting your skin's needs? As you will note, winter has the potential to wreak havoc on your hair and skin. However, do not despair, there are some essential hair and beauty products to ensure you get the results you want. We present to you the five best must-have winter beauty essentials to nourish your skin and give you a youthful glow all season long. (Image Credit: Deposit Photos)
Skin Care
No matter what season it is, it is vital to take good care of your skin by using natural beauty products that are gentle on your all skin types. We love Lumene, a Nordic creation that your skin will thank you for. With decades of experience in caring for skin exposed to the harshest temperatures and light extremes, Lumene understands skincare like no-one else and has developed a unique approach to harness and refine the powers of the Nordic nature in all their gentle skin products.
We also highly recommend saying Yes to a little bubbly with this gentle, lightweight mask that starts bubbling on contact, leaving skin feeling replenished, softer and protected against environmental pollution in less than 10 minutes.
A Powder Foundation
For a smooth and flawless look, select the right powder foundation. Choose the finish that suits the entire makeup. For instance, the matte powder looks incredibly gorgeous with a season's red lip and black eyeliner. An illuminating powder, on the other hand, goes well with the mixed metal eye-shadow trend.
However, there are some exceptions you need to consider. If you have rosacea or dry skin, this is not the right makeup for you. The powder will settle in the areas of scaling and dryness thus detracting from the overall composition.
 Use a dry sponge to apply the foundation to your body. If you want your skin to appear more natural, spritz a buffing brush or the powder with a skin refinisher before applying. If you have an oily skin, do not despair – there are a lot of power foundations for oily skin to choose from.
Oil Based Serum
If you have been using water-based gels, it's time to pack them until summer. During winter, your skin needs to be more hydrated. Since your skin is dry, oil serum will get quickly absorbed; this leaves behind a nourished, youthful and healthy skin.
For enhanced results, select a night based serum and let it work its magic as you sleep. As a benefit, this winter beauty essential does not leave any greasy film behind. You can also add some drops of nourishing herbal to your moisturizers.
Lip Balm
Do you want to maintain your lips kissable throughout the entire winter season? Well, it is time you invested your time in getting an excellent buttery formula lip balm.
Some of the active ingredients include Shea butter, jojoba oil or coconut oil. They nourish your skin and prevent the cold winds from getting to the delicate skin tissues on your lips. You can pick some colorful shapes that can double as lipsticks.
Hand Creams and Body Lotions
Your elbows, hands, feet, knees and your back are the main spots of your body that feel the brunt of winter. As such, you need to get yourself one of those lotions that work for the entire body. You will also need to get the best hand cream, as hands need a special treatment.
You can also choose to invest in precious yet unscented therapy which can maintain your skin supple, soft and thoroughly moisturized at all times.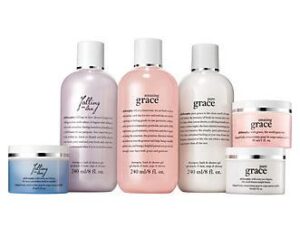 Body Scrub
Sometimes, even if you apply the best lotions and creams, your skin still tends to become a little rough and dry. At this point, you will have to use a body scrub. If used gently, the scrub will get rid of the top layer of the skin.
Do this procedure at least once or twice a week.  The best scrub would be that with sugar and Shea butter. They are not only rough to the skin but also rooted moisturizers which leave your skin velvety soft.
There are many winter beauty essentials available for each one of us to choose. The results depend on how keen you are towards their selection. If you take your time at the store, you will be able to pick the products in the size that fits your body. It is essential that you lay more emphasis on your tastes and preferences.
Therefore, if you are not comfortable wearing a certain product, just avoid purchasing it. Ensure you get your preferred results within the minimum budget.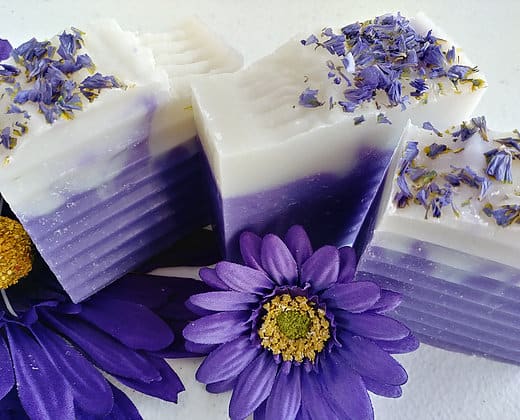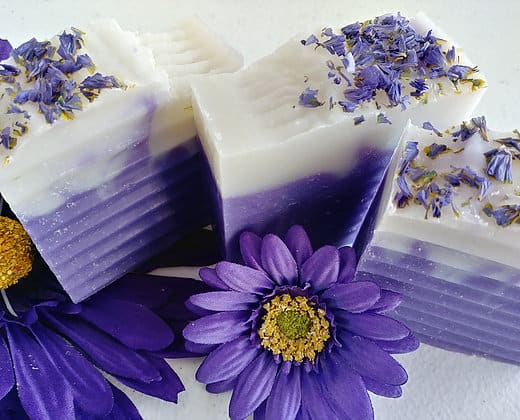 Natural Soap
This sensational soap bar is topped off with purple flower petals.  The natural soap bar was handmade from scratch for women of great faith. Its fragrance was CAREFULLY chosen.  It is sure to make your heart smile and remind you that no matter what, KEEP WALKING BY FAITH!  Ignore feelings!!!
Ingredients Include: Water, Saponified Oils of Coconut and Olive with light fragrance oil full of botanical bliss, purple flower petals and love!  4-5 oz. This creamy and rich lathering bar can be used for oily, dry or sensitive skin.
When you BUY ONE, ONE IS GIVEN as a Random Act of Kindness to spread hope throughout America.