ABOUT YVONNE KONE:
Yvonne Kone is a minimalist Danish brand of luxury leather goods such as shoes, handbags and accessories. Italian leather is what makes most of their timeless and effortless pieces. What's more Yvonne Kone dabbles in a practical yet playful approach to her style. The designer herself, Yvonne has an African lineage and she takes pride in that by incorporating it along with Scandinavian design. Furthermore, there is a personal, earthy touch to her wardrobe done by Italian craftsmen. Established in 2011, Yvonne Kone is one of Denmark's pride, when it comes to designers. Her minimalist, no fuss yet classy personality reflects her pieces. Not only sold online but also in Nordstrom and boutiques in Copenhagen will you find Yvonne Kone's boutiques. Now, let's look at her amazing stylish products.
PERNILLE CLOG (Pictured Above)
The first super stylish and fabulous shoe we present to you here is this Pernille Clog in Light color. It comes in 3 other colors namely earth (darker brown), Savoia (light blue) and Putty (cream). Made of exquisite Italian leather, you can be sure that this is of premium quality. Furthermore, it features a heel height of 10.5 cm, lightweight wood, and golden studs on the side. This platform clog sandal is so nostalgic it reminds us of the 70s era. I can imagine wearing this with bellbottom jeans and a crop top, or even just a mini skirt or shorts with a flowy blouse. Do not forget to look super cute and chic!
GIANA SANDAL STRAP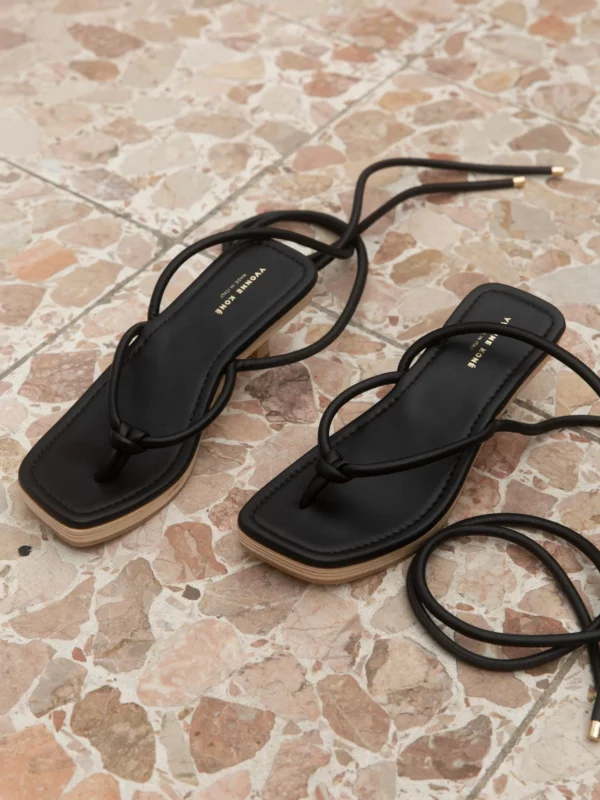 The next pair of sandals we feature here is this minimalist yet sexy and comfortable Giana sandal strap. It comes in 2 other colors namely latte (white) and Savoia (light blue). Made of slightly leather footbed and a supple leather strap, it sure will be comfortable to walk around in. Additionally, its heels are sculpted wood that isn't so high so you can walk for long without getting tired in this pair. This flirty, feminine and eye catching sandal is so easy to wear, just wrap the strings elegantly around your ankle however way you want to style it. Super versatile if you tell me! Pair this with jeans or trousers during the day and a short dress for a date night. You can never go wrong buying this pair!
MINI FILIPPO
The third product we have here is this elegant, versatile and minimal Mini Filippo handbag in Rio Minty. It comes in 2 other colors namely Rio lavender and Rio Savoia. This handbag is a part of the collection of the Filippo series which comes in 4 different sizes. Crafted from pebble Rio leather, this handbag has such a fine and luxurious texture. Moreover, it features a lovely mint pastel color,  hunky top handles, a thin removable shoulder strap, tonal stitching and a brass hardware. This classic bag can be used anywhere! From the office, to doing errands at the mall, and even for a movie date night with your significant other. Similarly, versatile and adaptable just like the previous pieces.
JOHANNA MINI BUCKET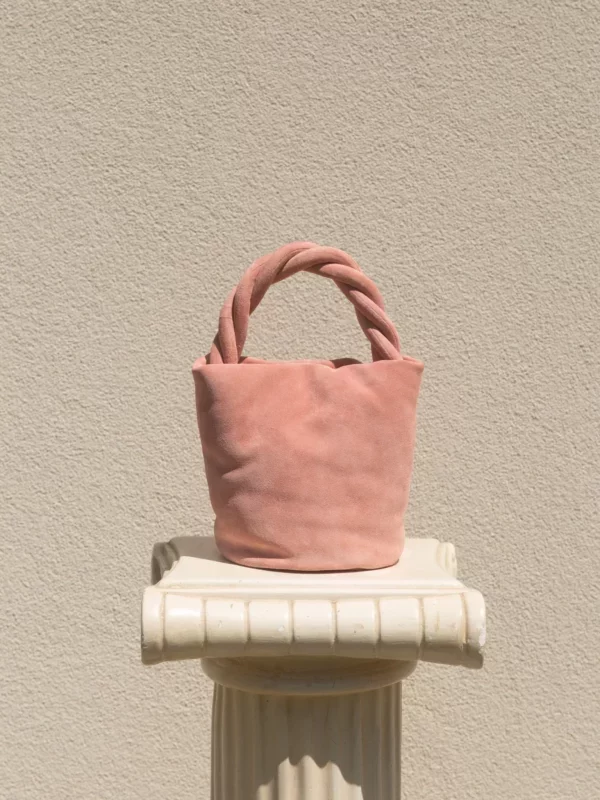 The fourth piece yet second bag we have here is this ultra flirty, feminine and fabulous Johanna Mini Bucket in Suede Confetto (a light pink) It comes in another color namely Suede Savoia. Made of supple Italian Suede and lined in cotton, this bag sure spells luxury. It features a very interesting twisted handle that is unique. In addition to that, it has a slightly padded body and a magnetic snap button closure for easy access. Also a roomy main pocket that provides ample storage for everyday essentials and just-in-case additions. You will not even think it is a mini bucket bag for as it can store many of your belongings. I can imagine this worn with a white long dress for summer or even with a black formal blazer and trousers to give it a good contrast at a more formal event.
FILIPPO WORK BAG
The fifth and final product we show you here and the third sophisticated handbag is this Filippo work bag in Vitello Apricot. It comes in 2 other colors namely Vitello black and Vitello stone (cream). Made with Italian leather, and inside it's lined with ultra-soft microfiber suede. Definitely made of top-notch material, inside and out, just like all the bags featured. This bag is well loved and a favorite work bag as it is spacious, practical and easy to bring around anywhere! It features two slender straps at the top of the bag to close it. Simple, elegant and effortlessly chic.
There you have premium quality leather shoes and bags from overseas that have made its name internationally. Yvonne Kone truly knows what elegance is and she even embodies the African heritage she has in the designs. To see more of minimalist designs we wrote in our magazine look here for Vol the Brand.