About YG Collection:
YG Collection is a sustainable women's fashion brand of dresses, jumpsuits, shoes, swimwear and jewelry. Founded in 2019 by Yumel Gonzales, a Dominican Republic native, her goal is to empower women with the brand. Her humble beginnings as an immigrant in a lower-middle class family has helped her to strive for success in the fashion industry – a place where she thrived and dreamed of. Furthermore, the mission of YG collection is to give back generously to communities who need support and assistance in overcoming adversity. What sets the brand apart from others is its quality in design, made by only highly equipped designers. Its pieces are also designed to accentuate the female form. Let us now take a look at 5 gorgeous dresses.
Brandi Backless Maxi Dress (Pictured Above):
The first dress we feature to you here is this sultry and elegant Brandi backless Maxi dress in sky blue. It comes in w other colors, orange and cream. Made of lightweight stretch shimmer knit fabric, you'll be sure to feel like you're wearing nothing! That's how comfortable it is, and the texture is great too. Furthermore, it features a sexy open back, customizable shoulder and neckline ties, semi-ruched chest and lower back flaps that accentuate your bum. Pair this stunning piece with an intricate designed clutch, an arm band, drop earrings and silver stilettos for a formal.
Cy Knitted Hollow Out Dress: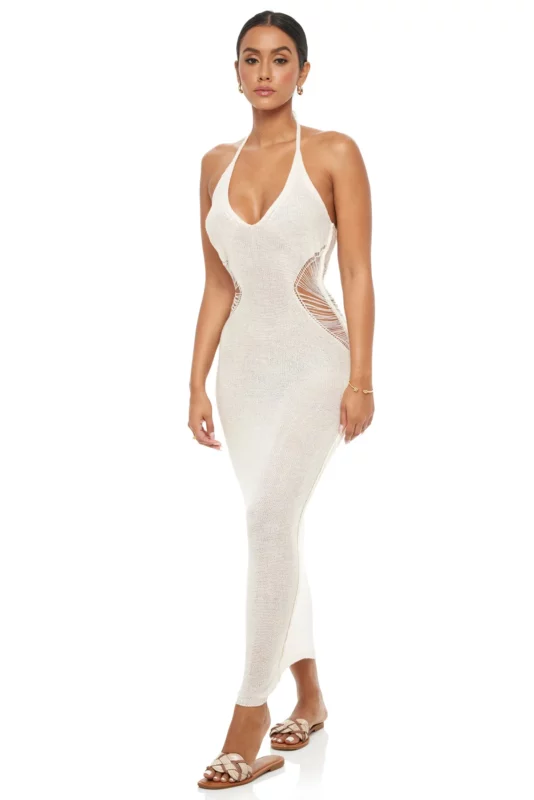 The second dress we present to you is this bohemian and super cute Cy knitted hollow out dress in white. It comes in another color, black. Made of breathable knitted cotton fabric, it sure is luxuriously comfortable. Moreover, it features a gorgeous pattern of hollowed side cut outs and backless, halter design. We can imagine this sexy piece paired with flat sandals lounging by pool in a 5-star hotel or paired with nude pumps and golden jewelry for a formal occasion. It is such a versatile piece that any girl must have!
Harlow Button-Up Romper:
The third flirty and girly piece we have here is this retro style Harlow button-up romper in pink. It comes in 2 other colors black and white. Made of lightweight and stretchy fabric, this piece allows you to have freedom of movement while not sacrificing your comfort. Furthermore, it features a body-hugging fit, to show off those curves, short sleeves, a collar and front buttons. We can imagine this casual piece paired with sneakers and a cute white cap for a sports event. It can even be paired with neon earrings and white heels for a fancy lunch at a fancy restaurant.
Dani Two Piece Knitted Skirt Set: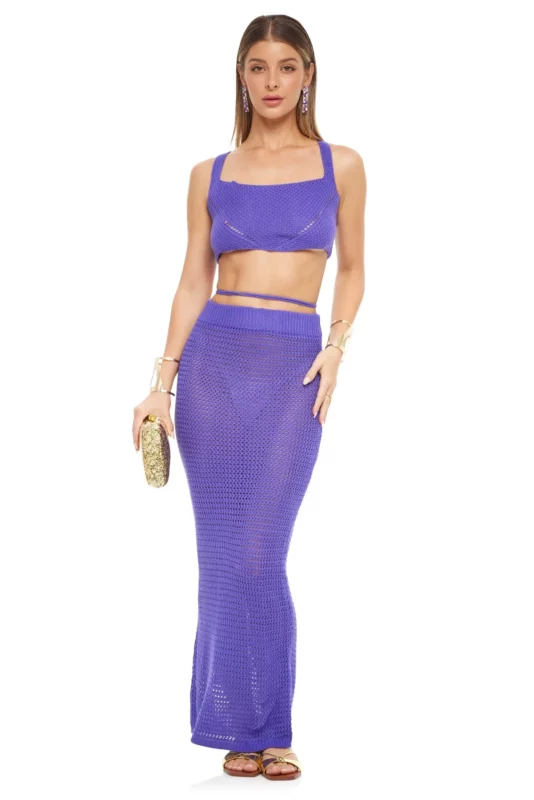 The fourth beautiful set we show you here is this summer style, perfect for the beach purple Dani two-piece knitted skirt set. Made of knitted material, this camisole cropped top and maxi skirt is so stylish and breathable. Moreover, it features subtle diagonal hole design at the chest area,  a sexy criss-cross bandage back, and a ribbon belt hollow out. We can imagine this gorgeous set worn with flip flops and pearl jewelry in a Carribean vacation by the beach. It can also be worn with more elegant sandals and golden cuff jewelry and drop earrings at an exclusive pool party. Wherever you wear this, it sure will turn eyes on you.
Jessy Two Piece Skirt Set:
The fifth and final set we have here is this casual yet sophisticated olive colored Jessy two-piece skirt set. Made of high-quality stretch fabric, this dress will sure give your body an amazing silhouette when worn. Furthermore, it features a super sexy 90's style halter 2 string self-tying back, a semi-maxi skirt and a phenomenal light olive color. We can imagine this dress paired with a straw hat and bag plus flip-flops while shopping the streets of Beverly Hills during the summer. It can also be a perfect beach wear or a festival wear. It definitely is a fun and versatile dress.
So there you have it! 5 amazingly sophisticated, classy yet super sexy dresses from YG Collection. Check out more of what they have to offer like accessories and swimwear at YG Collection. For more cute dresses we wrote about click here.