About A | Loud:
A | Loud is a sustainable fashion brand based of dresses, shirts, bottoms and swimwear for both men and women. Based in Dubai, it is a brand that puts importance in the planet and is ethical. Furthermore, what sets it apart from other brands is their circularity of fashion. What this means is that each piece or product has several times usability. The users may have the option of returning the purchased goods back to A | Loud so it can take care of the disposal or give it a second chance. Moreover, in the event that the buyer decides to keep it, he or she may be rewarded. Imagine how cool that is! Let us now look at 5 sustainably made dresses.
Grace Mini Dress (Pictured Above):
The first dress we present to you is this floral and fun Grace mini dress. Made of 100% recycled polyester, this dress sure is a guilt-free purchase. Furthermore, it features adjustable straps for a personalized fit, embellished with ruffles that drape further down the voluminous skirt. It also has a square neckline at the back tied with thin straps, a waist belt and a plunging neckline. We can imagine this cute dress paired with flip-flops at the beach or paired with white sneakers and a fedora hat for a casual event like lunch with the girls.
Cross Over Long Dress: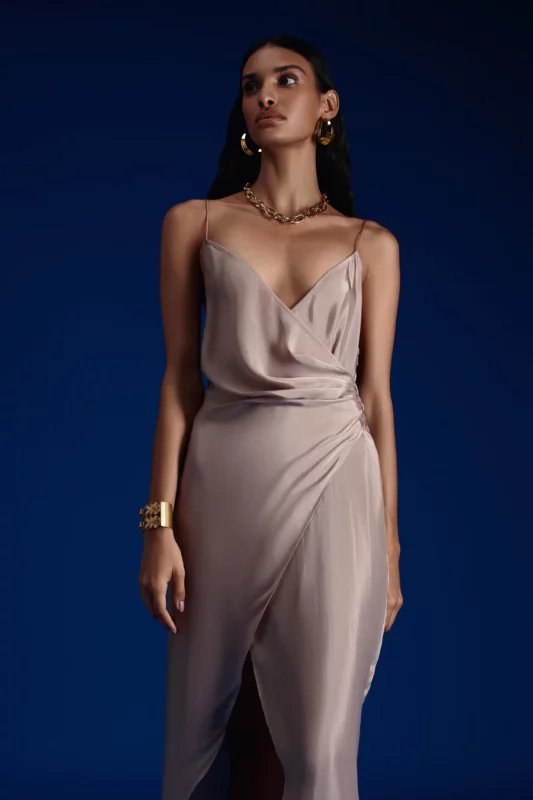 The second dress we feature to you is this elegant and stunning Cross over long dress. Made of 100% viscose, not only is it comfortable but the texture looks great too. It features a crossover neckline at the front and a sensual neckline at the back to highlight that feature. Moreover, the thin shoulder straps can be fastened in different ways, creating different looks. How versatile! The skirt is characterized by the deep diagonal slit on the front. We can imagine this dress paired with embellished stilettos and golden jewelry or pearls for any formal event, and you will definitely turn heads!
Mana Mini Dress: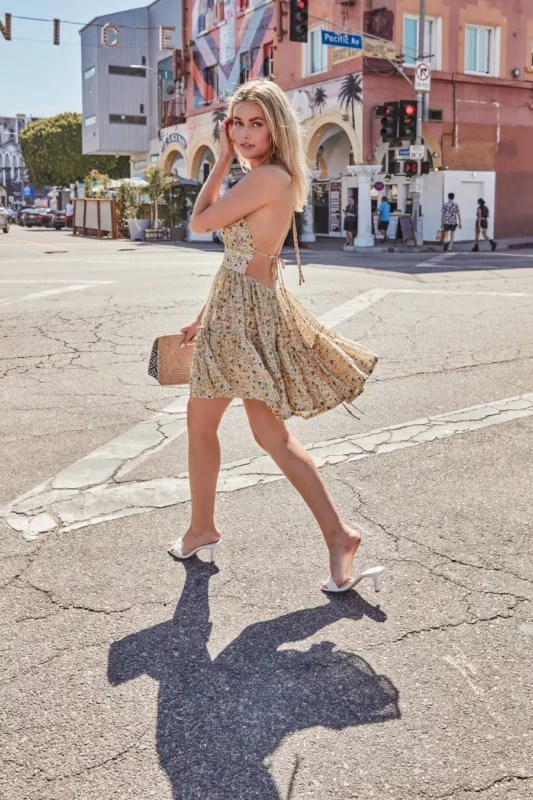 The third dress we have here is this flirty and girly halter Mana mini dress. Similarly made of 100% recycled polyester, it did not do any harm in the environment. It features an open back tied with a sting, a draped neckline and narrow shoulder straps that cross at the neck. Furthermore, it has ruffles and has a yellow cute floral print. We can imagine this dress paired with heeled sandals for a brunch in the Beverly hills during the summer. It can also be worn at the beach. Definitely a perfect dress for Spring or summer that will not go out of style!
Railay Mini Dress:
The fourth dress we show you here is this gorgeous minimalist Railay Mini dress in pink floral. Made of 100% recycled polyester, it is ethically and sustainably made. Moreover, it features deep V-neckline that crosses under the bust and an adjustable drawstring waist for a perfect fit. It also has a square neckline on the back and an opening on the back with thin ties. This is dress should be perfectly paired with ballerina flats, heels or flipflops during the summer. It is a versatile dress that is a must-have in your closet!
Ayla Long Dress:
The fifth and last dress we present to you is this funky and hot Ayla long dress. Made of 100% recycled polyester like the other 4 dresses here, it sure is an earth friendly buy. Furthermore, the dress features a single shoulder thin strap which extends to reveal a sexy back, an invisible zip and hook at the side and a sultry side slit. We can imagine this dress paired with pointed heels and gorgeous floral drop earrings for a cocktail event. It sure will stand out from the crowd with a wild print too!
There you have it! 5 super cute and guilt-free buys from A | Loud. You will definitely not regret adding to cart with the option of returning it when you want to! For more sustainable dresses we wrote about click here.