WHITE FOX BOUTIQUE
White Fox Boutique is a brand for any woman who considers herself, a "Boss Babe". It features, dresses, accessories, loungewear, shoes, swimwear and active wear. Moreover, it is a bold, fashion-forward brand with a dream-big attitude. The brand's mission is to make any fashionable woman be more comfortable in her own skin, in her own success and to inspire other girls to do the same. Co founders Georgia and Daniel started this brand in 2013, start-up style. Using social media and influencer strategy marketing, they finally garnered a big following of 1.3 million! In 2020, White Fox Boutique has proven that it pays to dream big. With new headquarters in Sydney and L.A, this boutique is on full speed ahead! Let us now take a look at several handpicked ensembles we have for you.
CITY OF LIGHTS MINI DRESS (Pictured Above)
The first fabulous and eye catching dress we feature to you is the City of Lights Mini dress in Silver. This dress actually comes in two more colors, namely pink and purple. It is hooked together to form a delicate metallic mesh fabric. Moreover it has an adjustable chain waist, a relaxed fit and halter neck tie. Additionally, the backless feature of this dress makes it ultra sexy and feminine. Furthermore, it's cloth is aluminum. Not only is this dress, comfortable, it also is sturdy. Don this dress at a night out in Paris to match the beautiful and sparkling Eifel Tower. I can imagine wearing this at a fancy disco club as well. Unleash the dancing queen in you with this City of Lights piece!
DAY TO NIGHT MINI SKIRT PINK FLAME PRINT
The second piece Beverly Hills Magazine hand picked for you is the Day to Night Mini skirt Pink Flame print. From it's name, it can be used from day to night making it such a versatile skirt. Additionally, it is 97 percent polyester and 3 percent elastane. It is high waisted and features a leg split. Moreover it has a center back zipper and lined, stretch fabric. This skirt has a matching crop top and bikini so it is best to style it like that. Another way is with a bustier to give you that killer bad ass chick look. From a Coachella festival to a dinner party. You can top this skirt with leather boots and a jacket, giving you a fun, edgy yet feminine vibe.
WORST BEHAVIOR MINI DRESS DIGITAL BLUR PRINT
The Worst Behavior Mini dress in Digital Blur print is our third dress on this list. This mini length dress features thin straps with halter tie, cut out details on the center front and sides, low open back and stretch lined fabric. It also is made of 97 percent polyester and 3 percent elastane. The cut out details of this dress makes it so dangerously sexy, hence its name "worst behavior". I can imagine this dress being worn with a long necklace and silver stilettos with your girlfriends at the local club, or under a black bomber jacket paired with ankle boots for a date at a dive bar with your significant other. Unleash your prowess and confidence with this daring piece!
MADE FOR YOU BUSTIER ROMANCE PRINT

The forth piece we hand picked for you is this Made for you Bustier Romance Print top made of 100 percent polyester. This dreamy bustier is sure to highlight and give your curves an accent. It features adjustable straps, boning in bodice, a bust underwire with tie detail on the center from and curved edge with an open back. It also comes in another color, namely Blue Leaf print. The romance print's pair is the Stuck in My Head Mini Skirt. Wear it as featured on the picture on a romantic evening with your husband at a club. If you want an edge to the feminine and romantic look, pair it with leather pants or skinny jeans and boots or stilettos.
BREATHTAKING CROP HOT PINK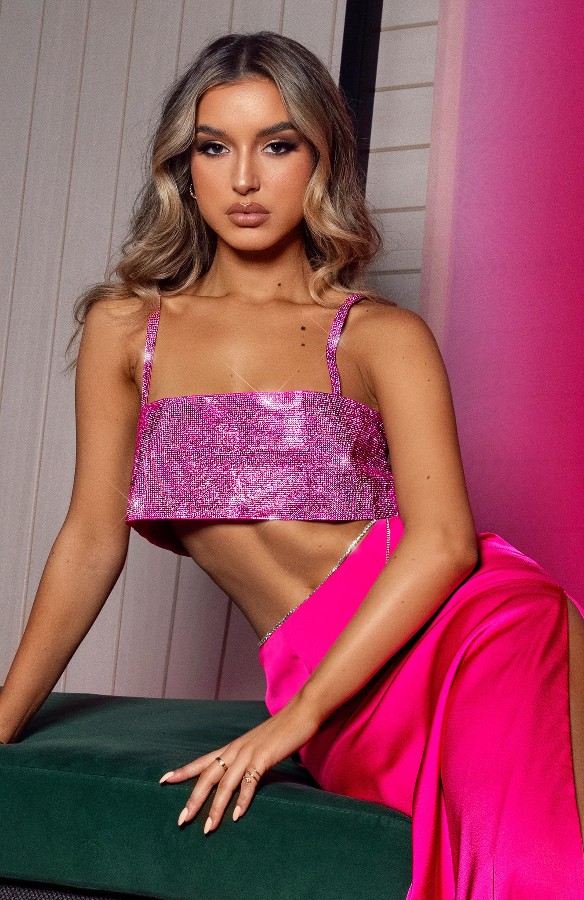 The fifth and final piece from White Fox Boutique we feature to you is this Breathtaking Crop top in Hot Pink. It comes in 3 other colors blue and silver and a lighter shade of pink. It is made from 50 percent faux diamonds and 50 percent polyester. Additionally, this dress features thin straps, straight neckline and hem, crysal rhinestone fabric and a hook and eye closure. Furthermore, it is best to pair it with the One Last Time Mini Skirt, Stuck With Me Midi Skirt or Glistening Mini Skirt. Just like the City of Lights dress, this hot pink crop top is an eye and show stopper. Give yourself and your audience a night they cannot forget with this beautiful and chic crop top.
In conclusion, we looked at five beautiful tops and dresses worth adding to your collection. It definitely made me feel like I was unleashing my inner feminine and goddess energy just going through these pieces. If you want to browse more at what's in White Fox Boutique, visit their website today!