Capannori is a charming hamlet in the province of Lucca in northern Tuscany. Located near Italy's western coastline, Capannori was one a military stronghold, complete with fortification towers and self-sustaining farms. Today, Capannori's intriguing medieval history and beautiful architecture is a draw to tourists. In fact, this stunning historic mansion is a must-see on many visitor's bucket lists.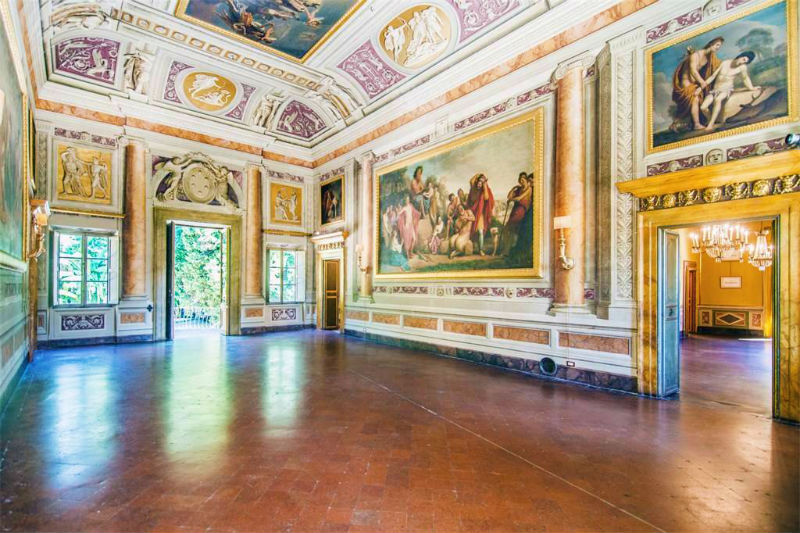 A Historic Mansion
Villa Mansi is one of the most famous properties in Capannori. Currently, tourists can visit and explore the luxury home and grounds. Originally built in the 1600's, this 53,820 square foot historic mansion underwent a transformation and addition in the 18th century to become the dwelling you see today. Though this stunning estate has had many owners, its name comes from the Mansi family, wealthy silk traders who took ownership of the historic mansion in the mid-17th century.

Impressive Main House
Indeed, this luxury mansion is spectacular upon first glance. Statues, arches and balusters combine for a regal façade. Moreover, the ambiance continues inside. One of the most striking features of this dream home is the abundant paintings and frescoes. Stefano Tofanelli, a Neoclassic artist local to the region created these historic works of art most likely in the late 1700's. They largely depict mythological themes adding further to the drama of the home. 
Contact Maddison Estates To Buy, Sell, Or Build Your Dream Home!
Villa Mansi main house spreads over four levels. The main level is a raised ground floor. It's here that we find most of the common living space. The two floors above house the bedrooms with 8 on the first floor and 3 on the second. This unique Italian home also has 9 bathrooms. And the basement consists of a large reception area, lounge and the old kitchens. 
It is important to note, over the years, the homeowners lovingly restored the main house in its original style. 

Park-like Grounds
This luxury estate offers more than just a historic mansion. In addition to the main house, a farmhouse and stables can be found on the bucolic 11.5 acre property. However, while the main house underwent renovations, roughly 2,800 square feet still need improvement in the stable and farmhouse. Some of those improvements have already begun. 
The grounds sweep over rolling hills with vast open spaces, ancient citrus groves and mature trees. Statues dot the landscape. And a large peschiera is an ideal spot for fishing or reflecting. 
Surely this luxury estate gives homeowners an opportunity to be a custodian of history. So whether you are looking for a beautiful getaway or a primary luxury home, Villa Mansi is surely worth a look. 
Address: Via delle Selvette, 242, 55018 Segromignio, Monte, Capannori-Lucca
Italy Sotheby's International Realty lists this dream estate with an asking price of €19.000.000 or approximately $21,350,000.