The Bynok architectural company has been building exquisite villas and homes for twenty years. They are in the process of creating yet another architectural masterpiece—the Villa Alegria. Here, residents have all of the luxury of a five-star hotel, all the protection of a gated community, and all the natural beauty that comes with living in the South of Spain.
Prime Location
The gorgeous Villa Alegria is located on the New Golden Mile, El Paraiso, Malaga, Spain. This stunning location allows residents to have the privacy of a gated community while being close to beautiful Spanish attractions. The villa is less than ten minutes away from Puerto Banas, Marbella, and Estepona.
Other nearby attractions residents have access to include a short drive from the Alborán Sea, day spas, golf courses, and more!

Architecturally Exquisite
Bynok is famous for its modern style of architecture. This can easily be seen by the angular designs of each room. The decorative details aren't to be forgotten, though! This villa is home to both outdoor and indoor lounge areas and dining areas.
Homeowners only need to look outside to see a large swimming pool and natural flora and fauna. The inside of the villa is just as astonishing. The basement, ground floor, and first floor all have bedrooms and bathrooms. The ground floor is great for entertaining. However, the basement might be better, as it has a private theatre!
Contact Maddison Estates To Buy, Sell, Or Build Your Dream Home!

Expansive Floor Plan
"Expansive" is the perfect word to describe the Villa Alegria. If you're looking for an idyllic dream home, this is it. The villa lies on a 1491 m2  (16,049 sqft) plot of land. The building itself takes up 871 m2 (9,375 sqft), leaving a stretching lawn for residents to admire. In the villa, there are five bedrooms and six bathrooms. A home of this size is perfect for a small family, luxurious parties, or just as a place to escape to when you're tired of the busy city life.

Designed to Perfection
The design of the Villa Alegria is flawless. There are three floors to explore. So, let's begin at the ground floor. This floor is where the parties will happen! The ground floor plays host to a kitchen, dining room, and several lounge areas. Outside of the home, there's a large pool with an accompanying lounge area and a two-car garage.
The first floor houses three full bedrooms, each with their own bathroom. Of course, a Bynok creation wouldn't be complete without balconies, another lounge area, and a small pool.
Continuing on, the house also has a basement, where residents can find another bedroom, two bathrooms, a private movie theatre, home gym, and more! When it comes to this villa, guests won't be afraid to go into the basement. They'll be dying to be invited in!
Lastly, the villa also has a spacious attic that homeowners can use for whatever purposes they see fit.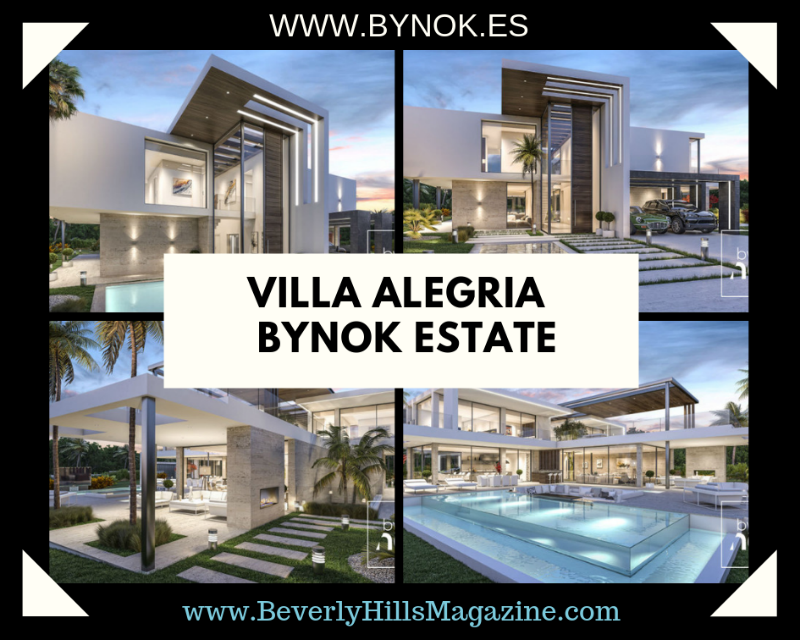 Conclusion
The Villa Alegria keeps the Bynok name in perfect standing. All in all, this villa is perfect for anyone who needs to get away from crowded cities and bask in the Mediterranean sun. Relax at the nearby beach or in the comfort of your own pool. All of this and more is possible if you choose to live at the luxurious Villa Alegria.