Who says that brown clothes need to be boring? While khakis aren't the most exciting piece of men's fashionwear, brown leather clothing items have an ultra chic style for men that is undeniable. The clothing items in this article are made out of a variety of leathers, including exotic snake and crocodile leather. Keep reading to learn how to pair leather with leather to make a luxurious look.
Marrone Leather Jacket
First up on our list of leather fashion good is this Tom Ford zip-up leather jacket. Here at Beverly Hills Magazine, Tom Ford is one of the brands we write about most often—and for good reason! Tom Ford is great at combining neutral tones with metallic accents to make a one-of-a-kind look. The jacket also includes a front zipper, two front pockets, and a stand-up collar.
The outside of this jacket is made out of 100% (cow's) leather. However, the inside lining is made from a 95% cotton and 5% polyamide blend. This helps to make the jacket much more comfortable to wear without sacrificing style.
Snake Leather Pants
Next come these AMIRI black half-print snake leather pants. These pants stand out for a couple of reasons, including being the only piece of black leather clothing in this article. As the name of the pants implies, they are made, in part, of genuine snake leather. One of the coolest features of these pants is that the snake-skin pattern is easily visible, making for an edgy look.
Some other features that make these Amiri pants ultra chic include their tight-fitting design that can make any man look good. Believe it or not, there are also five pockets of varying sizes, a zipper/button fly, and standard-sized belt loops. To see another outfit with these pants as a featured clothing item, check out this Cool Men's Style piece.
Crocodile Leather Loafers
It's hardly a good idea to step outside without a good pair of shoes on. Continuing with the leather trend, we have these Prada logo plaque loafers. The outside of these shoes is made from 100% crocodile leather. The lining is made from 100% cow's leather. Finally, the bottom of the shoe is made from a simple rubber. This combination makes for both a stylish and comfortable shoe.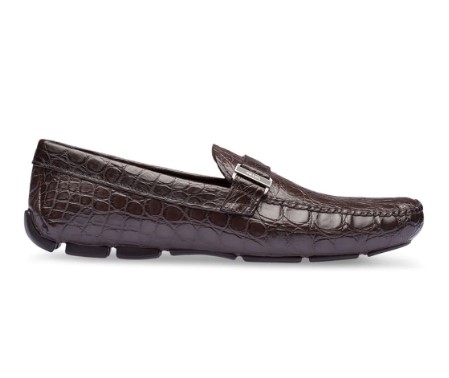 Alligator Leather and Gold Watch
It is time for accessories! The first featured accessory is the Elite Classic 39mm watch by Zenith. This watch fits in wonderfully with the leather theme, as the band is made from 100% alligator leather. This is similar in appearance and pattern to crocodile leathers, but it should be noted that they are not the same thing. The buckle on the band is made from rose gold, which compliments the brown coloring of the leather nicely.
The watch face is also incredibly impressive. Inside lies a silver dial, 27 jewels (mostly sapphire), and rose-gold colored time markers. The background color of the watch face is just a slight bit lighter than the watch band. This, combined with the intricate rose gold and silver accents, makes for a beautiful color contrast.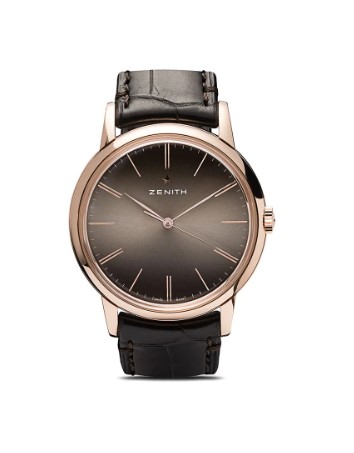 Brown-Tinted Temple Sunglasses
While these Dita interchangeable sunglasses are not made out of leather, their brown and gold-like coloring makes them a great match for the ultra chic men's style outfit. The  square frames are made out of titanium (60%) and wood (40%) but colored to look almost golden. The lenses themselves are also tinted. Depending on the light, they may look brown or gray. Either way, the sunglasses match this outfit wonderfully.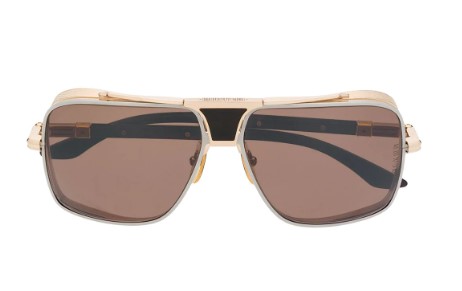 Final Thoughts
If you're a man who loves leather, then look no further than this ultra chic men's style. Whether you wear all of these fashion pieces at once or only wear one at a time, you are sure to be stylish. So, what are you waiting for?
SHOP MORE FASHION AND STYLE NOW!!!