Thunder 164 feet is an ultimate luxury yacht built by Oceanfast shipyards. Her official launch dates back to over a decade ago. However, in 2016 the model underwent an extensive rebuild, which focused on the interior walls, ceilings, entire floors, and furniture.
These changes paved the way for introducing Italian flair by one and only Cavali at Lusben Shipyard in Viareggio, Italy. Some of his new interior fittings include Visionaire furniture and furnishings. In addition, the refits complimented the design work of Jon Bannenberg and naval architect Mark Ellis Marine. Both were the designers behind this magnificent superyacht and why Thunder still stands out in the yacht market. 
The Decks Design and Layout of Thunder 164′
The main deck features spacious indoors and outdoors spaces. For example, from behind, there is a dual staircase leading guests from the swim deck to the indoor/outdoor dining salon. It has glass doors that offer excellent panorama views. The place converts to an outdoor area by sliding the glass doors, making it perfect for alfresco dining with a visionary table and ten seats.
As you move from the outdoor dining salon, you enter a foyer that leads to the main salon. In between the hallway, it features glass doors that provide privacy to the rooms. The salon is intimate; it includes a few private areas with high ceilings and tall windows. Also, there is a formal living room with elegant spaces to entertain guests. It's fully furnished with luxurious Visionaire furniture and furnishing. 
On accommodation, the luxury yacht has a master suite on the main deck. It's spacious and has a comfortable lounge area, exquisite Visionaire designs, furnishings, king-size bed, double wardrobes, and remote-controlled lighting. Other features include two master bathrooms, but the main one comes with a tub, shower, and water closet, while the other is fitted with a steam shower.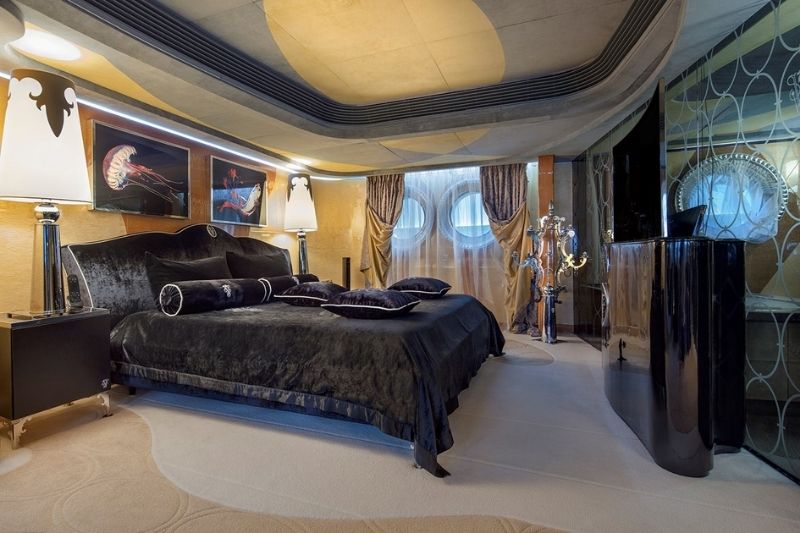 Besides the master suite, the ultimate yacht comes with a VIP, guests, and forward staterooms. All the staterooms have an ensuite bathroom, Visionaire styling, and 32-inch LG TV, among other features.   
Thunder is a yacht designed explicitly for the yachters who love outdoor living and entertainment. That is why its deck spaces and flybridge include a deck swimming pool, measuring seven meters with a separate area for the jacuzzi. Also, it has some open spaces surrounded by sunpads, side-by-side settees with dining tables, and retractable umbrellas. Not forgetting, the pool doubles up as a tender garage and the flybridge offers sunning pads at the upper deck.
Power Behind Thunder 164′
This ultimate luxury yacht runs on two MTU 396 series V16 TE 94 engines. Each of the engines produces a total output of 2,950 hp and offers 320 hours. In addition, the yacht uses KAMEWA jets for propulsion and reintjes the VLJ930 gearbox.  
The engine output is outstanding and can power Thunder to long-distance cruises with ease. Again, it is among the fastest superyachts in its division and delivers an incredible maximum speed of 25 knots, while normal cruise speed ranges from 17 knots. 
Market Asking Price
Thunder 164 is the superyacht that ticks all the yacht life expectations. It's available for sale. All those yachting enthusiasts who would like this yacht should be ready to part with $ 10,800,000.
To Sum Up
Without a doubt, Thunder 164′ is the ultimate luxury yacht capable of fulfilling all your yacht life fantasies. It hosts spacious decks with elegant indoor and outdoor spaces for entertaining and relaxing. The superyacht guarantees an agile performance that complements its one-of-a-kind yachting aggression. Above all, the yacht offers nothing but the best yacht life.