Ever since its first release in the early 90s, Sea Bound continued to update the Burger. And today, this remains one of the ultimate luxury yachts. For starters, the aluminum frame gives it a timeless design. And then, of course, is the countless hours of fun you'll have onboard. So if you're looking for a beautiful yacht that offers plenty of space for relaxation and pampering, then be sure to give the Sea Bound Burger a closer look!
The Motors
Kicking off your search for the ultimate yacht, you'll want something that can run reliably. And the Sea Bound Burger does just that and then some with its two Caterpillar engines. As a whole, these pump out 1400 horsepower. This allows for a cruising speed at 16 knots and a top speed of 19 knots. So you'll have no problems getting where you need to go. Plus, you'll get a range of 3000 nautical miles. That means no destination is off limits for this beauty!
Design and Features: Plenty of Fun Waiting for You
Now for the fun part. Step aboard the Sea Bound Burger and you'll find all you'll ever need for your vacations at sea. For starters, there's that timeless design that requires no renovations. It's something about the Butternut wood that adds a warm and cozy feel to every room on this yacht. And then the copious amounts of windows ensure that you'll have the best views from nearly anywhere inside this fine vessel.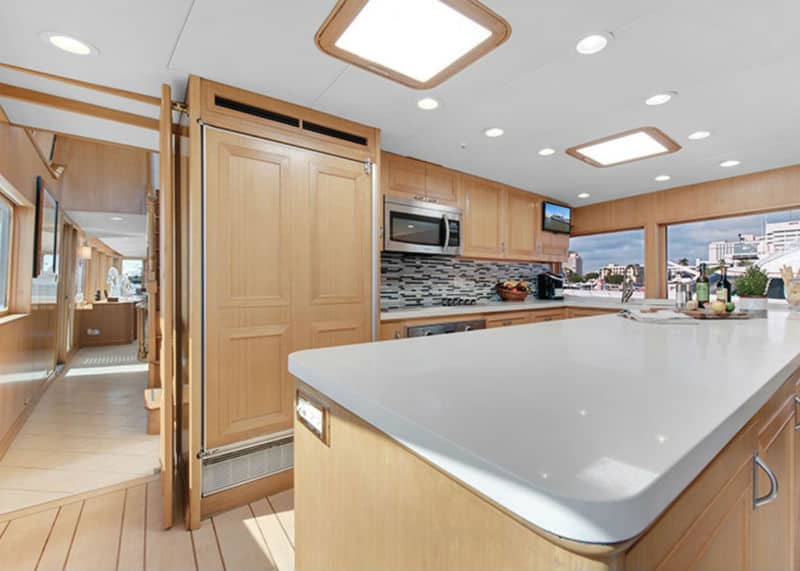 But of course, you'll want to spend some time in the sun. And thankfully, this yacht will help you make the best of the experience. Specifically, there's a flybridge on top for getting the best rays and best views. And if things get too crowded or warm, you can always move the aft deck.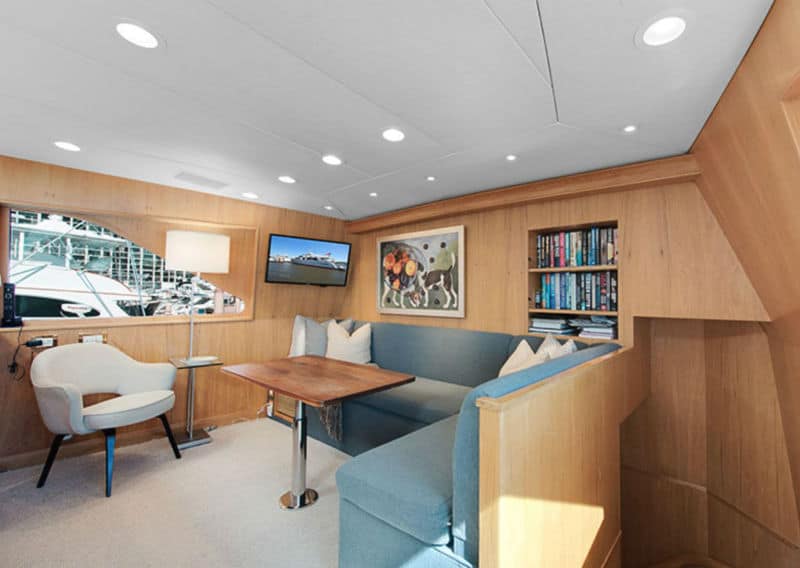 Here, you'll get a nice shaded area with AC to help you cool down. But there's also a heater and an option to enclose this area. So it's perfect for any time of year. And as far as amenities go, you'll have access to a 46-inch fold-up TV for entertainment. You'll also have room for plenty of seating and dining as well.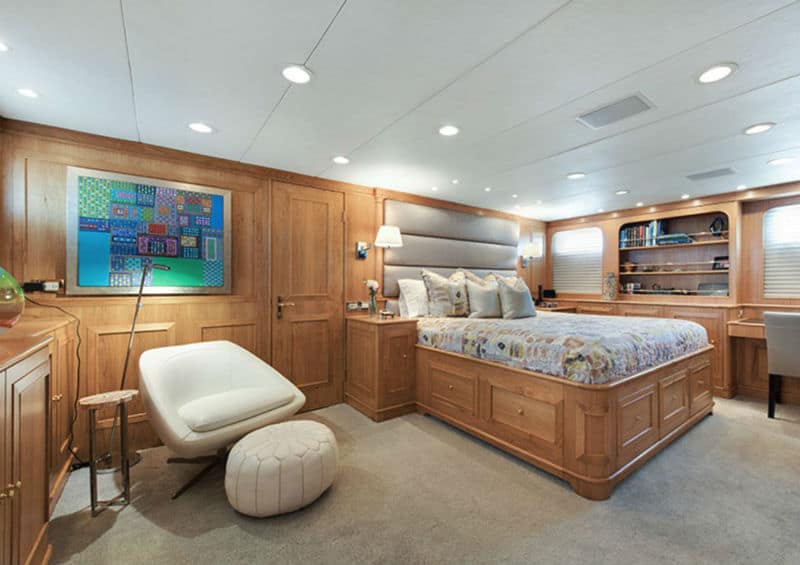 Moving back to the interior of the Sea Bound Burger, you'll have access to a huge and spacious main salon. There's also a dining area and a gallery, with plenty of windows. So even when enjoying your meals, you'll get plenty of scenery.
And of course, what's a yacht if you can't enjoy it with some friends? Sea Bound Burger allows room for up to six different guests in three different cabins. These include a master suite and a VIP suite with their private bathrooms. So your guests will also ride and relax in the ultimate luxury experience.
What's the Price of a Sea Bound Burger?
You can usually find these luxury vessels for around $2.4 million. And to help you out, we even found a model for $2,250,000 listed by Worth Avenue Yachts. That's quite a bargain! So if you're looking to spend a few vacation getaways in your own luxurious and private yacht, be sure to pick up the Sea Bound Burger.
The Sea Bound Burger really offers all you could ever want in a luxury yacht. You'll get plenty of windows for amazing views, spacious decks, private rooms, and plenty of TVs. Is anything else really needed? So if you're looking to buy a luxury yacht, be sure to give this one a close look.