Are you looking for a massive yacht? Summer might be ending soon, but the weather's always nice in some body of water across the world. And who could deny that the right yacht leads to the ultimate getaways? Or maybe partying and social events is more your goal. Either way, these ships will get the job done and then some! So with that said, what better way to begin your yacht life than with a Newcastle Sovereign? As it turns out, these happen to work as some of the best watercrafts money can buy. So let's hop on board and see what all the hype is about.
Engines: Trusted Caterpillars
As is typical of most yachts these days, the Newcastle Sovereign makes use of two Caterpillar 3512B engines. And by no means is this a bad thing. After all, there's a reason Caterpillar is one of the most trusted brands for luxury yachts!
As far a performance goes, these engines effortlessly pump out 1410 horsepower. This allows for more than enough power to carry you, all your guests, all your furniture, and even any other fun toys with horsepower you might have on board. And don't worry too much about speed. This yacht reaches a cruising speed of 12 knots or roughly 13 mph. Plus, you'll get some smooth sailing on the water. Really, these engines are perfect for a yacht of this type!

Jump on Board for the Ultimate Luxury Experience
Board the Newcastle Sovereign for the ultimate pampering and luxury experience! And no need to be stingy, as this ship allows for enough space for 14 guests. So feel free to bring some friends or family along for the ride!
As far as accommodations go, you'll get 6 rooms in total for you and your guests. This includes a master suite with a 270-degree panoramic view. Just imagine all the alluring scenes of nature you get with that! Plus you'll get another master suite on the main deck with 8 large oval windows for some more great views. And lastly, you'll get 4 other rooms for your guests. One of these is even a VIP room with a king bed and a private bathroom! So even your friends can enjoy the luxury!
Next, step onto the main deck for even more fun. You'll start off in a beautiful marble foyer. And from here, you can easily access the main room which offers a seating area with a table and plenty of sofas and chairs. You'll even get space for a massive TV too! So, overall, you're getting the ultimate room for socializing, relaxing, or just about anything you want it to be!
As far as navigating the yacht goes, you'll get your choice with a stairwell or an elevator. That's right, an elevator. This will allow you to travel everywhere from the tank deck to the sky lounge. If that's not a touch of luxury, we're not sure what is!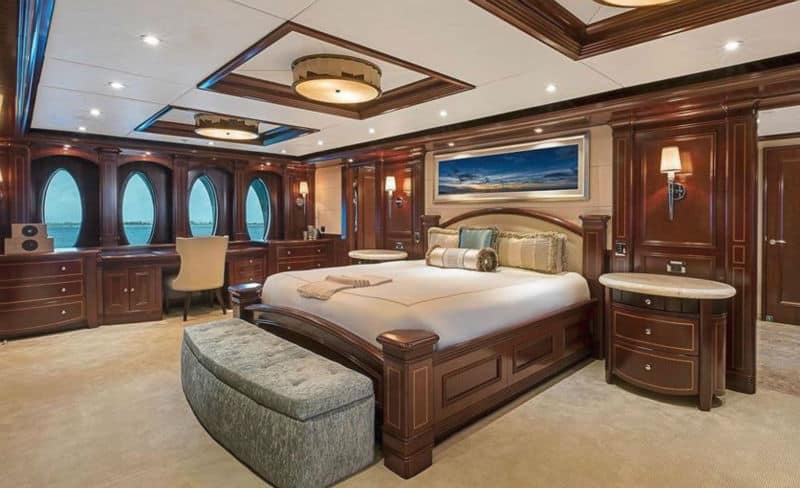 And speaking of that sky lounge, what luxury yacht is complete without one? Naturally, the Newcastle's sky lounge is one of the best. Here, you'll get a massive bar and a service pantry. Of course, you'll also get quite a few dining tables and seating areas to kick back and enjoy the gorgeous view. Plus, it makes for a great socializing area as well!
Once you're done in the sky lounge, you can head to the sun deck for even more fun! This space includes an outdoor shower, a huge 46" TV, a bar, and a Jacuzzi. Really, is there anything else you could want from a yacht?

What's the Price of a Newcastle Sovereign?
These days, you can fetch a Newcastle Sovereign for just under $30 million. And really, that's a pretty good price considering all the pampering and fun waiting for you on board. If you're super eager to buy one now, here's an option for $28.95 million. So if you're ready to enjoy some luxury on the water, be sure to check this listing out!
Final Thoughts
When it comes to finding a fine yacht, few do it better than the Newcastle Sovereign. Onboard, you'll get all you'll ever need for the ultimate adventures and fun! And when you combine all the amenities on board together, you'll have everything to begin relaxing in the sun! And don't forget—it even comes with an elevator. So be sure to get this luxury yacht for yourself today!