The Table Bay Hotel is luxury 5-Star hotel located in Cape Town, South Africa at the V&A Waterfront. It is easy to spot the canary yellow hotel at the V&A Waterfront, a local mall, and market in Cape Town. Friendly porters greet you upon arrival and are more than happy to escort you all the way to the front desk. Upon arrival to the reception desk, you are handed a nice refreshing drink. As you look around you notice that you have just stepped into a classy and sophisticated hotel that looks like the home of a Prince and Princess.
You're sure to appreciate the smallest things offered to you at The Table Bay Hotel, everything from the polite and accommodating staff to the fresh Protea flowers located throughout the hotel, it all lends itself to a top-notch luxury experience. It offers an old-world charm that is somehow, also fresh and new. The building is made of antique fixtures and finishes. The art is in the detail of how the antique furnishings compliment the interior design of the hotel. Its position along the exterior of the V&A Waterfront places it directly across from the Atlantic Ocean. Therefore, guests have incredible views of the ocean in addition to unobstructed views of Table Mountain, one of the city's most iconic landmarks.
There are 13 room categories to select from; therefore, guests are sure to find one to suit their needs. Some rooms offer ocean views while others offer mountain views. Rooms offer everything that lends itself to your receiving a truly luxurious hotel experience. Rooms include twin beds or a king size bed, en-suite bathroom with separate shower, desk, plush armchair, butler station, flat screen TV with satellite channels, blackout curtains, walk-in wardrobe, flat screen tv, blackout curtains, air conditioning, electronic safe, mini bar, coffee machine, complimentary coffee/tea and complimentary WIFI. As though this wasn't enough, guests also receive a full English buffet breakfast or an à la carte breakfast. If you're truly up for taking advantage of the luxury offered at The Table Bay Hotel, consider ordering the in-room dining service.
Although there are a lot of dining options in and around the hotel, chances are that you'll want to stay where you are to try the restaurants of The Table Bay Hotel. There are several options to choose from for lunch and dinner. The Camissa Brassiere is a laid-back, leisure dining room serving local favorites, while The Lounge is known for housing the hotel's elegant High Tea. The Lounge boasts lovely views of Table Mountain and is a great place to unwind after a long day of touring the Mother City or after work. Union Bar offers light food fare and is a nice, quiet place for casual dining. Definitely not to be overlooked is the option to dine poolside at the Pool Bar where light meals are also served.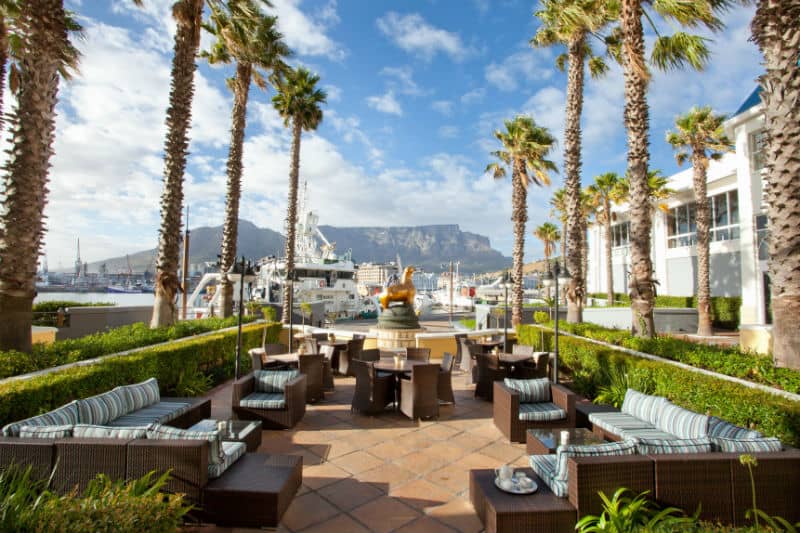 Relax and rejuvenate at your leisure at Camelot Spa while staying at The Table Bay Hotel where they offer holistic spa treatments for mind, body, and skin. You don't have to miss out on your workout routine since there is also a hotel gym with ocean views and direct access to the pool area. If you're interested in really getting in shape while you are away, take advantage of the hotel's personal trainers during your stay.
The Table Bay Hotel also offers free shuttle services to their guests, which will take them to many of the major attractions around the V&A Waterfront. The transport staff is also qualified tour guides who can assist in planning your leisure time while visiting Cape Town, South Africa. Guests of The Table Bay Hotel are sure to enjoy its great location and exceptional 5-star luxury services.
About The Author:
Dawn Wilson
Travel Writer/Luxury Boutique Hotel Specialist
Dawn Wilson is a Travel Writer and Luxury Boutique Hotel Specialist. As the owner of Unique Boutique Hotels, she writes about the boutique hotels with the highest guest approval ratings. She has also written for several digital lifestyle magazines, which include, the Miami Shoot Magazine. Her love of travel, art, and design led her to become a travel writer who focuses on luxury lifestyle experiences. She recently began exploring more international boutique hotels & resorts and is excited to share her recent discoveries. Dawn splits her time between the U.S. and South Africa.