What can be more appealing than waking up to stunning views of mountains or an ocean? This is exactly what you will experience when staying at the Azamare Guest House in trendy Camps Bay, South Africa, just outside of Cape Town city center. As fun and as alluring as the beaches of Camps Bay are, it will still be hard to get you to leave Azamare. However, knowing that you have something as beautiful as Azamare to come back to might sway you to leave if only to return just before sundown. You can easily book your flights via Mango Airlines to get you there safely and as soon as possible! The team of hospitality professionals that are on staff will do everything within their power to ensure you have a memorable time while staying at Azamare. They make you feel as though you really are in your own home and they are here to serve you.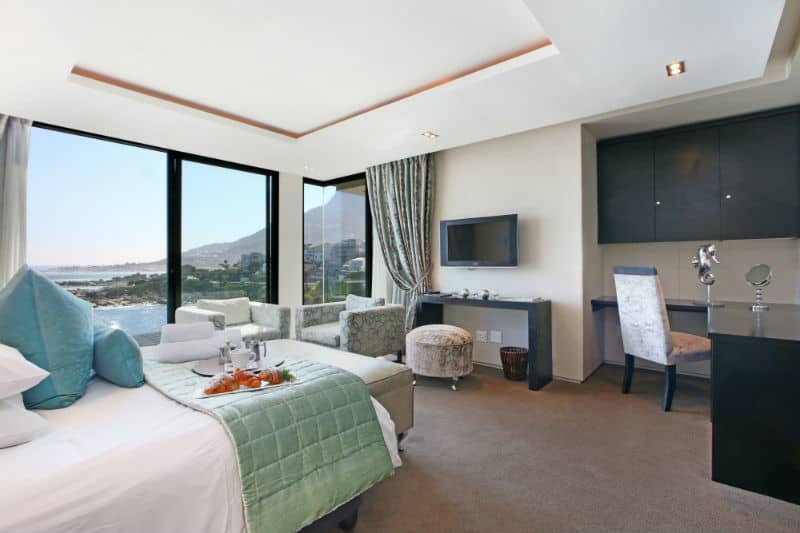 The 7-suite Guest House offers unobstructed views of the Atlantic Ocean. It is the perfect backdrop for hosting private or professional sunset happy hours. Every suite is distinctively different. Some have their own private lounges with modern gas fireplace's, private balcony's and pools. Although they are all different, they share the same design aesthetic, which is clean and modern. Suites feature quartz shower flooring, gowns, and slippers, pool towels, plasma television, satellite, en-suite bathrooms, heated towel rails, complimentary WIFI, Minibar, safe, porcelain tiles, air-conditioning, under floor heating, tea and coffee facility.
They have thought of everything so that you don't have to. One of the favorite features of some of the suites is the window from the shower that looks out onto the Atlantic Ocean. This is something you don't find often. At the Azamare Guest House, they want you to get the absolute most from your stay and this means taking in the views as much as you can from every vantage point of the property. Enjoy a generous continental and à la carte breakfast; also included in your stay.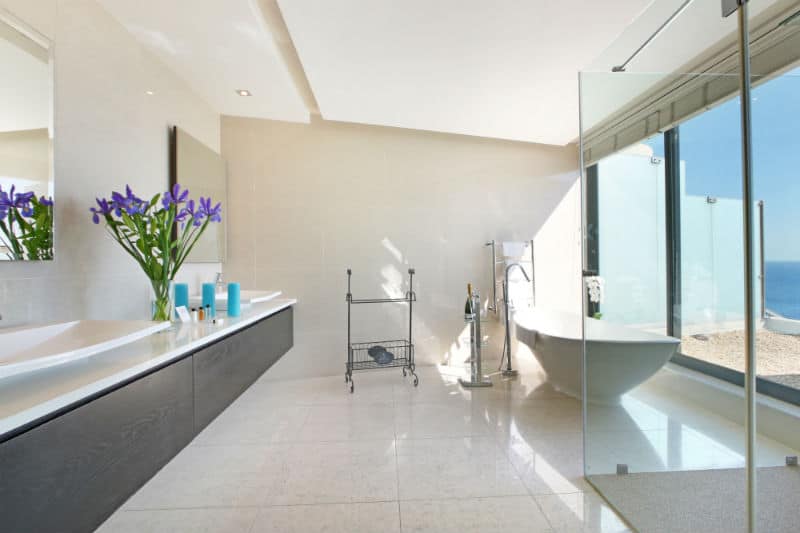 If you really want to make yourself at home, go to the second floor where you'll find the Guest House lounge, kitchen and dining area. The lounge area has a nice, oversized contemporary sofa with a gas fireplace and large flat screen tv with satellite. There is also a nice balcony that overlooks the Atlantic Ocean. Nightly sunset happy hours are arranged in the lounge and gourmet kitchen area for guests to gather to watch the sunset and meet the other guests. Also located on this level are the swimming pool, pool lounge, Jacuzzi and loungers, all with ocean and mountain views.
If you travel to Cape Town, South Africa and a visit to the beautiful beaches of Camps Bay is on your agenda, we encourage you to stay overnight at Azamare and really enjoying the entire Camps Bay experience.
About The Author:
Dawn Wilson
Travel Writer/Luxury Boutique Hotel Specialist
Dawn Wilson is a Travel Writer and Luxury Boutique Hotel Specialist. As the owner of Unique Boutique Hotels, she writes about the boutique hotels with the highest guest approval ratings. She has also written for several digital lifestyle magazines, which include, the Miami Shoot Magazine. Her love of travel, art, and design led her to become a travel writer who focuses on luxury lifestyle experiences. She recently began exploring more international boutique hotels & resorts and is excited to share her recent discoveries. Dawn splits her time between the U.S. and South Africa.