There are several seaside towns in Europe which can be enjoyable to visit as they are currently unpopular tourist destinations. These towns boost of art, local festivals and wines, prehistoric caves and most of the things that you are starving to see in Europe away from the crowds. Here are the top 5 seaside towns in Europe for a chill holiday for you.
1. Korcula, Croatia
Although not being in a tourist island, Korcula town tops the list. This town is rich in buildings which date from the Venetian rule period. The town is characterized by street patterns which result to free circulation of air, therefore, Korcula has been always calm and it is protected from the strong sea winds and this will make your holiday fabulous. Most beautiful restaurants in the town serve seafood and their own Grk wine. Historic places to visit include the explorer's house Marco Polo and the 15th Century Franciscan monastery which houses a cloister, Venetian-Gothic.

2. Furore, Italy
Second in the list is this beautiful but unpopular town on the Italian Coast of Amalfi. The town is characterized by quietness as the houses are widely spaced around the face of the cliff. High cliffs that flank the water inlet gives a sheltered beach. There are traditional meals that are served in restaurants which mainly consist of tomatoes and grapes such as fish and potatoes ('totani e patate'). Other than swimming in the calm beach, activities such as climbing, mountain biking and trekking can keep you busy. A local festival is always held in September of every year for a week where mural painters decorate the town.
3. Cadiz, Spain
Third on the list is this old town which is now titled as the new coastal tourist destination in Spain. Cadiz town is characterized by white houses which are brightened with tiles which follow a specific pattern in its old quarters. The town has landmark buildings which are well preserved. Most restaurants in the area serve fish-base tapas which comes with red tuna it. In Cadiz, The Second largest Roman Theater in the world which was built in the 1st century BC can be a great place to spend time.
Sign Up For The Free GOD Foundation Travel Portal for 60% Off Travel Deals Today & A Portion Goes To Charity!!!
4. Bugibba, Malta
Located to the north of Malta, Bugibba is another awesome travel destination for travelers looking for a chill holiday in Europe. This seaside town might not be in the list of top travel destinations in Europe, but it sure is a hidden gem to explore. For starters, the weather is highly conducive for travel especially during summer, with most of the days and nights experiencing warm temperatures. When it comes to places to stay, this town boasts some of the most beautiful hotels and beachside accommodation units in Malta. Topaz, Qawra Palace, the Dolmen Hotel, DB San Antonio, and the Gillieru Harbour Hotel are just a few of the many seaside hotels at your disposal. Nightlife is also amazing in Bugibba, especially in summer, with dozens of entertainment joints, bars, nightclubs, and restaurants you can wine and dine in. The Tarragon Pepe Nero, Sottozero, Lovage Bistro, and the Duo Restaurant are a just a few mentions in the long list.
If you're not hanging out or sunbathing in one of the popular beaches such as Ta' Fra Ben you can also get busy and enjoy the various attractions this seaside town has to offer. Just to name a few, you can check out the Malta National Aquarium, the Bird Park Malta, Salina Park & Salt Pans or the Wignacourt Tower. You will be spoilt for choice when it comes to things to do in Bugibba, Malta during your chill holiday in Europe. Don't forget to enjoy the amazing scenery and beauty that the coastline has to offer! You can find more about this wonderful coastline town in this guide by ChoiceHolidays.eu.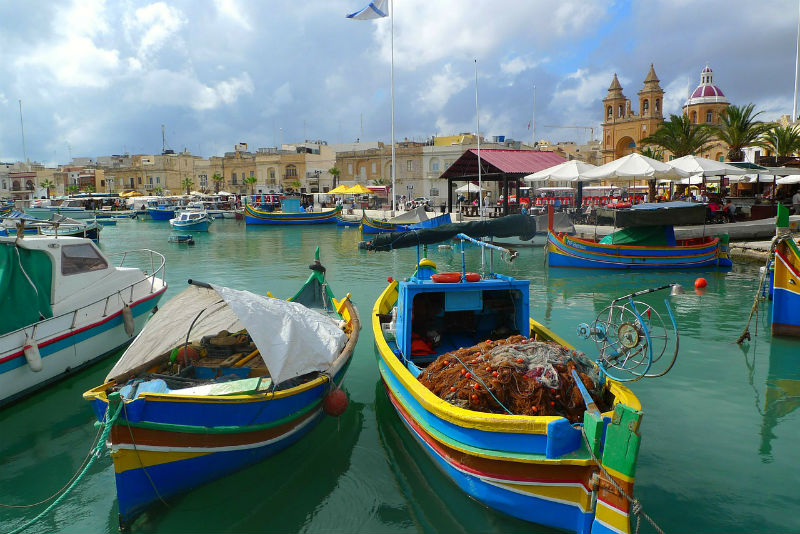 5. Antibe, France
Down on the list is an old town in France which is characterized by a well organized local market and flower-filled lanes for walking. Antibe is surrounded by a 16th century ramparts that gives a panoramic sea vistas. Restaurants in this town serve fresh produce such as tomatoes, red pepper paste, ripe peaches, goats' cheese and many more local produces. An amazing place to visit within the town is the collection of Picasso's work at the Château Grimaldi.
If you are looking for a chilly coast in Europe away from the crowds, these 5 towns can be your favourite. Visiting one of this seaside towns will give you memories which will last for long, from the historical sites to unique beaches to amazing yearly festivals. Natural foods offered in most of this towns are perfect for your health and very delicious so why not tasting them all over again?