The news about Land Rover Defender making a comeback was shocking. After a long absence, you would believe the four-door off-road machine is no more. However, a reborn model is out, looking better, and ready to show off. 
The new Defender 110 will try to rekindle the nearly forgotten glory, where its predecessor enjoyed a cult-like status.
Defender clients will have the privilege to choose between engines, a four-cylinder turbocharged six-cylinder mild-hybrid electric, badged P300, and P400. The badged variant P300 will instead use an advanced twin-scroll turbocharged and not a twin-cylinder type.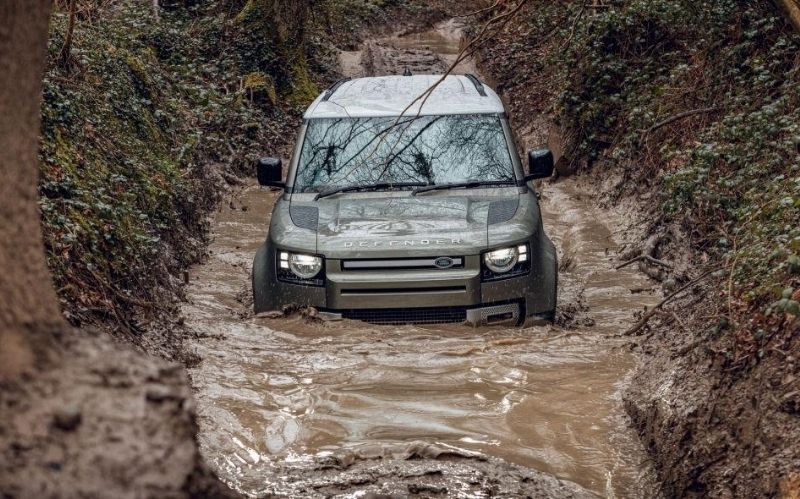 The Ultra-modernized Performance of Defender 110
Defender 110 is more practical; it comes with two wheelbases, offering different interior spaces. Despite that, it measures 99mm longer, beating the likes of Discovery. Hence, keeping the short overhangs trademark and further emphasizing off-road performance with 11.5-inches ground clearance.
The D200 Defender is an entry-level version model with a 2.0-liter twin-turbo SD4 diesel engine. Nevertheless, Land Rover offers another D24O variant capable of churning out 40bhp more and 237 lb-ft. 
For those with a particular affinity towards petrol, they have two variants, P300 and P400. P300 produces 296bhp and 295 lb-ft of torque from a 2.0-liter four-cylinder Si4 engine. In contrast, the P400 features a 3.0-liter i6 engine and a 48-volt electric supercharger.
It also comes with a mild-hybrid setup that combines to produce 395bhp and 406 pounds of torque. Therefore, making it the most powerful and quickest among the cars as the variant takes six seconds from zero to 60 mph.
Land Rover included an eight-speed ZF automatic transmission to all the variants. The system sends generated power to all four wheels through a two-speed transfer case. Apparently, a four-cylinder version with a plug-in hybrid addition will soon join the Defender series.

The Interior and Body Styling of Defender
Defender still possesses utilitarian cues from the old lineup; it lacks the lavishness found in luxury cars. But still, the cabin contains a mix of modernized hardware, which makes the Defender feel like a cool car.
It also offers leather surfaces, expansive trims such as powder-coated magnesium crossbeam. Moreover, the dashboard looks like a piece from Range Rover Sport. It comes with a 10-inch display and climate-controls dial. Overall, the interior looks simple and more civilized.
The exterior remains true to its heritage, though there are new divisive aspects, especially body styling. At least, it shows a departure from the old utilitarian design. An approach meant to add relaxed sophistication similar to cool cars and still keep the rugged appeal.
Notably, the Defender 110 shows off squared wheel arches, continuous waist, and collar lines. It also offers a rising roofline, alpine light windows, and of course, its upright stance. Besides, Defender comes with optional extra packing as per your liking. These include a folding fabric roof, which allows a second-row seat on a top-mounted tent. Others are a side ladder, side window carriers, and a square panel for the rear glass, adding further versatility.
Price of the New Land Rover Defender
Customers are placing orders and configuring their Defender 110 version. Those interested should know the entry-level variant is going for $47,240, while P400 is selling at $81,800.
Concluding Remarks
Land Rover built the Defender 110 with one eye focused on the future. They are looking to build on the model and create a viable business for the next generation of Defenders. The biggest challenge was balancing between what appeals to hardcore enthusiasts and the market.
New Defender meets all the global car regulations and will reach 128 territories. Therefore, making it eligible to where it previously faced restrictions, including the two largest luxury car markets, China and the US.
In 2016, the iconic model's production came to a halt, and there was hardly any hope for future replacement. But it seems Land Rover was busily strategizing and planning for a new lineup all along. Indeed, the new ultra-modernized Defender 110 looks fresh and ready to take on the global market.