Is it time for a bedroom makeover?
Today's bedrooms are more like multi-purpose spaces with many bedrooms featuring desk or office areas, meditation spots, or reading spaces. No matter what, though, never forget the importance of quality, restful sleep for good health.
And here's the good news:  You don't have to spend a fortune.  Sometimes the room just needs a little tune-up or refresher with a couple of throw pillows, a great wall hanging, new window treatments or even a vase of fresh flowers. And you can even get new and affordable furniture from places like Big Save to spruce up your bedroom.
Here are 5 essential things to remember about decorating a bedroom:
Flooring:

 

Ever hear the expression, "Design from the floor up!"?
A lot of designers advise their clients to install the floor first, then decorate around it, because the floor sets the tone of the entire room.
These days there's so much from which to choose.  Lots of people love carpeting in the bedroom. They like stepping onto something soft and plush and there's an enormous number of colors, styles and fibers to explore.
Keep in mind that if you select a neutral color, it'll go with just about anything. Anytime you want to do a "mini remodeling," you can just change up the accessories.
Don't stop at carpet, though.  Also look at hardwood, which has gorgeous undertones that will coordinate with walls, upholstery, fabrics, other furniture or even window scenery–all to create dramatic effects.
Budget limitations? Take a look at luxury vinyl or laminate; you can get an incredibly similar look of plank, tile or stone, but without the price tag.
Walls:

 

Here's a simple design rule:  Use an combination of warm and cool colors.  For example, gray (gray floors are a hot trend)  can be either cool or warm, depending on its undertone.  If yours is cool, paint the walls with a warmer shade, such as yellow or a warm, earthy sage.
By the way, wallpaper is making a BIG comeback.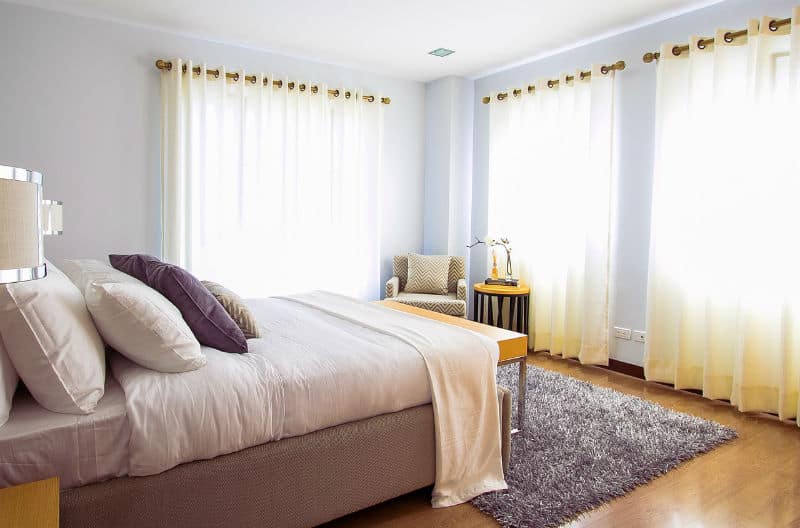 Lighting

:

Sometimes the tendency is to disregard the importance of lighting in this room, but don't.  Basically, you want three kinds of lighting: general, task and accent.
— General lighting is usually overhead, and it's the kind we need when getting dressed or looking for things.  
–Task lighting, such as desk lamps, floor lamps or wall sconces, are much more specific.  You'll need them for reading, office work, applying makeup, etc.
–Accent lighting is mood lighting and you can accomplish that by using dimmers, candles or even using those salt lamps which have kind of orange-like light.
Color:

 

Colors this year seem to have taken a more dramatic turn, with vibrant shades, metallics, hot reds and gold.
Black is always a classic and in style.
The bedroom's environment, however, is always one of serenity and calmness so you might want to include colors like silver or some deep earth tones.  And don't forget purple–Pantone, which tracks color trends, named ultra violet the 2018 color of the year, citing the shade's mystical and spiritual qualities.
The Bed:

While custom headboards, featuring upholstered linen or incorporating bookcases, are gaining popularity, it's always the mattress that's king.
More and more, we're seeing scientific studies about the importance of sleep to health, and innovative companies like PangeaBed are here to make your sleep dreams a reality.
PangeaBed copper-infused mattresses are antimicrobial, hypoallergenic, have optimal support and use innovative materials such as Talalay Latex. Better yet, it's environmentally friendly.
"The Talalay Latex within every PangeaBed mattress is produced using an environmentally friendly water-based process," explains founder Martin Reguiero.
Time for a Makeover
Decorating a bedroom can be enjoyable, so have some fun with it.  Mix it up. You can add a little whimsy to even the most traditional setting, or add a little drama with color.
There are a great many ways to make the bedroom a place of comfort and a refuge at the end of a long day. You deserve it!