Hospitality experts John Terzian, Brian Toll, and Markus Molinari of The h.wood.group are thrilled to announce their newest endeavor, THE NICE GUY.  The NICE GUY will be a swanky new Italian lounge, complete with gourmet food and mixology menu, whose aesthetic is meant to evoke the decadent era of Mafia bars and restaurants, where the owners and their friends can enjoy an evening together.
 Yet another addition to the h.wood group's impressive roster (which boasts Hollywood hotspots Bootsy Bellows and Hooray Henry's, along with Santa Monica favorite SHOREbar), The NICE GUY will bring a fun and upscale lounge atmosphere that has been lacking in Los Angeles. Operated by h.wood's John Terzian and menus curated by Adam Koral. The NICE GUY will be one step above a restaurant but below a club.  It will be a cozy reservations-only destination for friends and family to feel like they truly belong.  John Terzian explains, "The real emphasis will be on the overall feeling of the place.  Adam and I have really noticed that people like the feeling of being a part of something." He continues, "We believe our clients are sophisticated and expect the type of décor and service that we provide."  Upon entry the vintage marble and brass bar greets you.  Its size, scale, and shape invite the guests to a unique social experience, encouraging conversation and camaraderie – the booths along the exterior wall command intimacy between guests, while the larger booths flanking the room stimulate the party atmosphere throughout the night.  "Because the place is intimate," Terzian says, "it enables us to provide extra attention and care to our family of customers."
 "The Nice Guy is one of the new restaurants in LA with a cool vibe and a mafia type style. The food is delicious and the bartenders are the best in town!" – Michael Oblowitz, Hollywood Film Director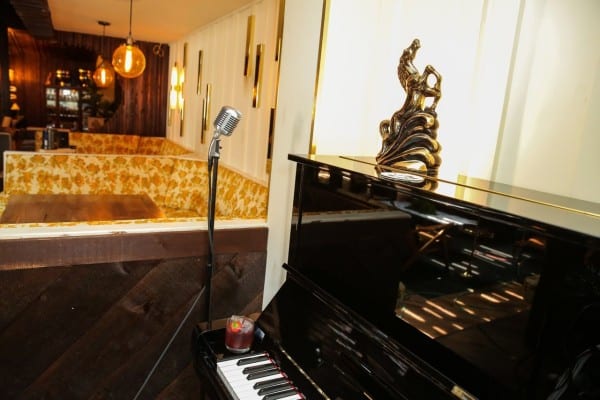 Master Mixologist Chris Ojeda, of SHOREbar, will be preparing unique signature cocktails, and Terzian describes the food menu, prepared by Chef John-Carlos Kuramoto, as "Simple with enough healthy and comfort food for everyone to choose from."  Cher Kuramoto has been nurturing his love for fine cuisine since he was a child, and pursued his culinary education at the Culinary Institute of America in Hyde Park, New York.  He has learned from renowned chefs all across the country, currently the chef for Michael's in Santa Monica, and now will bring his distinctive set of skills and well-seasoned tastes to The NICE GUY, making for a truly unforgettable dining experience.
The NICE GUY's Principals include: John Terzian, Brian Toll, Markus Molinari and Adam Koral of H.wood.group (Bootsy Bellows, Bootsy Bellows Aspen, Hooray Henry's, SHOREbar).
The NICE GUY
401 N. La Cienaga Blvd.
West Hollywood, CA 90048
310.866.2137