Considered the most expensive London hotel, The Lanesborough is an experience unto itself. On your next trip to the vibrant city, discover the elegance and sophistication this historic luxury hotel has to offer.

Oetker's London Hotel
The Oetker Collection is synonymous with luxury and five-star hotels. And The Lanesborough is no exception! The only London hotel in the collection, The Lanesborough's location is beyond compare. Overlooking the gardens of Buckingham Palace, this luxury hotel is just minutes from the city's financial district, shopping in Knightsbridge and London's most famous attractions.  
Guests at this Oetker property will also benefit from carefully-designed perks. For instance, each and every room and suite at The Lanesborough has round-the-clock butler service. The president of Les Clefs d'Or organization helms the hotel's concierge team assuring an unsurpassed level of skill in creating your perfect stay. These special touches, along with other Oetker traditions, will assure your stay at this London hotel is unlike any other.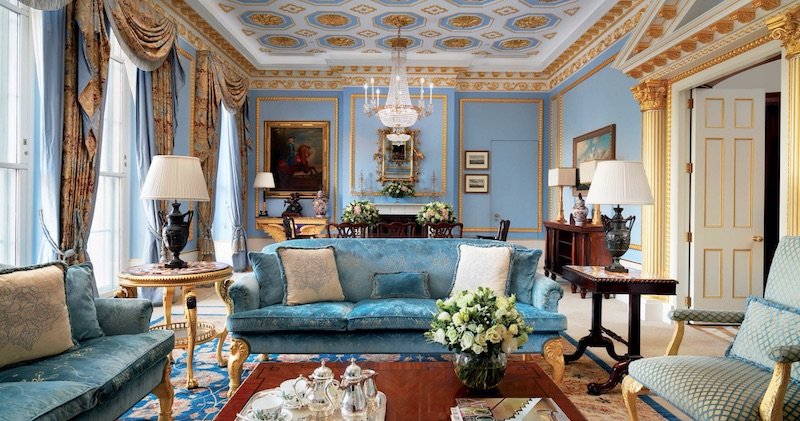 Sophisticated Guest Quarters
Each and every room and suite at this five-star hotel is stunning. With styles and decor hearkening to a different time, elegance and sophistication abounds. While all the guest quarters are special, not surprisingly, the Signature Suites offer more during a stay. 
The Presidential Suite, utilizing adjoining rooms, can expand up to five bedrooms. With a living room, dining room and kitchen, this palatial accommodation offers plenty of space for families. And the master suite exudes romance with its four-poster bed and lavish bathroom. Moreover, the kitchen has a separate butler's entrance as to not disturb guests during their stay.   
Then, of course, guests can live like royalty in the Royal Suite. This exquisite space surely earns its name! Often the suite of choice for visiting heads-of-state, the 4,845 square foot suite can provide up to seven bedrooms. With two living rooms and a dining room capable of hosting 12, this suite is made for entertaining. But the highlight of the Royal Suite is the view. In fact, with its close proximity to the palace, it offers a stunning view of Buckingham Palace Gardens. The Royal Suite also has a dedicated butler to make a stay even more special. 
In addition, guests booking a stay in the entire Presidential Suite or Royal Suite are entitled to complimentary chauffeur service. 

Classic Dining
The main dining establishment at this London hotel is the Michelin-starred Céleste. Expect a menu filled with elevated British classics. Not much can overshadow the decadent fare but the atmosphere comes close! A domed glass roof allows for an abundance of natural light to bounce throughout the multi-level dining room. And the cozy seating and crystal chandeliers make for an elegant meal.  
When in England, one simply must indulge in afternoon tea. Indeed, this London hotel excels at creating a special experience! Held in Céleste and The Withdrawing Room, the Peggy Porschen Afternoon Tea features treats by the world-famous baker. Named for the former esteemed pastry chef whose first job was at The Lanesborough, this cheerful daily event will be a highlight of a stay at The Lanesborough.
Sign Up For The Free GOD Foundation Travel Portal for 60% Off Travel Deals Today & A Portion Goes To Charity!!!
Whisky-lovers will need to stop by The Library Bar. With its classic ambiance and intimate space, it is easy to see why The Library Bar is a favorite among guests and locals alike. The main draw of the lounge is its large collection of rare Scotch whiskies with bottles dating back to 1770.
And there's even something special for cigar aficionados at this luxury hotel. With its walk-in humidor and extensive collection of Cuban and pre-Castro cigars, The Garden Room is an outdoor heated terrace perfect for an after dinner cigar. Moreover, the expertise of the cigar sommeliers will even help a novice enjoy the experience.     

Wellness & Fitness
The spa at this London hotel was recently named England's Best Hotel Spa. As such, guests can expect a luxurious experience with high-end beauty and spa brands. With massages, facials, manicures, salts, wraps, men's grooming and couple's treatments, there is something for everyone on The Lanesborough's spa menu. Moreover, they even have four all-day spa packages from which to choose. 
The popular Traveller's Tale will help any guest overcome their jet lag. Designed to restore a body's bio-rhythm, this decadent treatment begins with an energy scrub and wrap. The following facial pressure point massage will relieve stress and help mediate body aches. A back massage rounds out this indulgent spa package. 
And if you're looking to maintain your exercise regimen while staying at this London hotel, the fitness center will keep you happy. With an extensive collection of free weights and machines, cardio couldn't be easier. Moreover, in addition to personal training sessions, the fitness center also offers group classes in pilates, yoga, spinning and HIIT.   
Following your wellness visit to the spa and fitness center, be sure to stop by The Lanesborough Club & Spa Restaurant. Open for all-day dining, this restaurant offers a diverse menu of both healthy and decadent options. 

Younger Guests
To add to the memories of their London vacation, The Lanesborough has created a wealth of special experiences to make sure younger guests enjoy their stay. From a welcome gift and in-room surprise, children will feel special upon arrival. Moreover, the children's afternoon tea, mini-manicures and Little Butler training add a sprinkle of grown-up activities. And a visit with Lilibet, the hotel cat, is sure to delight. 
For the more discerning tweens and teens, the in-room entertainment, including Xbox, should keep them happy. Also, learning the art of making mocktails from the skilled team at The Library Bar will provide them a way to dazzle their friends when vacation ends! 

Fairytale Weddings
As the most expensive London hotel, a wedding at The Lanesborough comes with a certain status and a high degree of elegance. From small, intimate affairs to grand events, this five-star hotel is prepared to make any wedding a fairytale. The happy couple have their choice of seven different spaces , the most recognizable of which is The Belgravia. The sunny and cheerful atmosphere and view of Hyde Park is a charming backdrop for any event. 
In addition to the elegant venues, The Lanesborough will also expertly help plan the happy couple's dream nuptials. From the culinary team creating an artfully-designed menu to the in-house florist preparing exceptional flower displays, an unforgettable wedding is the only option. Furthermore, newlyweds can arrive at their ceremony and escape to their honeymoon in a car from the famed The Lanesborough Fleet.    
Indeed, this London hotel is well aware that a bride begins her journey down the aisle months before the main event! As such, The Lanesborough created their Shape & Sculpt program. This six-week health regimen is designed to help the bride-to-be prepare. Beginning with a nutritional consultation, brides receive a personalized take-home fitness and healthy eating plan. Moreover, twice-weekly, hour-long exercise sessions and nutritional check-ins will help her achieve her goals. And as a reward for all the hard work, she and her mother are treated to a special pre-wedding manicure and pedicure! 
There is no other luxury hotel that offers the degree of elegance and sophistication within London. You deserve to experience the excellence that is The Lanesborough on your next vacation.

(Images Courtesy of Lanesborough)