Rome is one of the most popular tourist destinations in the country, not just because of its rich history and architectural prowess, but also its fantastic five-star hotels. If you're ever there on vacation or business, the Hotel Splendide Royal is one you should check out!
Hotel location
Located at the heart of Rome, this world-class hotel offers guests easy access to some of Italy's best shopping malls and luxury Roman eateries. It sits a few meters from the Villa Borghese park and only takes 10 minutes by walk from the Trevi Fountain.
If you are at Termini bus station, it'll only take about 25 minutes. It's also very close to the Leonardo da Vinci International airport – about 35 minutes by car.
The scene
Hotel Splendide Royal is a contemporary mansion boldly decorated with Baroque style, charming chairs, and alluring tapestry. Once known as a serving place for Moroniti college, the hotel has now expanded modestly both inside and outside.
The impressive outdoor features feature welcoming Italian flags that sure set a stage for unforgettable memories.
The interior décor is nothing short of excellent. From the marble hallways to the floors, electric candle lights, beautiful doors leading to the lobby, and exciting stained windows, everything fuses blissfully to make this hotel a real season winner.
Walkthrough the marble and mosaic hallway, and you will be enchanted by the enviable European atmosphere the hotel offers.
To maintain the eternal Italian history, hotel Splendide Royale has also laid out several historical portraits and wall paintings all across the mansion walls.
Its textured ceiling and colorful window curtains are also designed with stunning patterns giving the hotel a nice positive vibe.
Rooms and Suites
Hotel Splendide Royal doesn't take chances when it comes to rooms and accommodation. Each of their 69 rooms comes in an appealing contemporary style and an open floor layout.
Rooms and suites are spacious and come with terraces that provide some of the best views of the city. The warm interior designs and the marble flooring give each space an inviting ambiance that any guest will adore.
You'll also find a minibar, butler services on request, master-controlled lighting and climate control, a safe, and a handy smartphone.
The bathrooms also embrace the hotel's Italian style, with a bathtub and a stand-alone shower. The flooring is marble.
Some rooms may come with fantastic red carpeting and grilled wallpapers mounted on the walls. The landscape painting will take your breath away.
If you're vacationing with your newborn, the hotel can also provide a baby on request.
Food and Drinks
Like many top-rated hotels in Rome, Splendide Royal also offers plenty of exciting features and adventures. But the one thing no other hotel does better is the selection of different delicacies!
From their well-known Italian Pasta to the local pastries, you can be sure that you can't go wrong with Splendide. In the morning, wake up to the tantalizing smell of the delicious breakfast buffet, which is served the Italian way!
And once you're tired of the Italian cuisine – which I'm sure you can't, there are also delicacies from other parts of the world on the menu. European, Mediterranean, and Asian cuisines are particularly popular among guests looking to mix up their diet.
For the romantics and thrill-lovers, dining on the terrace of the Mirabelle hotel on the seventh floor may be just what you need.
There's nothing better than sipping your glass of wine with your loved one as you enjoy stunning views of the city's skyline! Sunsets on this hotel can also be just what you needed to see.
Amenities
Hotel Splendide Royal is equipped with conference rooms, family rooms, fireplaces, parking areas, soundproof rooms, among others. All rooms have the necessary conventional tools and equipment to boast of 5-star luxury.
There's a gym and pool amenities that offer a classy experience while helping you achieve your wellness goals.
Gaming enthusiasts also have a special casino room where they can empty their gaming thirst and enjoy themselves.
The hotel is also pet-friendly so, you can carry along your loved puppy.
Safety and healthy
Hotel Splendide Royale has made compliance with the health measures required by the health ministry their number one priority. It maintains the highest standard of cleanliness with the guest rooms and all other appliances in the rooms cleaned by trained cleaning experts.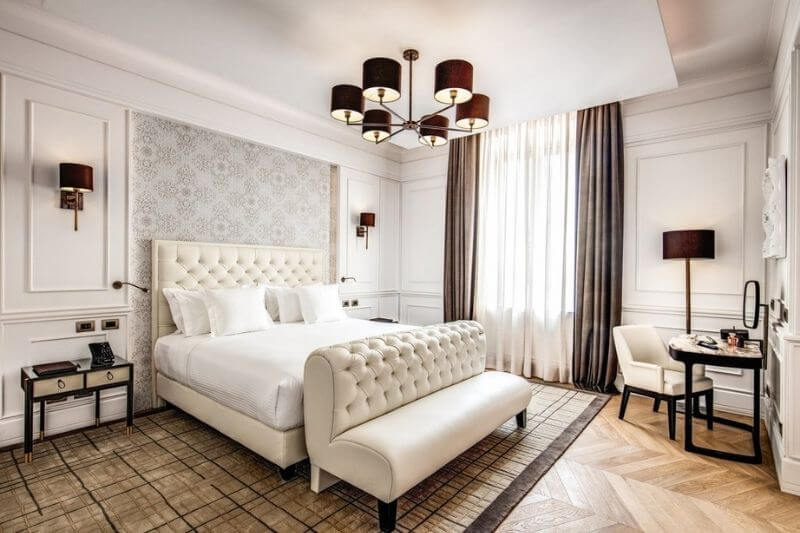 Final thoughts
Built as an exclusive hotel, the Hotel Splendide Royal has lovingly maintained its high standards with high-quality furniture, tasteful decor, and plenty of public space.
It is an idyllic destination for families looking to immerse themselves in hundreds of modern luxuries or executives who want to mix their business meetings with pleasure.
For more information about the hotel and how to make your reservation visit their official website!