The EQS Sedan is one of the most important luxury cars for Mercedes. It is the fully realized EV from the company. Moreover, it is dedicated to a luxurious driving experience with zero emissions. On top of that, it is one of many EQ products which will set the tone for future EVs. 
Engine and Performance
The EQS has an electric motor mounted on its rear axle which generates 329 horsepower. Moreover, it has a 406 pound-feet of torque. According to Mercedes, this luxury car will accelerate from 0 to 60 mph in 5.5 seconds. Moreover, EQS rides on an adaptive air suspension. The rolls on rims range between 19 and 21 inches. The manufacturers have designed the technology to make the sedan easy to handle in tight spots and increase its stability at high speeds. 
Interior
The interior of the EQS Sedan is quite amazing. It features high-quality materials coupled with countless amenities. Some amazing features of the luxury vehicle are extensive ambient interior lighting, an Exclusive Rear Seat package, and headrest pillows for front and back passengers. It also has adjustable back seats with massage functions. Moreover, it has an individual tablet to control the infotainment system. While the digitized dashboard looks quite futuristic, EQS comes with a more traditional dashboard.
The car has a lengthy 126.4-inch wheelbase. So, the EQS has quite a spacious interior. Moreover, the Cargo space is also big, thanks to its large hatchback.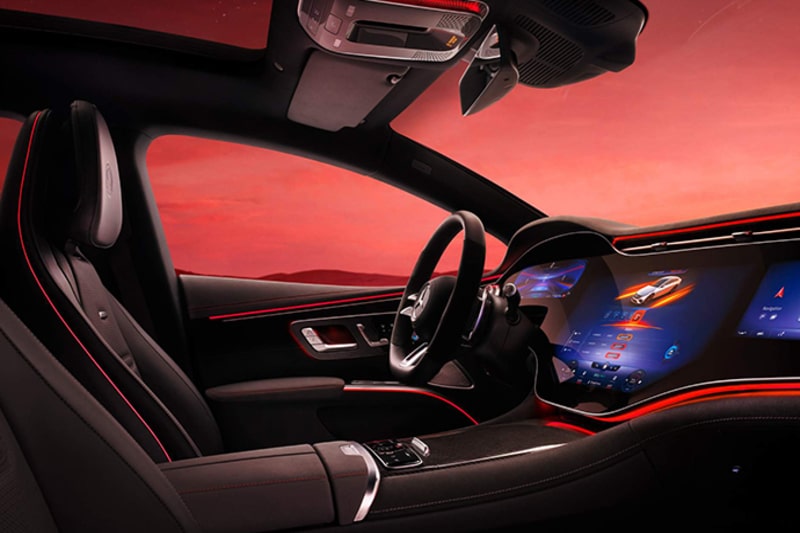 Infotainment
The MBUX infotainment system is its most prominent interior feature of this futuristic car, especially the 56-inch long Hyperscreen. This optional Hyperscreen acts as a massive display that consists of three distinct screens. Along with this array of touch screens, the EQS features a fingerprint sensor that activates the individual driver profiles. It also features the "Hey Mercedes" voice-command system, and augmented-reality navigation in the head-up display. Moreover, every model features 6 USB-C ports throughout the cabin and a Burmester audio system.
Reliability and Safety
The Mercedes AMG EQS sedan features a four-year/50,000-mile basic warranty. Moreover, it has a 10-year/155,000-mile battery warranty. The car is quite safe to drive. However, it hasn't yet been tested by the National Highway Traffic Safety Administration. 
Some key safety features include: 
Standard lane-departure warning and lane-keeping assist

Standard automated emergency braking with pedestrian detection

Standard blind-spot monitoring
Price
The Price of a Mercedes AMG EQS Sedan is around $148,500. For more information visit the MBUSA website. 
The Mercedes EQS has it all, from amazing engine performance to futuristic infotainment features. So if you are looking for an electrifying luxury car, EQS Sedan should be your top choice.